---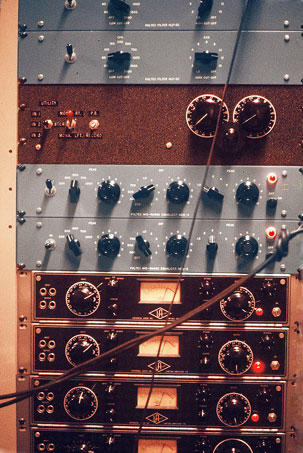 This was typical rack of equipment found at Columbia Records mix rooms.
At the top, two side by side rotary knobs were the mix room's stereo monitor volume controls joined by
an actual gear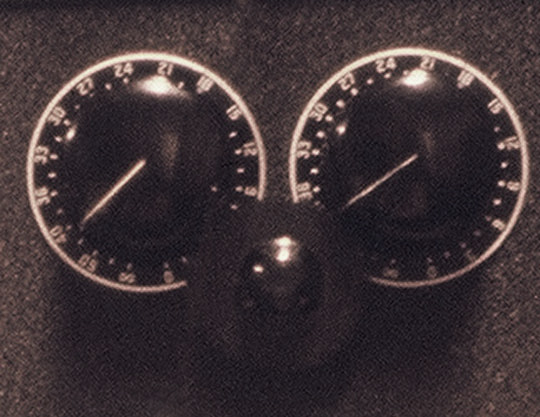 that pulled outwards to disengage the left from the right channels in order to alter the balance.
Pultec MEQ5 midrange equalizers and the Universal Audio limiters are beneath it...

...and these Pultec EQP1 EQ's
and Allison noise gates on each channel (not shown) were a staple in every edit room.
The speaker cabinet shown above was the early version of reference monitoring
to determine the worst case sonic scenario.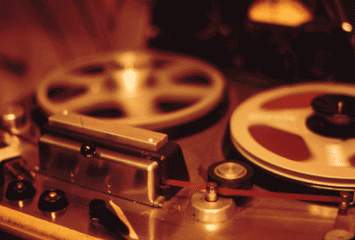 The AMPEX 300 was typically what we recorded to,
and the most widely used professional tape machine in the US from the 40's through sixties.
(and will still run perfectly today, as mine does)
Studer, Scully and Presto were alternatives.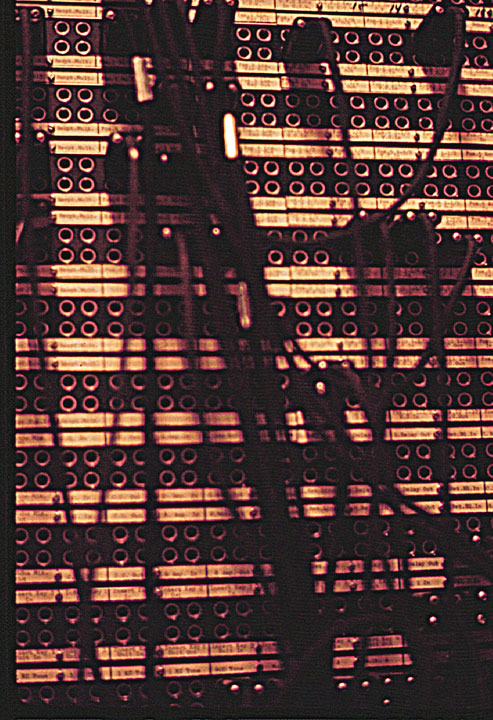 You couldn't get very far with out one of these. The Patch Bay.
All connections from the mic to the console, to and from the the plate reverb units and live echo chambers
and other special effects gear, the tape deck, earphones, right on through to the speakers
as well as access to and from other rooms on other floors
were made through this hard telephone-type wired routing system.
---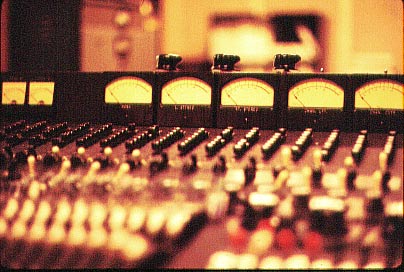 After the recording comes the mix and or mastering of the sound of the performance.
Above is one of 12 earlier in-house designed and constructed CBS Columbia Records mixing boards,
or desks as they would come to be called,
that resided on the 4th floor in all the editing suites. Where it all got done. The final touches.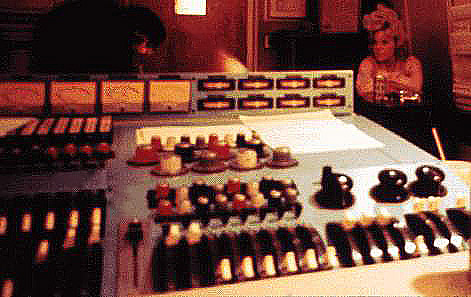 The out of focus foreground show the Penny & Giles 1db (decibel) faders in series with 0.5db per step faders on each channel and also had a 0.5db per step detented rotary faders recessed in the arm rest for each input for trimming the volume. All channels were preceded by a 20 channel VCA controlled grouped Input Master to control the volume of the overall gain structure. This avoided overloading the summing amps when getting over enthusiastic with the mix. If the mix got too hot, just lower the VCA master to a nice +4db optimum level.... unless you were Tommy James. The mix never worked for him unless the meters were off the scale or what we called "in the red"
This was one of the 12 updated Columbia Records custom designed mix boards in 1970,
designed and built, as always, on the premises by the R&D department on the 7th floor.
Still dazzling to me.
Here is a view of the Columbia Records Studio B, Studio E and "The Church" Studio C's amazingly complex and clean sounding 3 Track/4 Track rotary fader vacuum tube boards that I got to use on any given session. Tony Bennett, Mitch Miller recordings all were created with this one, from Studio C which has 16 channels of input.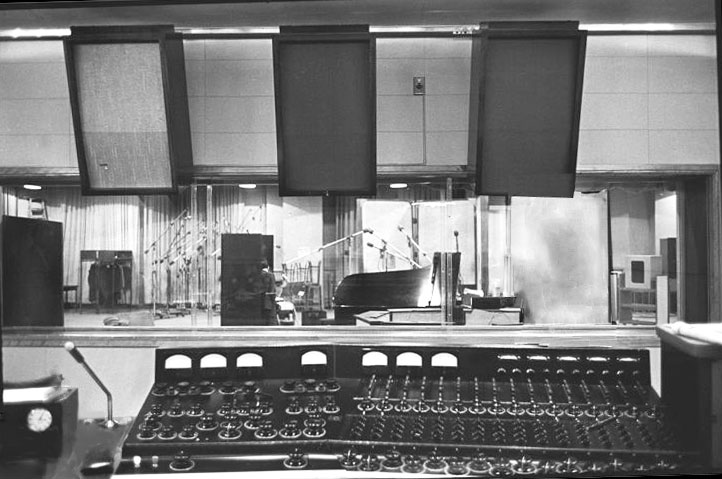 The one's in Studio B...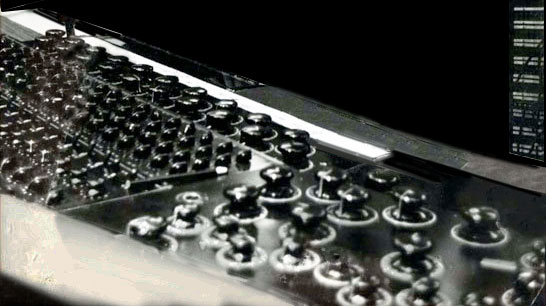 and


TheStudio A Console at 799 7th Avenue purchased by A&R Studios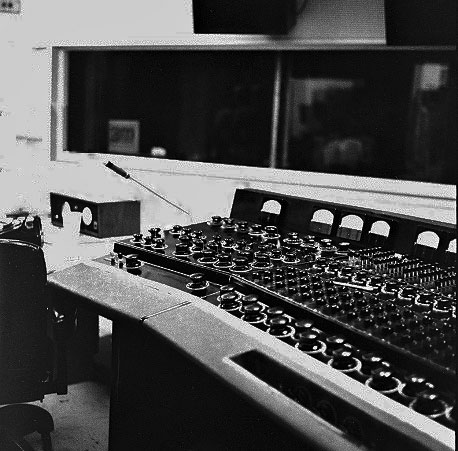 Studio E had a similar console which had 20 inputs all with 10 output busses, L1-C1-R1, L2-C2-R2, L3-C3-R3, and bus 4. While there became more multi-track monitoring limitations,they were used for many more great recordings until 1970. This was was used for many Simon & Garfunkel LP's. I recorded albums for Bobby Vinton, Tom Rush, The Chambers Brothers and Johnny and Edgar Winter on this console.
THE COLUMBIA RECORDS' CONSOLE DESCRIPTION
My favorite thing about all this is to finally point out the extraordinary signal path routing of the these consoles.
Which, by the way, all went point to point in the jack patch bays behind the engineer for unlimited access
and, as superfluous as it may seem, real-time routing reconfiguration could happen. The entire studio wiring could be altered at any point, at any time. Even the "Tape Machine Operator" had access to all feeds to and from his machines at his own dedicated patch bay
which was fed from the Engineer's patch bay. I hope someday to come across a photo of the rear of just one of those bays. Inspirational!
This was accomplished nowhere else in the world with NO increase of hums, or buzzes or radio frequency interference.
The intermediate gears shown above in the stereo monitor controls were also added
to the studio console intricate buss group combination masters.
The busses consisted of 3 LEFT busses, 3 CENTER busses and 3 RIGHT busses
and one buss for Channel 4 to feed the updated 4 track configuration.
10 in all.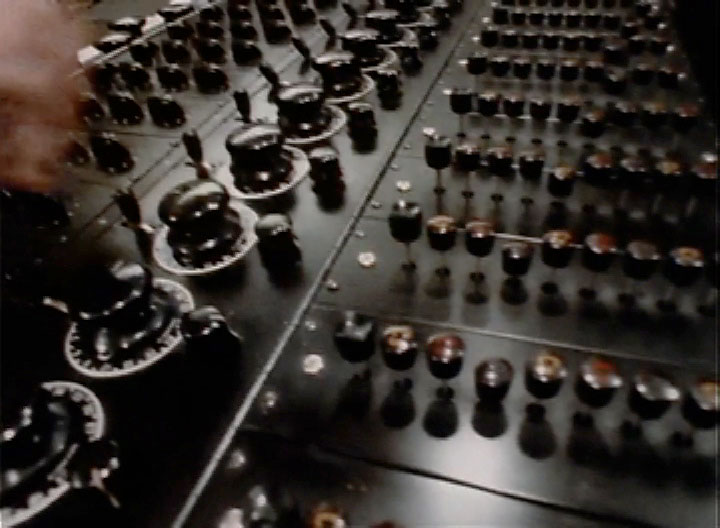 Thanks to Photoshop, here is my simulation of the magnificent madness, as near as I can recall it.



All LEFT busses 1, 2 & 3 had a 3 ganged master. Likewise for CENTER busses 1, 2 & 3 and RIGHT busses 1, 2 & 3.
And they appeared as 3 MASTER knobs as (all) LEFT, (all) CENTER and (all) RIGHT
and a gear connected LEFT to CENTER and another gear connected CENTER to RIGHT knobs.
In addition there were three more 3 ganged sets of GROUP MASTERS.
These controlled the LEFT - CENTER - RIGHT "1", LEFT - CENTER - RIGHT "2" and LEFT - CENTER - RIGHT "3" and a Master for CHANNEL 4.
They reduced and combined to STEREO and a MONAURAL MASTERS.

Here' the Columbia Records Studios Control Room 1970 replacement console built reportedly by 3rd party vendor. I was a participant of it's signal flow design. Still curious of who came up with the color and shape choices.But it was a great sounding , flexible signal routing console especialy as the tape track count was growing up to 48 tracks. Lots of improved multitrack monitoring in a stereo feild scenario. .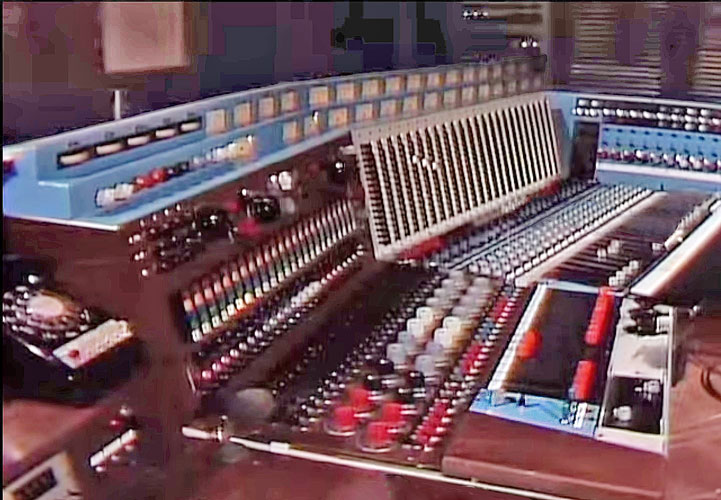 The mixing console, 4th floor, as all the consoles, was custom made by the R&D engineers on the 7th floor. We (the recording engineers), got to get together with
Eric Porterfield,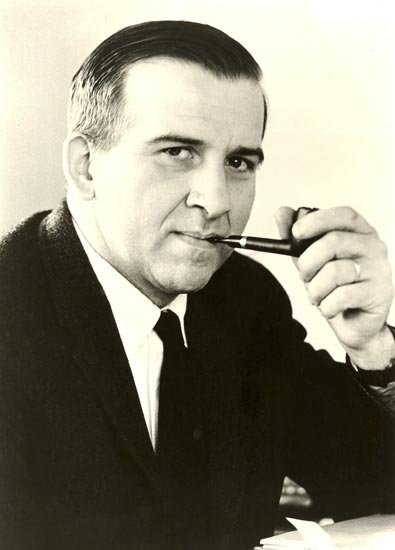 the chief R&D Engineer (aka Genius)
and gracious mentor and his great team of technicians in the R&D department on the 7th floor
and collaborated on the new console designs for the 1970 CBS N.Y studios' revamping.
They wanted to insure that the functionality of their construction efforts would have no shortcomings.
That is part of what made them a world class facility.

I don't have everyone here but here are some of the guys from
Columbia Records that put the vegetables on the platter...
(... for a World with Music!...)

COLUMBIA RECORDS NEW YORK

Director of Recording Operations -till 1984
... Roy Friedman ...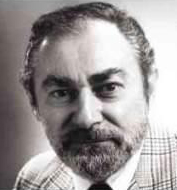 Columbia Records Studio Supervisors
... George Knuer... ... and ... ... Barney Beck ...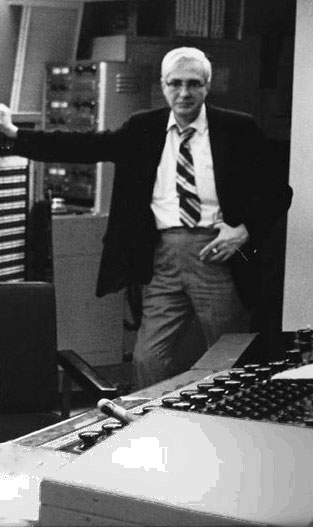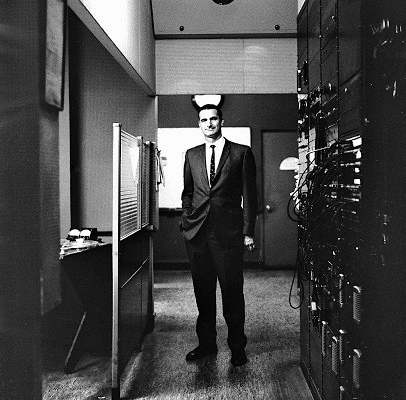 The "Machine Men" aka " The Tape Ops"

... Lou Waxman ... ... ... and ... ... ... Justin Stenerson ...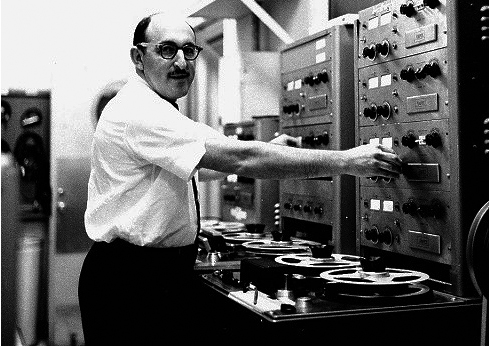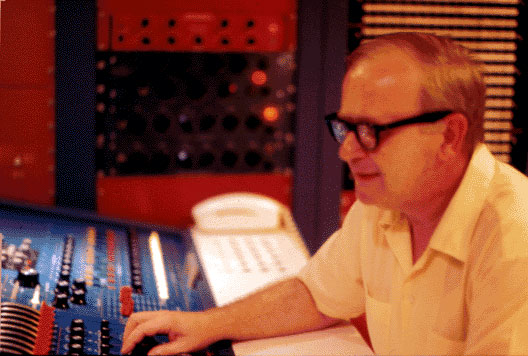 ... Doug Pomeroy (also engineer) ... ... and ... ... Lou Schlossberg ...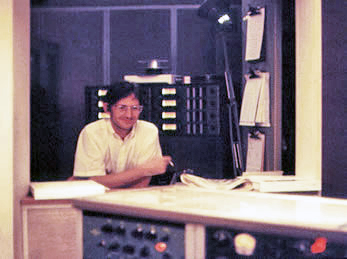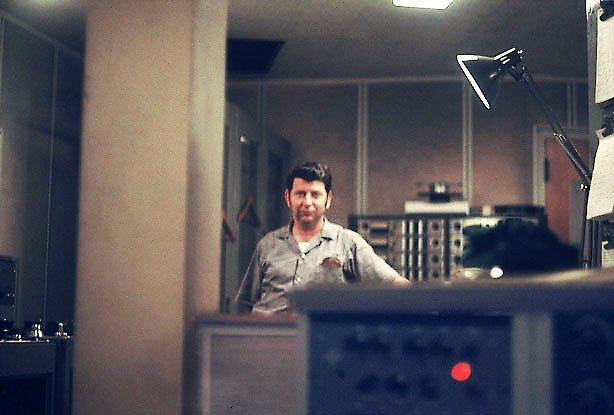 Ted "Teddy" Brosnan ... ... ... and ... .... ... Vernon Fox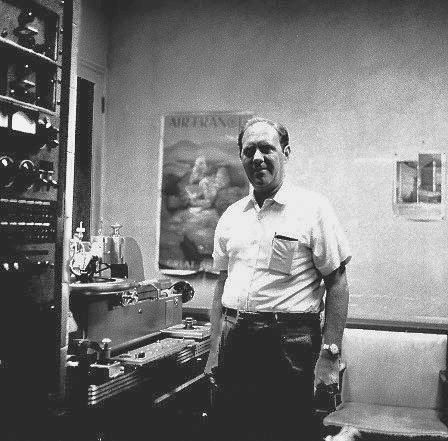 ... ...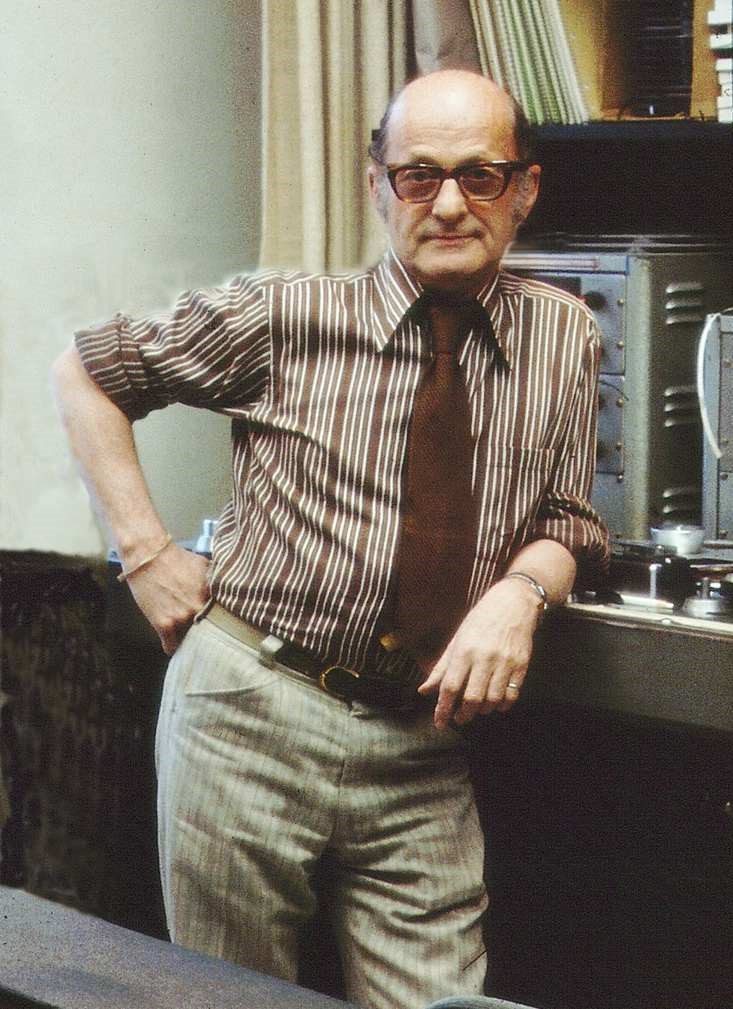 Jerry Smith (no photo)


Disc Mastering
... Russ Payne ... ... and ... ... Ray Moore ...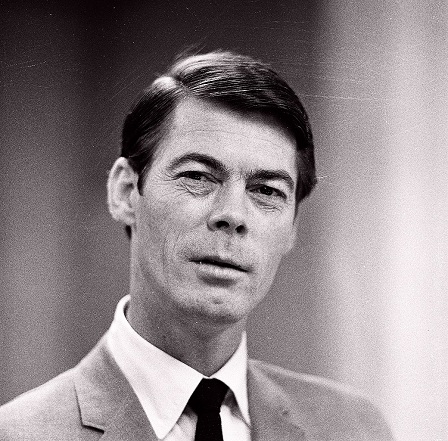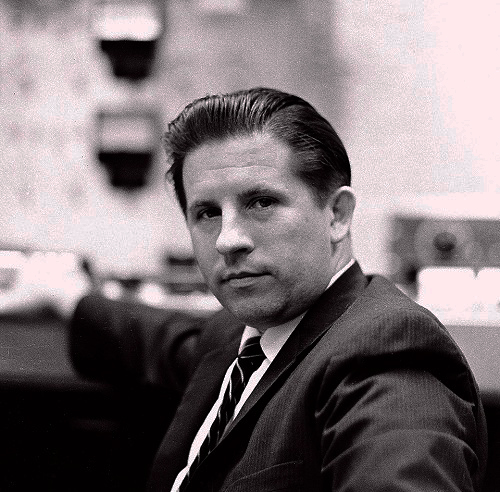 Studio Assistants
Al Usher and Bill Scruggs (no photos)
Ed Haskell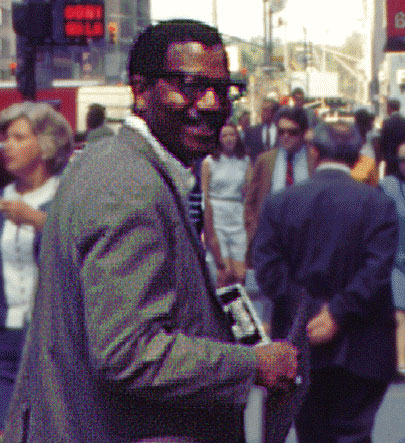 Studio Maintenence

Harold "the gentle giant" Tarowski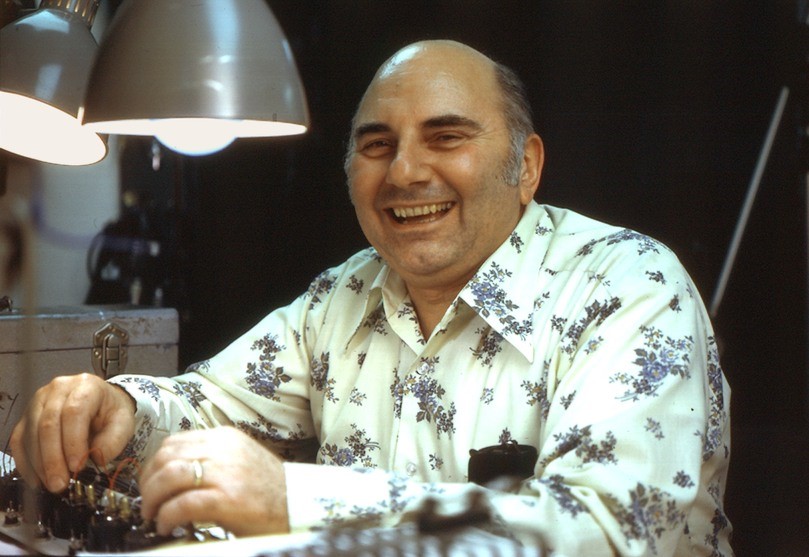 Bill Messina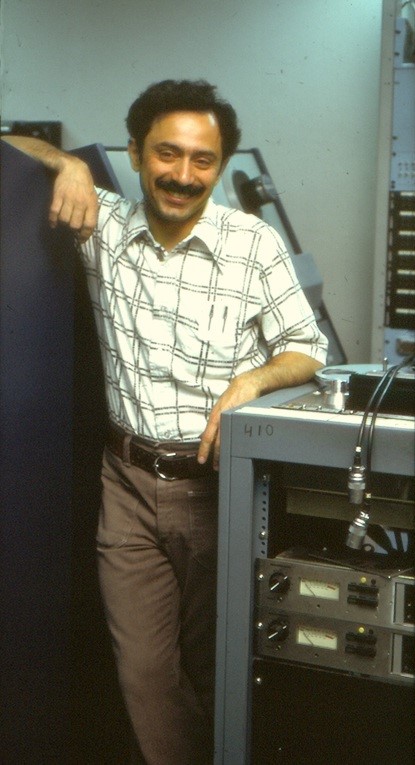 Ken Robertson (no photo)


Jim Geras ...........................................Marty Greenblatt......
.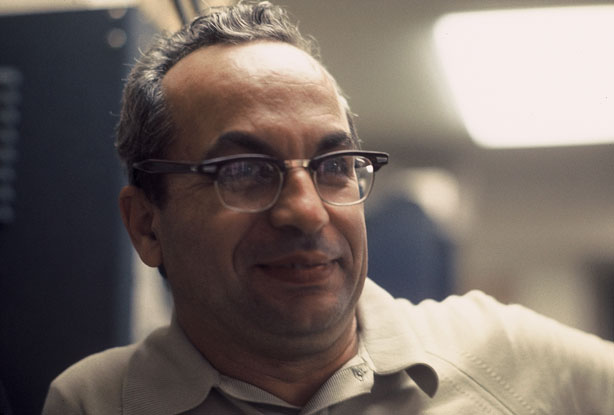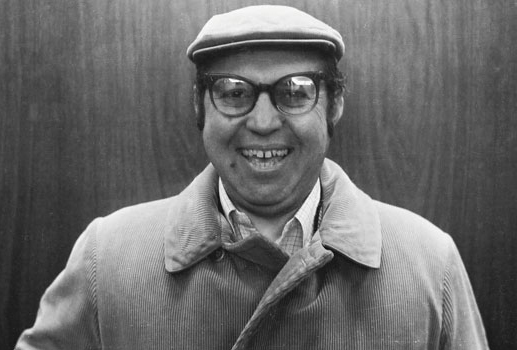 Bob Piselli -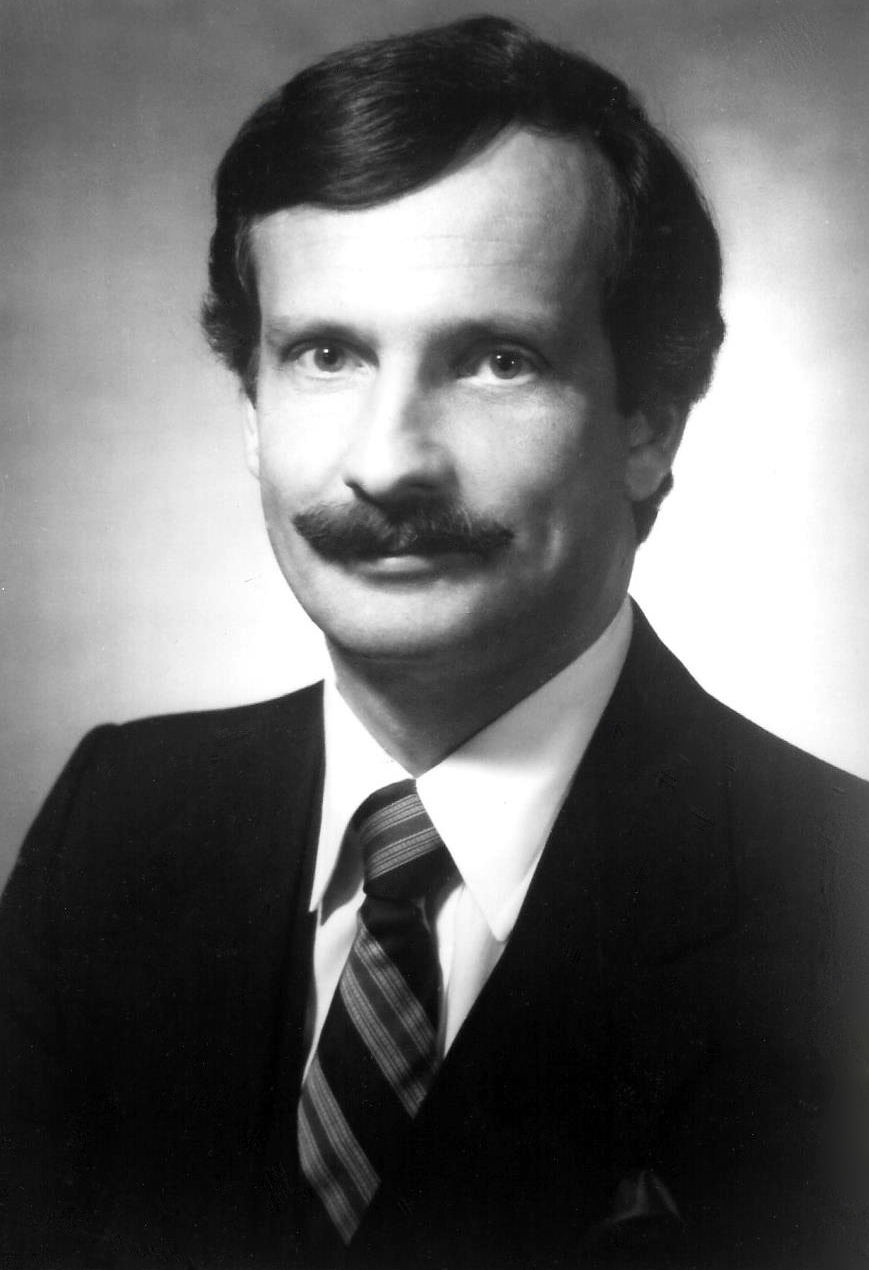 Bob was in tape maintenance, construction of studio equipment.
He engineered the first high speed tape duplicating system
for reel to reel, 8 track cartridge and audio cassette.
Bob was part of BASF developement of "Chrome" cassette chromium dioxide formula
that encouraged A&M rock legends like
Supertramp & The Police to embrace the cassette industry.



Tape Vault Manager

Cornell Davis (no photos)

Wally Gordon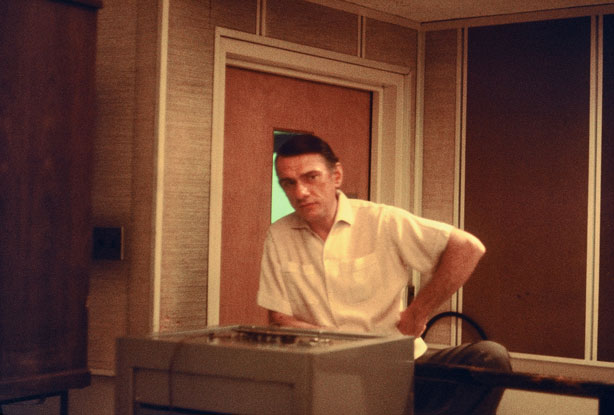 And The Members of "The Board"...


and Stan Weiss (no photo)
---
CBS Columbia Records STUDIO C, a.k.a.: "The Church"...
from this ...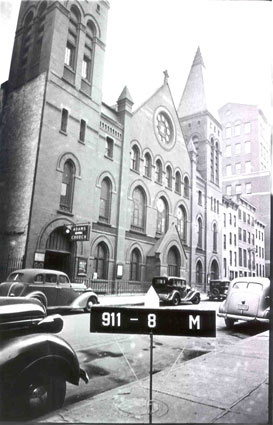 to this...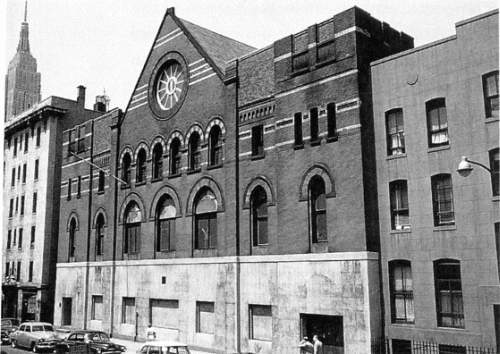 ...outside...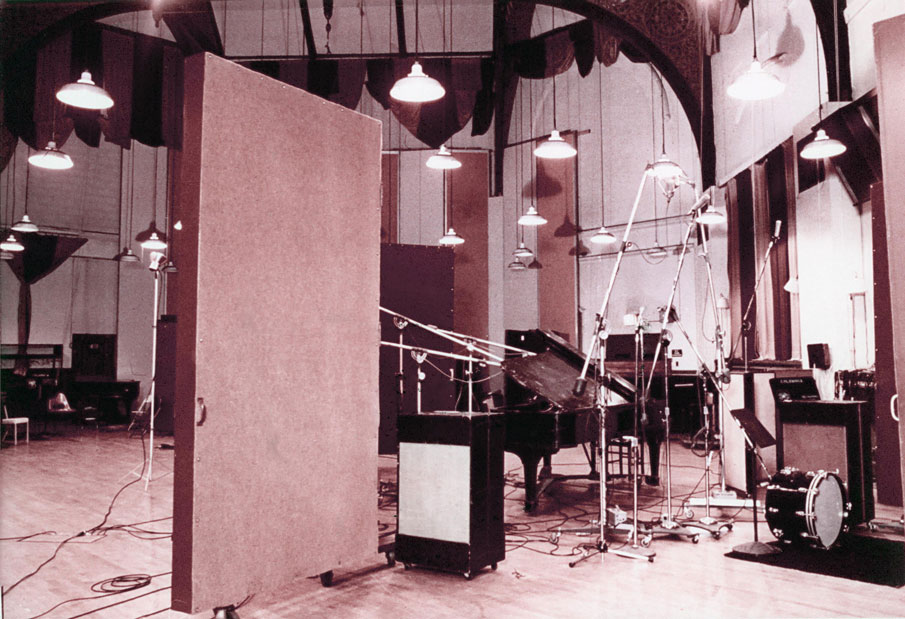 ...inside
This photo of the CBS Studio C, taken by studio manager Dave Smith of Sony Records, was Columbia Record's 30th Street Studio in Manhattan, NYC. A converted church. It was a precious commodity. It was huge and the room sound was incredible. It was my first exposure to the epitome of the recording studio experience.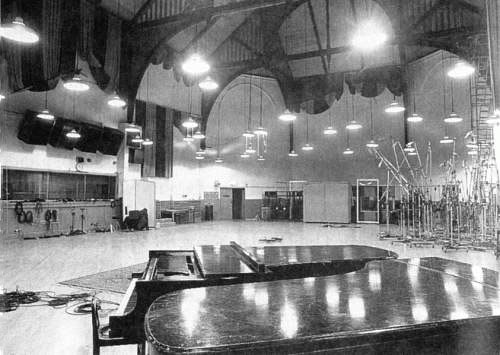 Dave Sarser of Studio 3 (see "Studio 3" link below...) took me here at the Church in 1962 to observe my first 3 track recording session.
Paul Robeson, the classic movie actor and recording artist, sang while a thirty piece orchestra and thirty piece choir accompanied him, all live! It was a patriotic cantata to the Constitution of the United States. The Preamble, The Constitution, and the Bill Of Rights, and so on, were put to music and performed here that day. I was inspired by the fact that, aside from the artistry, how clean the audio system was. All that sound, and yet, when no one was performing, and I put my ear directly up to one of the Altec 604E speakers to check for system noise, there was only the tiniest hint of hiss from the tubes. I was amazed! How could all those mics and amplifiers go through all those wires, hundreds of feet, back and forth through all those patch bays and volume controls and equalizers and still total next to zero noise! The CBS technical staff were truly the masters of audio wiring.
Thank you Eric Portafield...chief of CBS Studio's R&D.
---

Eight years later, I found myself producing the band CISUM (music spelled backwards) for Epic Records at CBS.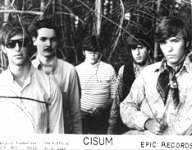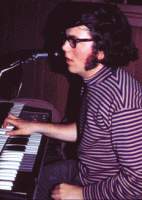 ... Phil Galdston of CISUM...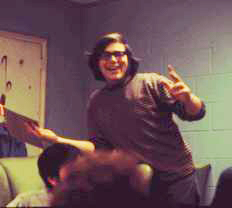 I was hired as an engineer on staff here.
I had the incredible satisfaction of recording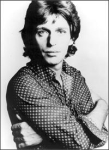 Georgie Fame
of Georgie Fame & the Blue Flames "Yeh, Yeh",
and Otis Blackwell (author of Don't Be Cruel) with full orchestration in this same Studio C.
Strings, horns and lots of background singers! All together, "live". (I still have the session tapes!)
And I recorded Bobby Vinton's "Just A Little Lovin' Early In The Mornin'" vocal here after tracking the orchestra in Studio B.
I also recorded The Chambers Brothers and many more great sessions here.

Sinatra frequented the Church quite often during his Columbia years even during the Capitol years with...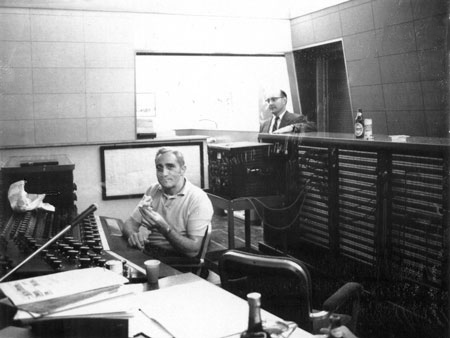 ...Frank Laico at the board at 30th Street.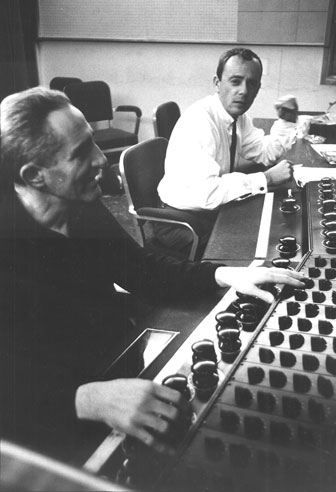 Laico made recording look easy.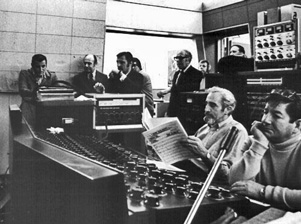 Tony Bennett and Teo Macero thought so.

"The Church", Studio C was kinda' Frank Laico's base of operations.

The church's sacristy was also converted into Studio D, (no photo) a tiny, intimate room where I recorded 90 takes of Tom Rush's vocal and guitar tracks along with Duke Bardwell's bass guitar (Old Man's Song and Children's Song) for his first Columbia album and many more hours experimenting on the Moog synthesizer with John Cale of Velvet Underground for the Vintage Violence album. Paul McCartney also performed 90 takes on his vocal for
"Monkberry Moon Delight" from his Ram album in Studio D in '71.
(He wanted to get that raspy sound, uh, and he did!).
The New York Rock & Roll Ensemble recordings was the last session I engineered there in 1971. The 30th Street Church fell to a newly arrived neighbor's noise complaints. They had purchased the adjacent town house. Imagine being in the middle of a great moment in a recording session at Columbia Records in one of the finest sounding studios in the world, and spinning around on your chair to a dozen police officers who explain that the session has to stop because the new neighbors complained about the noise!
Not wanting to be a nuisance, CBS decided to shut it down not long after.
I miss it.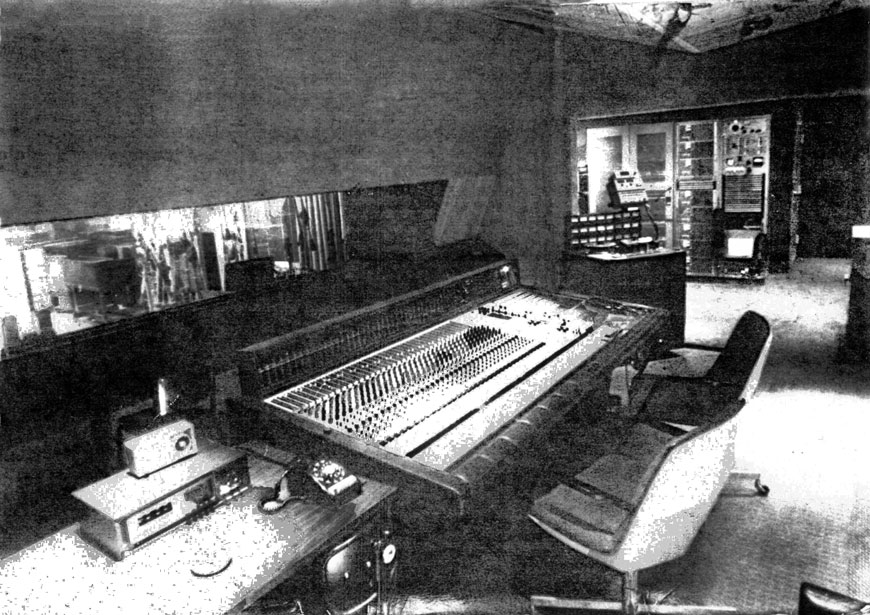 Photo by Dave Smith
This shows the modernisation of
Studio E Control Room in 1972

Jim Reeves engineering in front of the first Dolby units during the Tom Rush mixing sessions.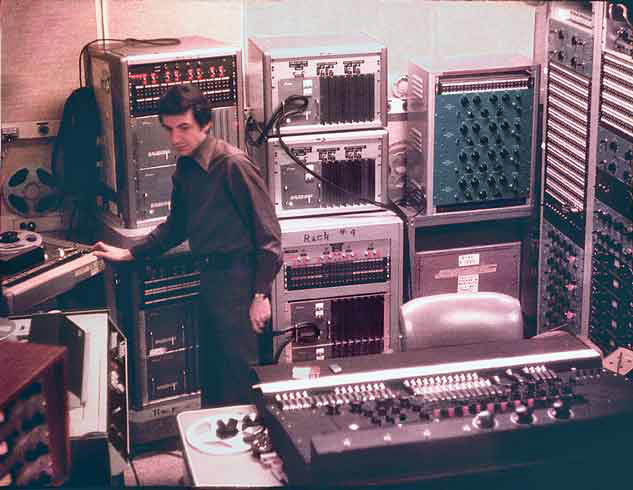 It happenned to be the very first #1 multi-track DOLBY'd LP to be releaseed in the industry's history.
This is also the edit room where Don Puluse and James Guercio mixed Chicago's CTA album.
Not to mention countless other classics. Percy Faith, Frank Sinatra and on and on.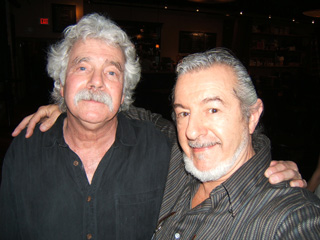 ...and Tom and me at doing a live show together in 2011.


Here are some photos I took while I was engineering the song "Driving Wheel", written by David Wiffen
in Studio B for the Tom Rush album in '69: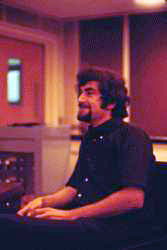 Arranger/producer, photographer, Ed Freeman.
This was Ed's first exposure to producing. Eventually he would go on to produce
Don McClean's "American Pie" album, Tim Hardin, Rob Hegel
and all the orchestral arrangements for the Greg Allman "Laid Back" album with me.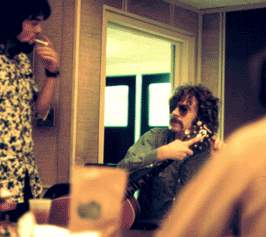 Duke Bardwell, bass & Tom Rush in Studio B...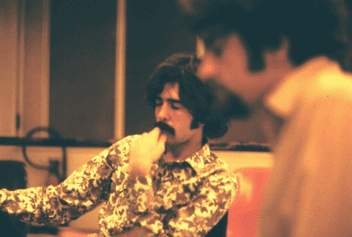 ...and Trevor Veitch, guitars....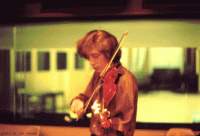 ...and Richie Green at CBS Studio B,
where Simon & Garfunkel's "Bridge Over Troubled Water" was recorded
by Roy Hallee
and also my Bobby Vinton "Ev'ry Day Of My Life" album.




. 



Photo by Dave Smith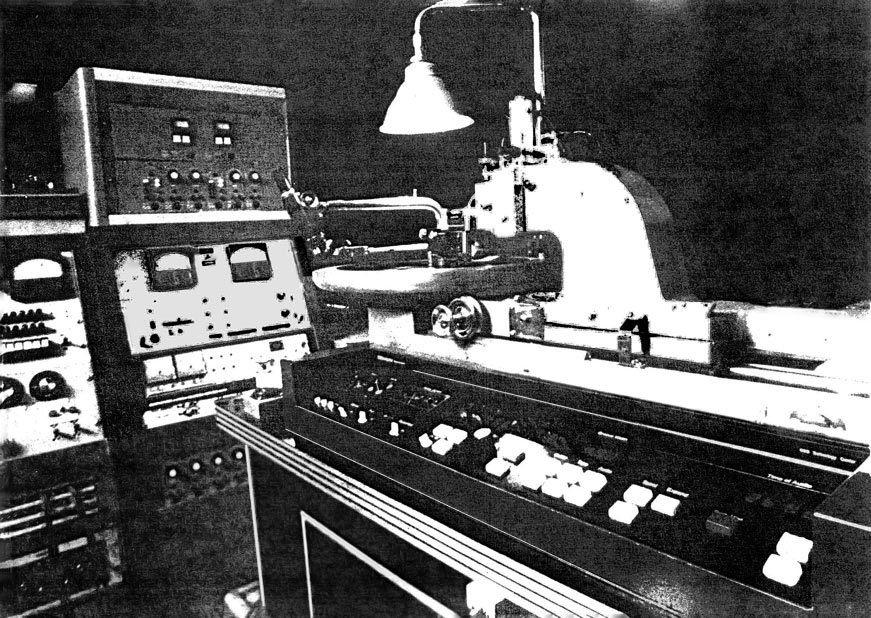 And this is what your records were created on. The finest Scully disc cutting lathe. A modern version of the one Herb Abramson (founder of Atlantic Records) taught me on at A-1 Sound years earlier. There were about nine "cutting" aka "Mastering" rooms on the 5th floor of CBS's New York's facility on 52nd street.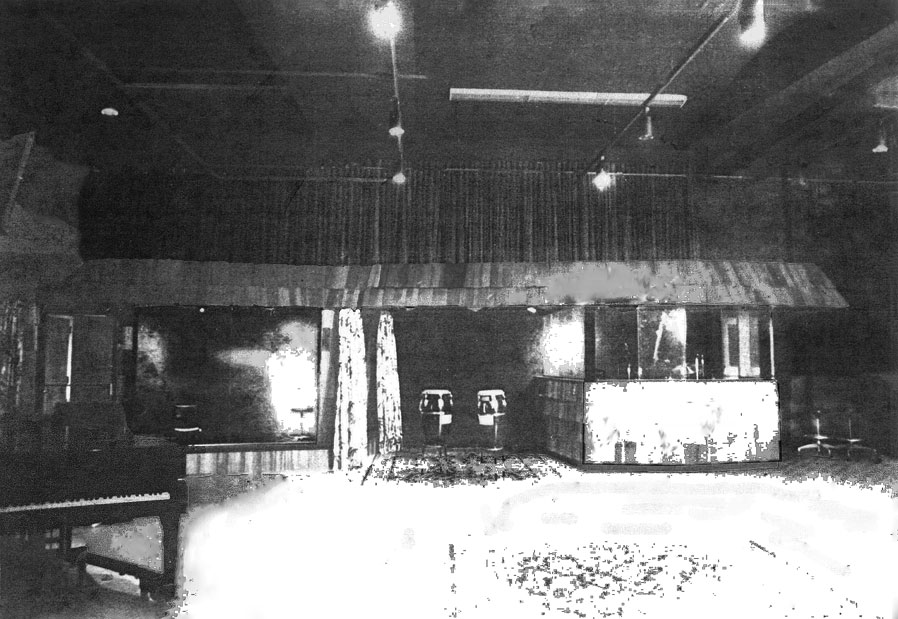 Photo by Dave Smith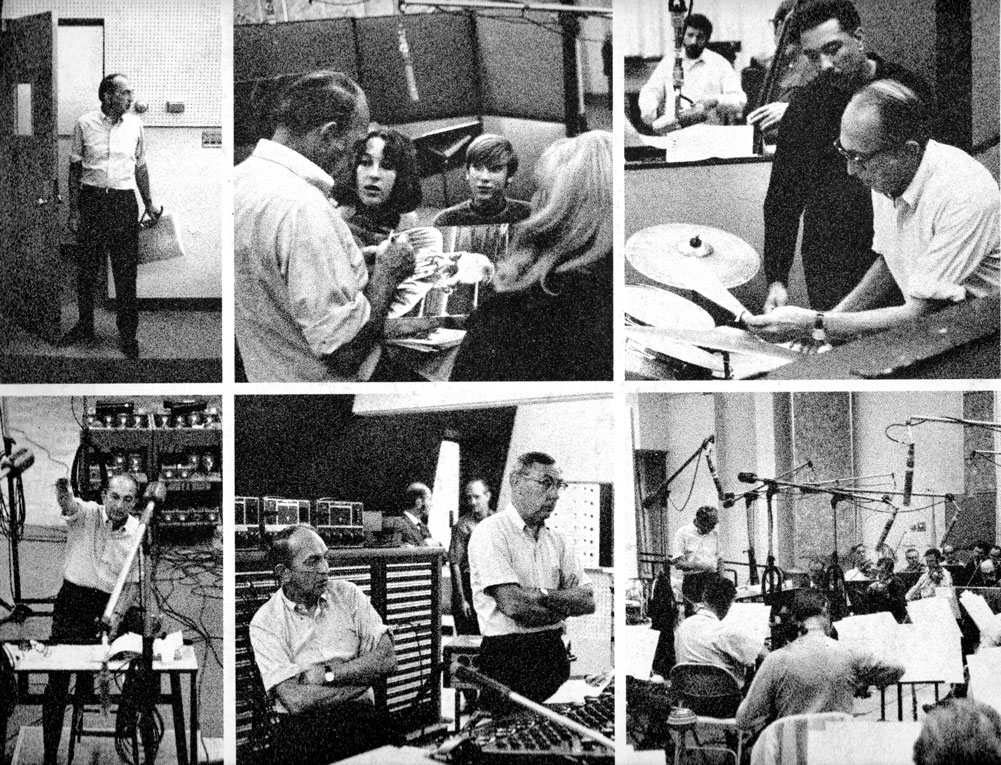 .
Percy Faith Orchestra at Columbia Records in the Hollywood Studios.


This was Studio B on the second floor of CBS 52nd street.
Home of "Bridge Over Troubled Water" to name one. After the modernization of 1970, the booths were added as isolation rooms as less big orchestral session space was in demand.
I recorded Bobby Vinton's Ev'ry Day Of My Life album here (before these booths were installed). I happened also to have participated in the audio historical timeline by having engineered the first releasedmulti-track Dolby'd album to hit the market - "Tom Rush" in 1969. I started and mixed it here prior to Studio B's renovation. It included Driving Wheel and These Days (written by Jackson Brown). Studio B also had a live echo chamber.
It is now a Duane-Reade drug store and offices.
You can see this studio in Thelonius Monk's video "Straight, No Chaser" DVD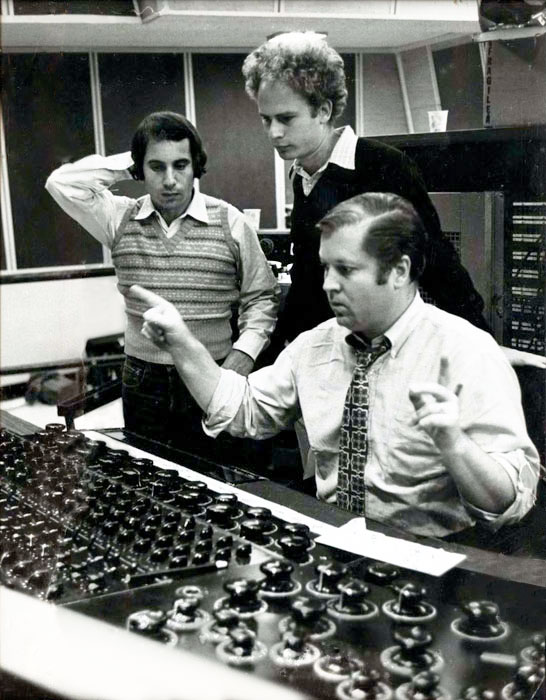 ... Roy Halee with
Paul Simon & Art Grfunkel at home in Studio B


..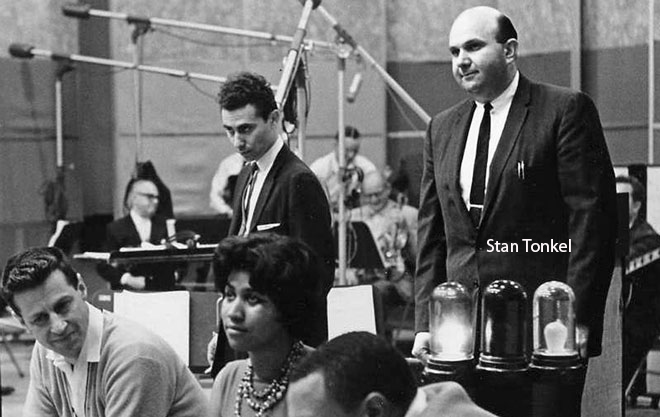 ...CBS Studio Recording Engineer Stan Tonkel
...checking the mic setup while recording Aretha Franklin in Studio A, aka "799'.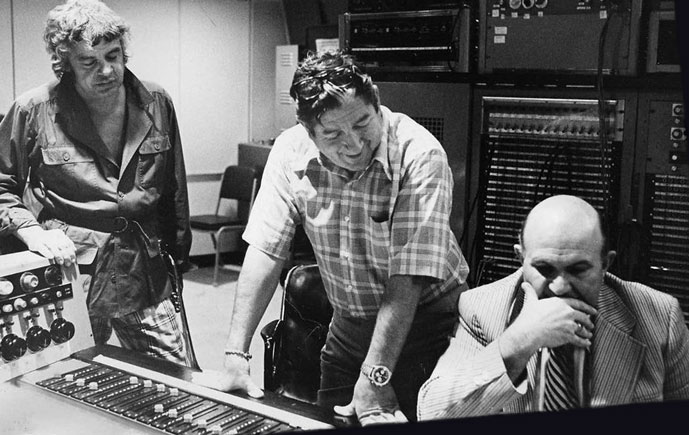 Tonkel at the updated console in Studio B with Teo Macero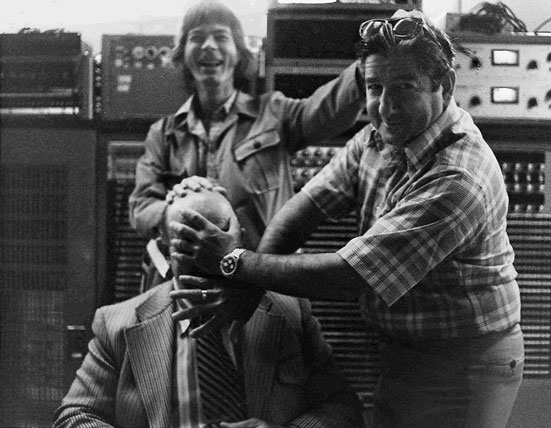 ...Stan with Mastering Engineer Russ Payne and Producer Teo Macero in Studio B
(Photos courtesy of Josh Tonkel)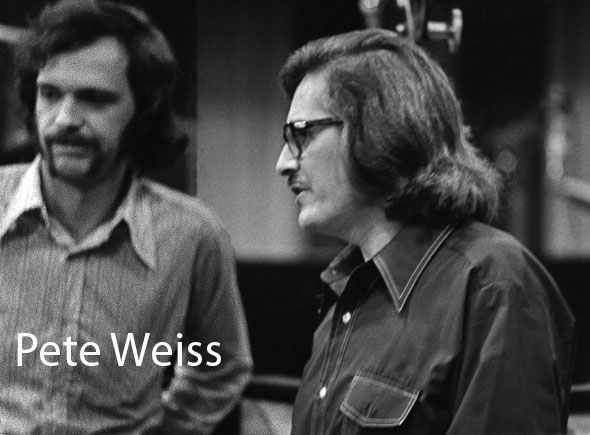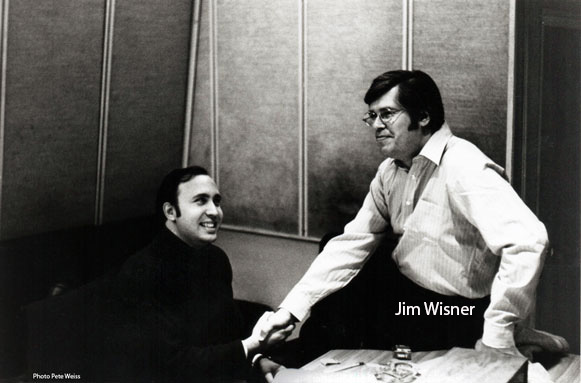 Columbia Records
Engineer Pete Weiss (left) shown here in Studio C
with Bill Evans ... and in session with Composer/Arranger/Producer Jimmy "The Wiz" Wisner (right) with
Dan Elliot up in Studio E on the 6th floor. I engineered Bobby Vinton's "Ev'ry Day OF My Life" album wth The Wiz in Studio B & Studio C.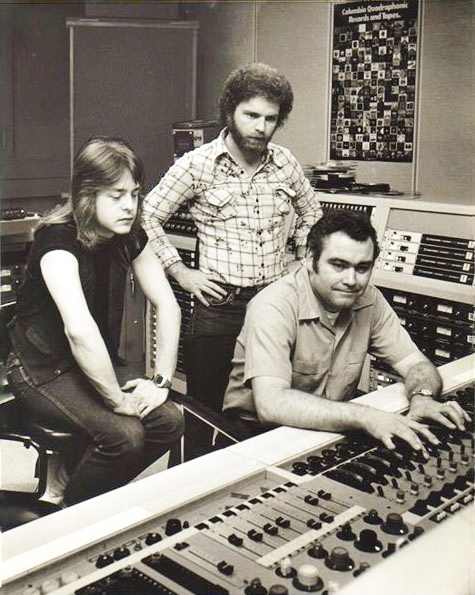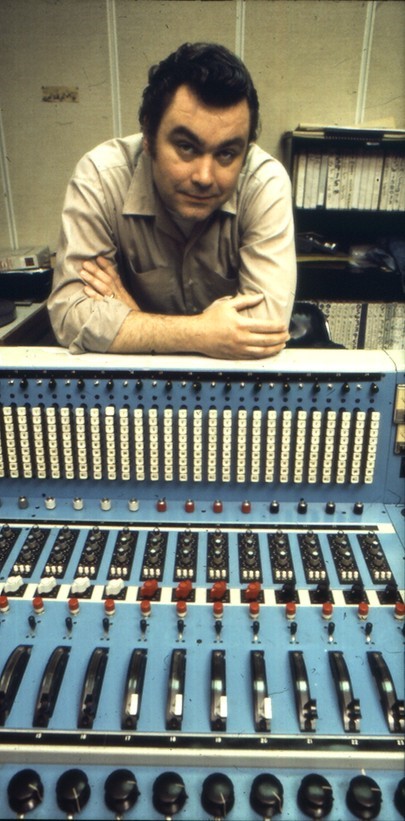 Larry Keyes at his CBS Quadraphonic Suite 4th floor room 414 with Rick Derringer and Al Lawrence.
Larry was not only a great all-around engineer, but highly knowlegable about electronics and
designed this Quad room built in-house for him by the CBS R&D staff .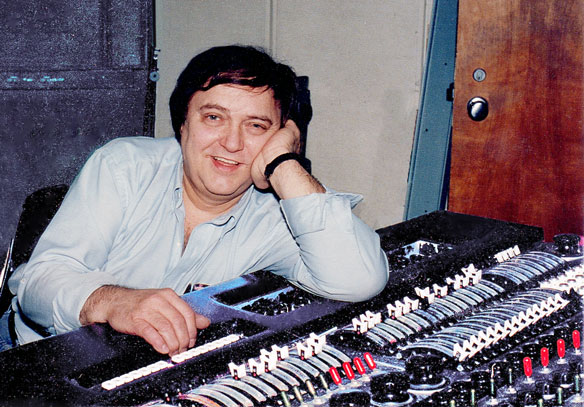 Don Meehan - CBS Engineer/Producer/Artist,
was my engineer when I first came to CBS as an independent producer.
It was Don who convinced me to come work as a staff engineer at CBS.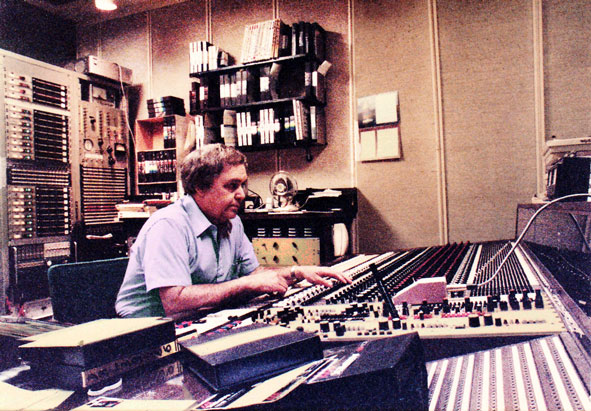 He currently holds the World record for overdubbing his voice
on a commercial recording up to 233 voices
Frank Laico with Ted Brosnan and Bill Messina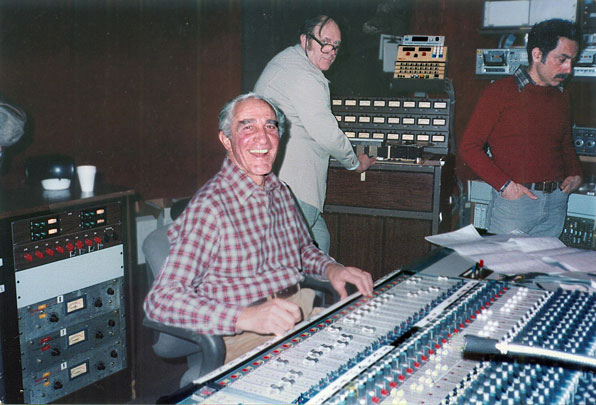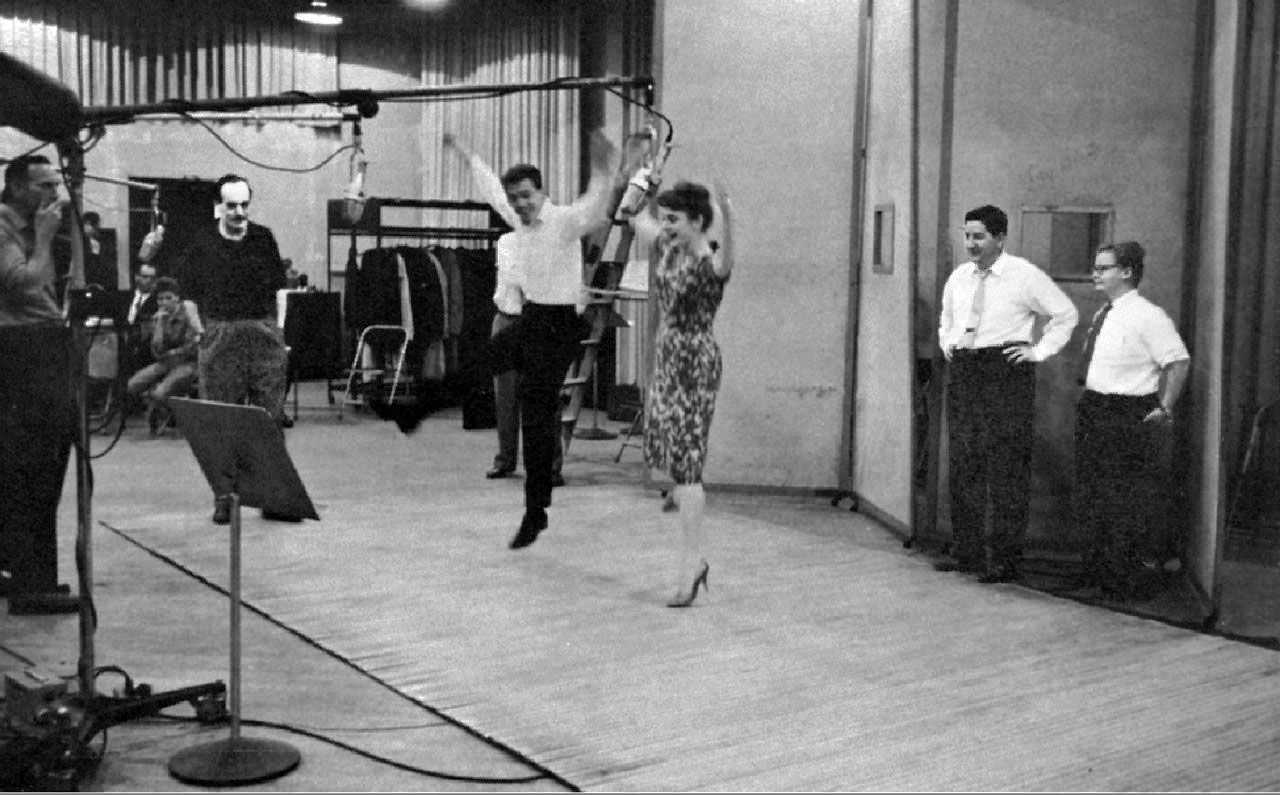 Fred Plautt (2nd from left) - Teo Macero on right with Buddy Graham - remote recording engineer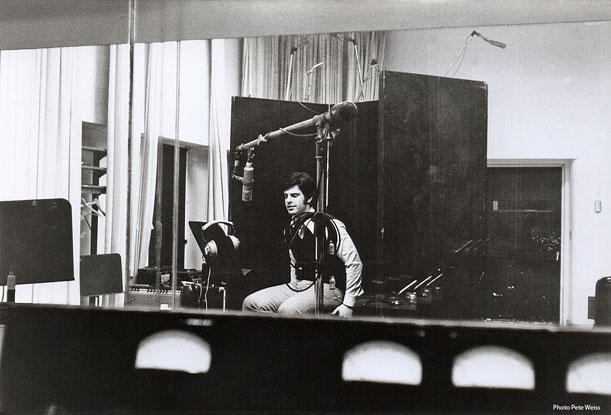 and I spent many hours in the studio with
Staff Writer/Producer Sandy Linzer shown here in Studio E on the 6th floor across the hall fro Artur Godfrey's Studio G.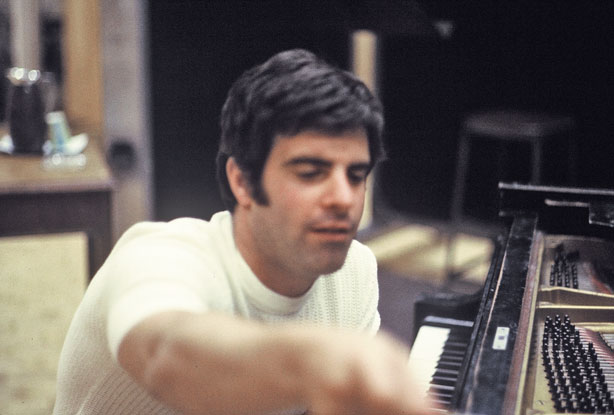 Sandy Linzer In Studio B.
Sandy was co-writer for some of the Four Season's hits.
"Working My Way Back to You", "Opus 17 (Don't You Worry 'Bout Me)", "Let's Hang On!" and "Dawn (Go Away)".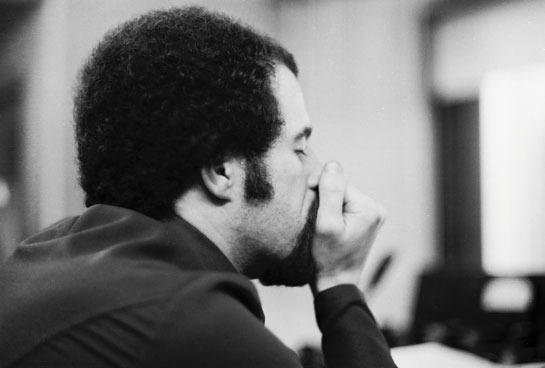 Mike Petrillo
was also an A&R producer who often worked in hand in hand in sessions with Sandy Linzer.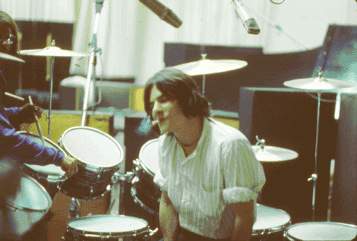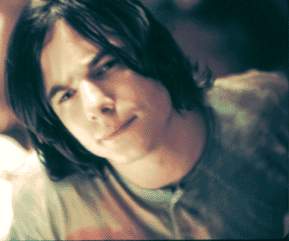 ...the Catfish and Jam Factory LP's I engineered for producer Kenny Cooper here in CBS' Studio A.



In 1969, CBS leased Phil Ramone's A&R and Roy Cicala's The Record Plant Studios
to accommodate the overflow of Columbia Records recording projects.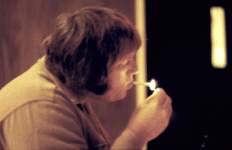 Bob "Catfish" Hodge on CBS's EPIC label at A & R's R-2 Studio in Manhattan.
We recorded and mixed the entire album in 3 days. A "record" for me.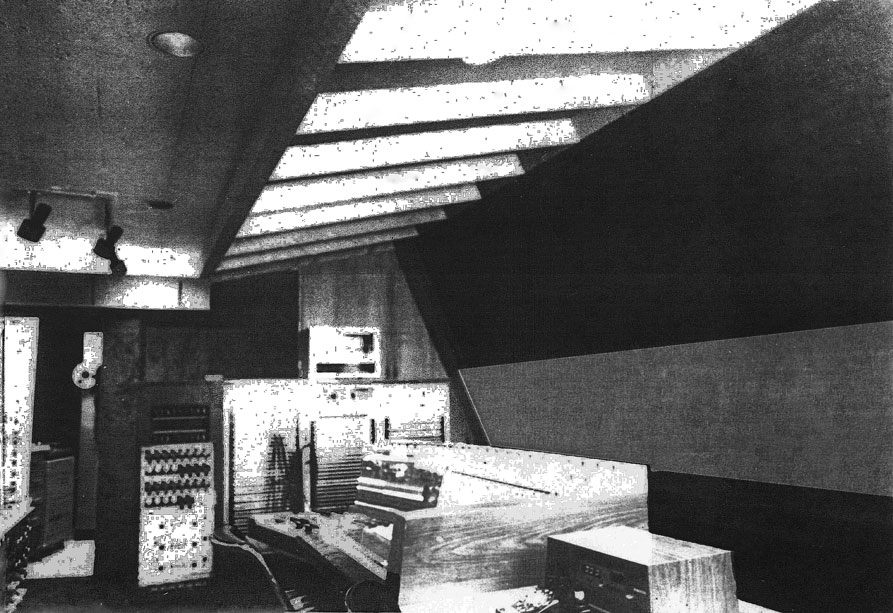 Photo by Dave Smith ...
CBS' renovated Studio B
Studio B control room with one of the updated custom designed 40 channel consoles added in 1970. They were built "in house" on the 7th floor by the CBS technicians, led by Eric Porterfield. By now the tape machines had grown to 16 tracks and the recording techniques were becoming more complicated. Dolby noise reduction was accepted as a standard and had to be integrated. What differs from how things are manufactured today is that in the designing stage of these consoles, we, the recording engineers, actually sat with the design staff and communicated what those demands in the modern recording "process" were and the consoles were designed to "make sense" for us as end users.
Note the Machine Room at the lower left in the rear. The tape operator sat back there and controlled the tape machines and monitored them to insure the performance was actually getting on tape.
---
Great moments in CBS recording history, for me anyway:
Paul & Linda and the kids during the few weeks of tracking sessions in Studio B for the really great
RAM album in '71.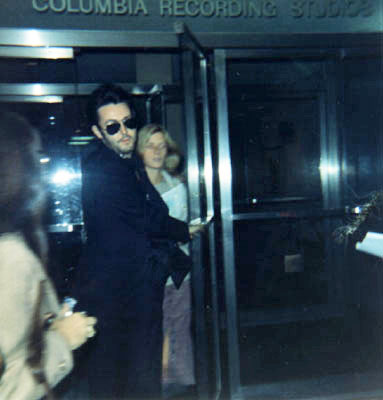 Photographed by a fan...
---

A&R Studios R-2
48the Street - Manhattan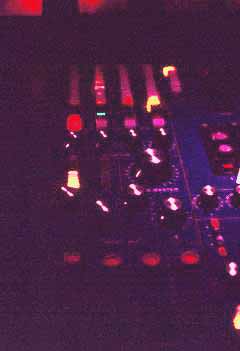 A&R Studio R-2 console (engineer's position) 322 West 48th street Manhattan...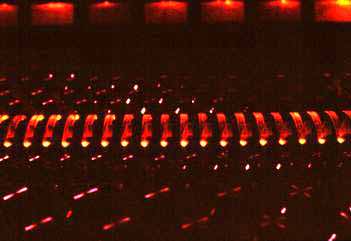 ...flaunting illuminated Penny & Giles faders.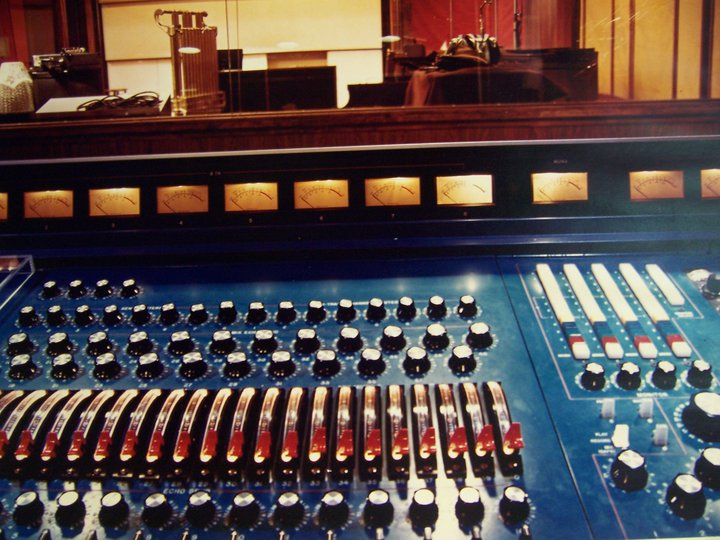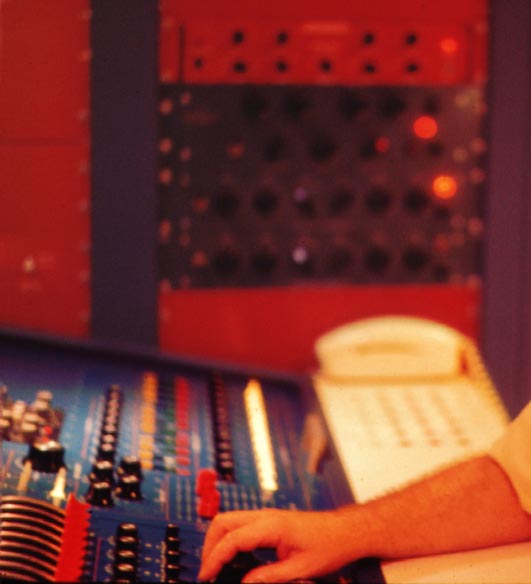 ---
Right Track: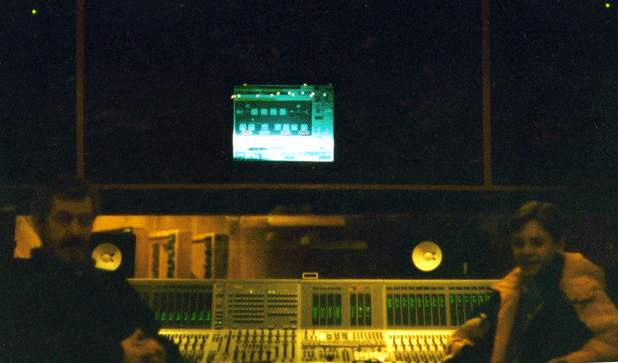 Alex and me at Simon Andrew's Right Track Studios NYC
photo by Eric Reeves


---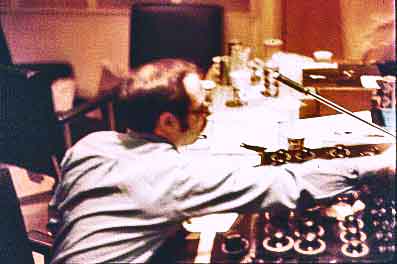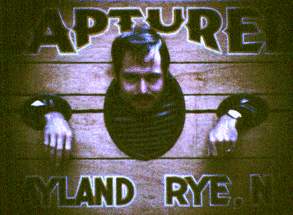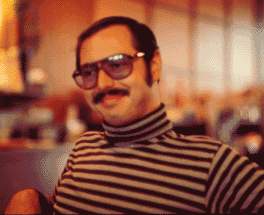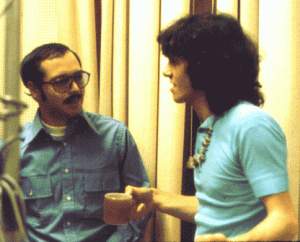 Kolotkin and Donovan in Studio E October 1969
My buddy Glen Kolotkin (top photo), recording Tim Hardin at the Studio E console in the lead-lined Columbia Records building, 6th floor, 49 East 52nd Street, New York City , 1970, when faders were still rotary.
Look at that console - it was amazing!
It's too bad that I don't have a better photo of it. (No offense Glen). When I left A-1 Sound to work full time at Studio3, around '67, I met Glen, who replaced me there when he got out of the army. We met up again in '69 here at CBS. We formed a production and management company and produced the band Sunday for Apple Records with Allan Klein in '70. Still buddies today.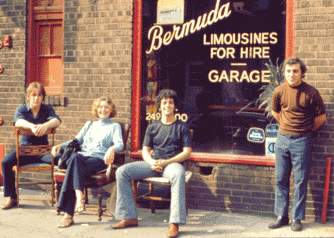 My photo shoot for our band, signed to Apple Records, "Sunday" featuring Cheryl Hardwick III
Cheryl went on to Saturday Night Live as the musical director.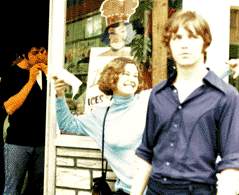 Glen Kolotkin and Jim Reeves formed a management company along with a CBS Studio's cohort, Ed Haskell.
Among those managed by us was Bobby Lester for CBS Records.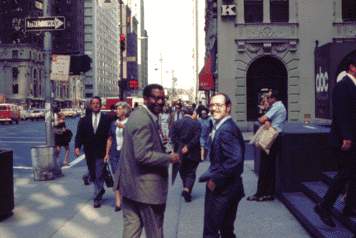 Haskell, Kolotkin and Reeves (taking photo) cutting a deal at ABC.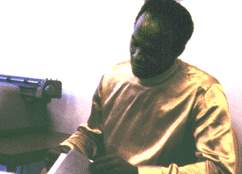 Bobby Lester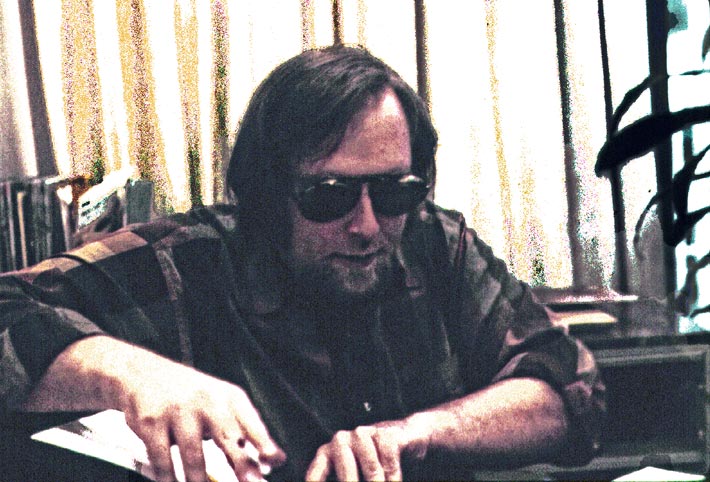 Harvey Brooks at Blackrock -
Lester's Producer and former bassist of Electric Flag and Super Session at his CBS Blackrock digs.
Glen just won his 2001 Grammy for engineering Carlos Santana's Supernatural hit album. He's a great guy and engineer. Congratulations! You earned it. Some of his other productions have been: Joan Jett, NRBQ, several Barbara Streisand albums, Jimi Hendix, Janis Joplin "Pearl", Donovan, The Chambers Brother's "Time (Has Come Today)", Gladys Knight & The Pips
and lots more great stuff!
---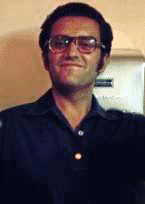 Don Puluse, another great friend, engineered Chicago and Sly and the Family Stone albums, among many.
He's now retired from professorial status at Berklee College in Boston Massachusettes.


---
Some of the typical gear in CBS's editing cubicles on the 4th floor:


John Cale of Velvet Underground in Quadraphonic Edit room at CBS where I produced and mixed several quad albums. Prior to the Quadrophonic renovation, this is the room that Jimi Hendrix' Electric Ladyland and The Rolling Stones (Her Majesty's Santanic Request) albums were mixed in by Glen Kolotkin.
If you are interested in seeing a timeline of 125 Years Of Columbia Records here is a link:
http://www.columbiarecords.com/timeline/#!date=1896-03-16_17:27:04!

I want to acknowlede contributors Art Kendy and Josh Tonkel for some of these photos.


---
I engineered here on the Pussy Cat, Laid Back, Berlin, Mott The Hoople, King Crimson albums, mixed Edgar Winter's Free Ride and many others in the early 70's and later in the 80's with here in Studio A.
This is where I first met John Lennon in STUDIO A while we were both doing a Flip Side TV show while I was mixing Johnny Winter with Rick Derringer at this Spectrasonics board.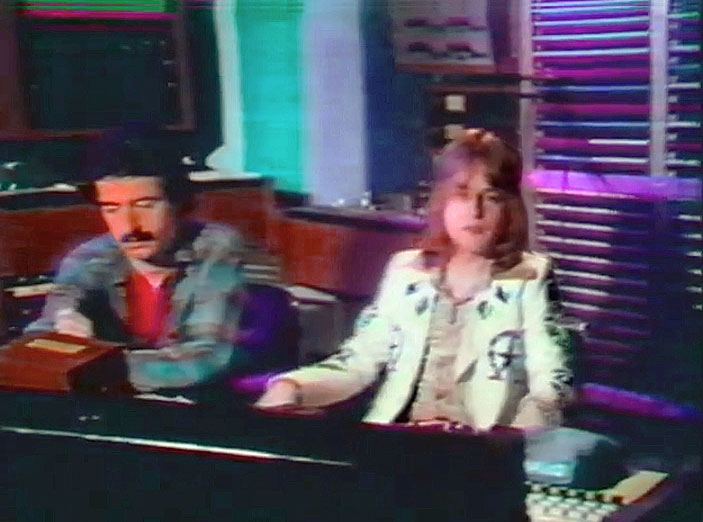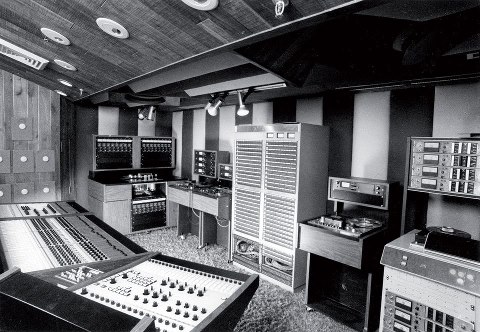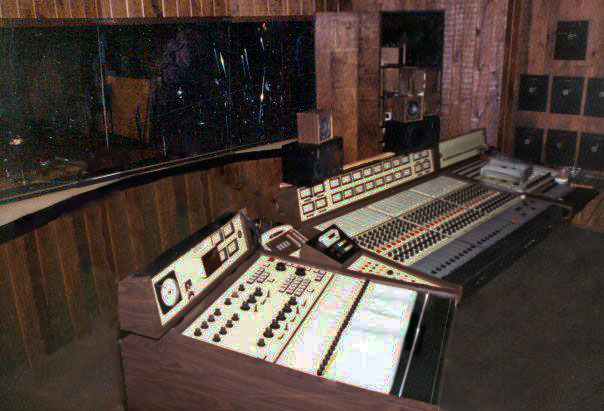 Roy Cicala, John Lennon, Yoko Ono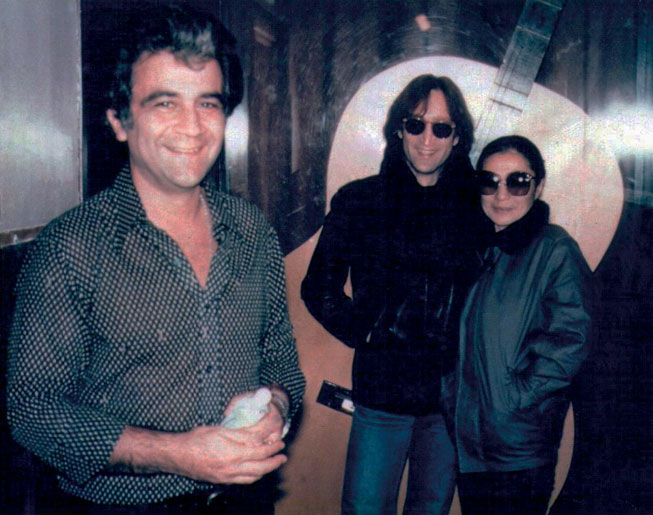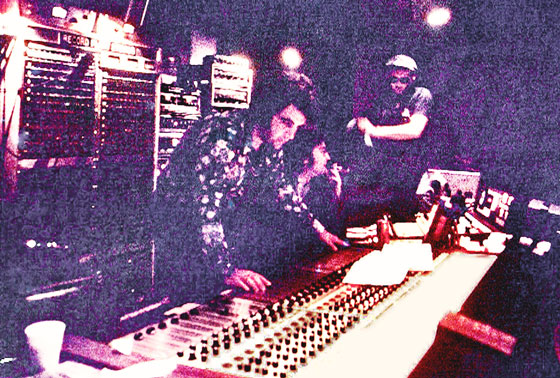 ...John spent most of his time in Studio B and even prompted it's remodeling during his production of Harry Nilsson's The Pussy Cat album
while Yoko worked up in Studio C.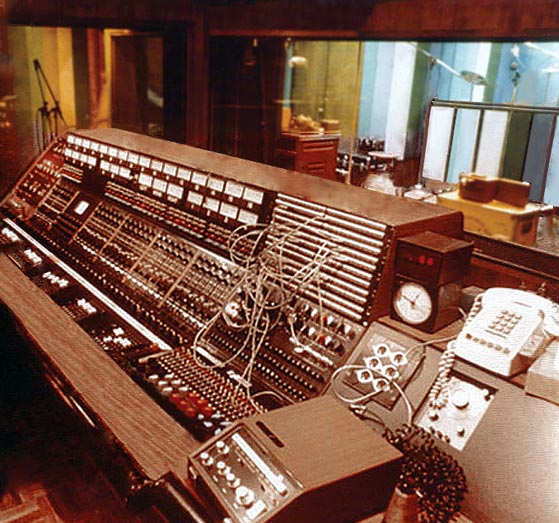 .
...Phil Spector liked it here too.
Arlene Reckson - The Record Plant East Studio Manager.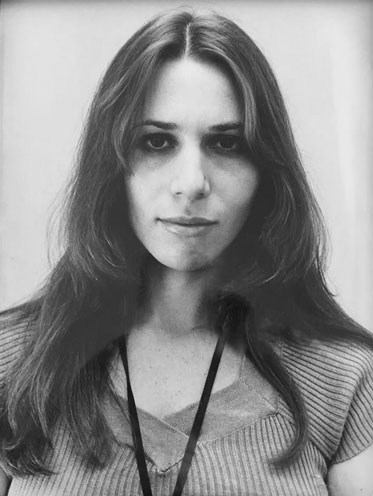 Back again in the 80's, we started Rob Hegel's tracks with Ed Freeman and me,
at the Record Plant 's Studio A,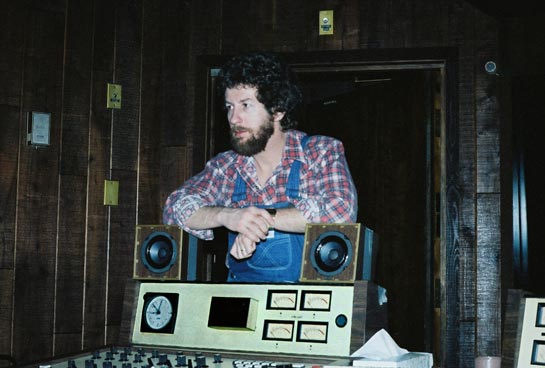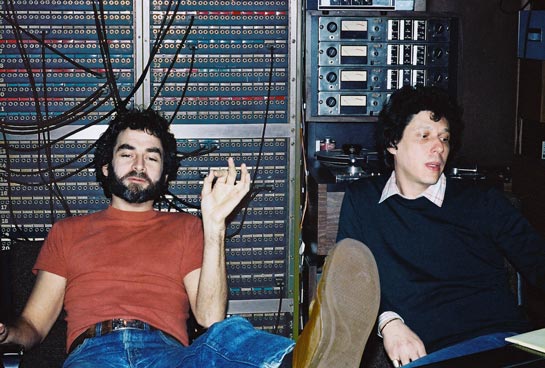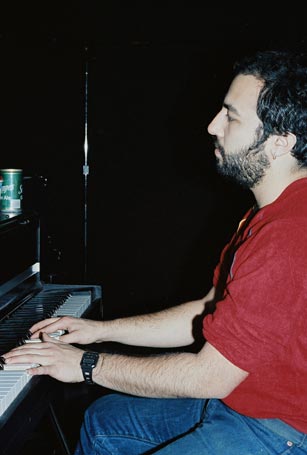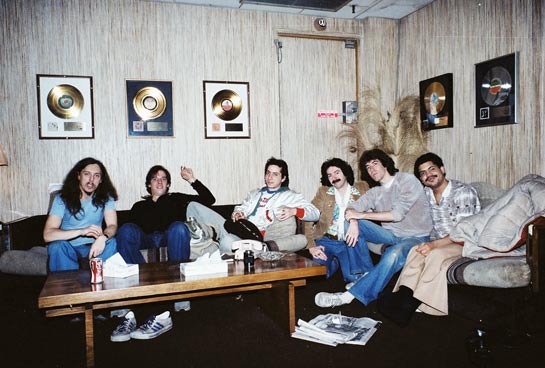 Unknown, Steve Love-Guitar, Leo Adamian-Drums, Jim Reeves-Engineer, Rob Hegel- Vocals and Songs, Cisco Centenna-Bass
overdubbed at Chip Taylor and "Crazy" Joe Renda's Northlake Studios in North White Plains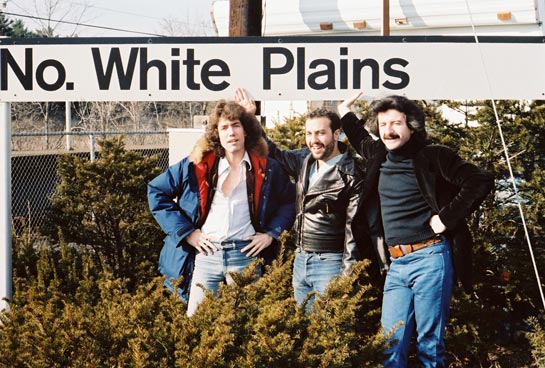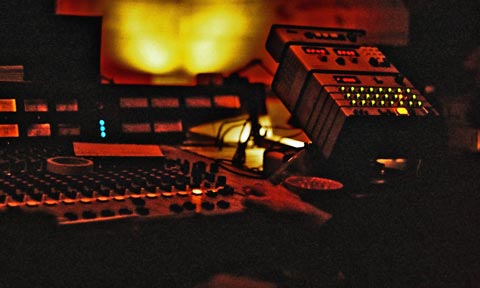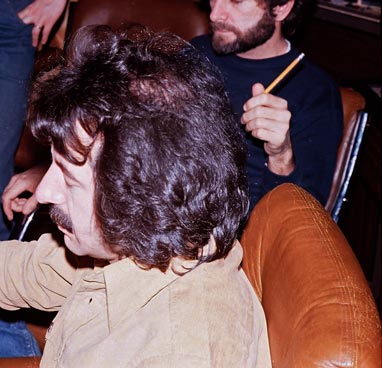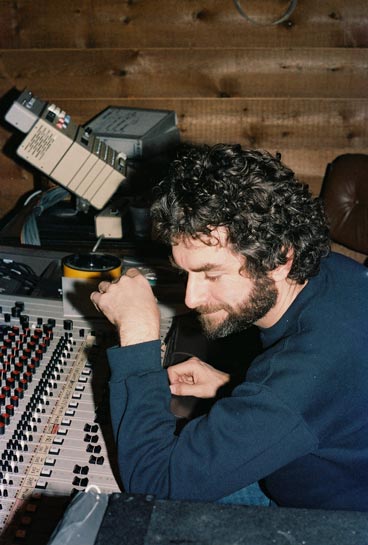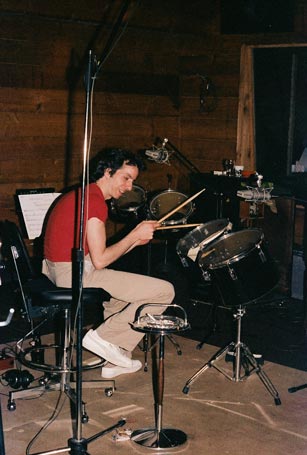 and ended up here at RCA for the mixes.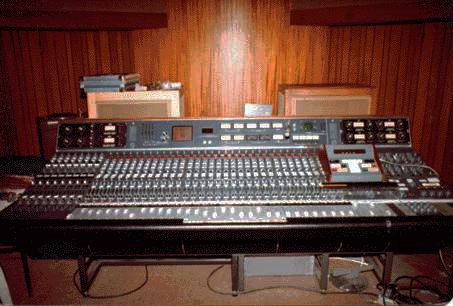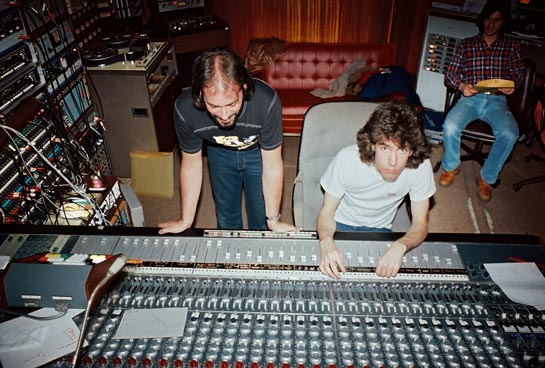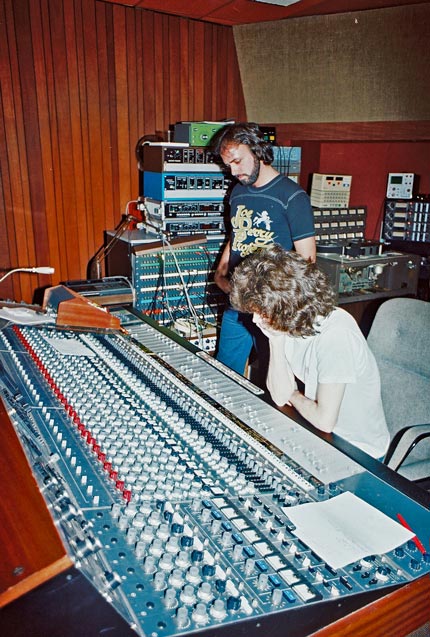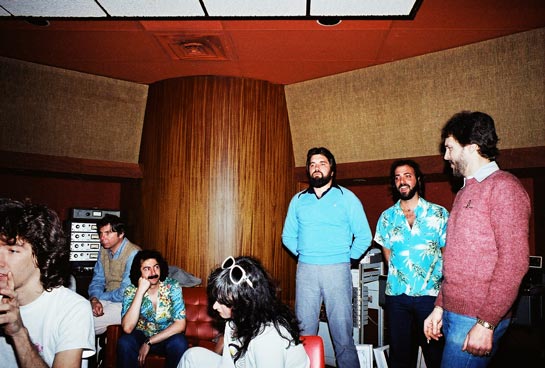 RCA's Neve Necam Mix Room on 46th Street and Avenue of the Americas in 1980 where I mixed Rob Hegel's
(Air Supply songwriter) RCA album
and "Animal House" for Stephen Bishop and Kenny Vance.

---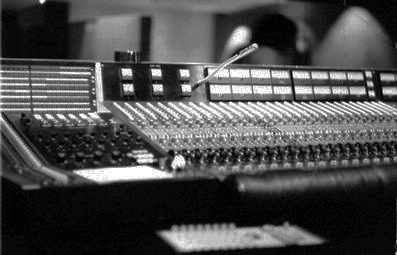 .. Jimi Hendrix' Electric Lady Studio control room...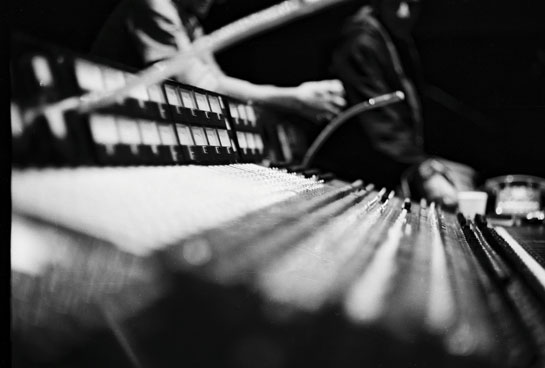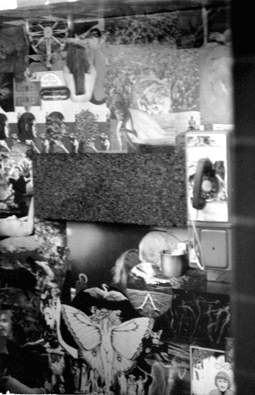 ...and bathroom.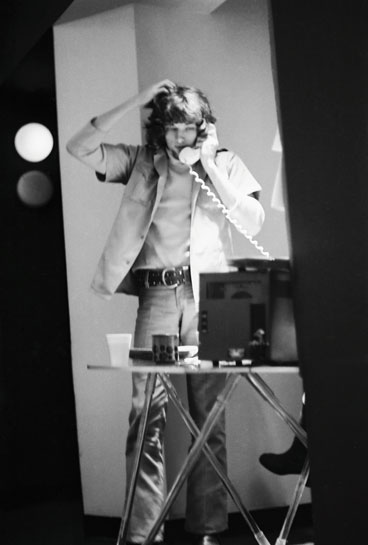 ELS engineer Ralph Moss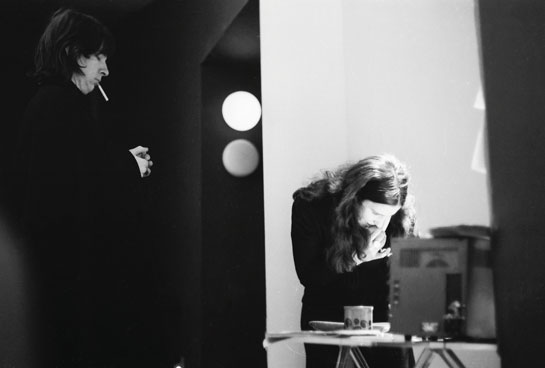 ---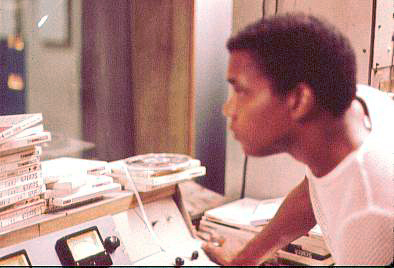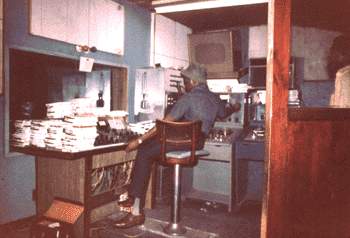 Here's Johnny!
Nash that is, in Kingston Jamaica's Federal Sound Studio where he recorded his hit single, "Hold Me Tight".
Above: Basic console of

Jamaica Sound

in 1969.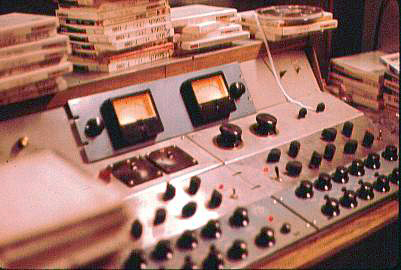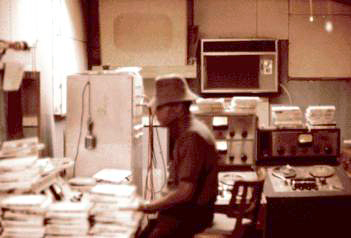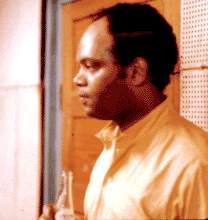 Eric Gale, a top studio session guitarist whom I recorded on tons of New York sessions,
listening to a Johnny Nash playback of take 1.

The studio had two Lang equalizers (a Pultec-like equalizer - as if!) and two rotary mono mixers. Johnny carried his own Nagra portable reel to reel tape deck with an attachÈ speaker cabinet to reference his mixes. Nothing sophisticated here. But what great sounds! Just plain old great performing. True capturing of the moments. A technique that can't be beat!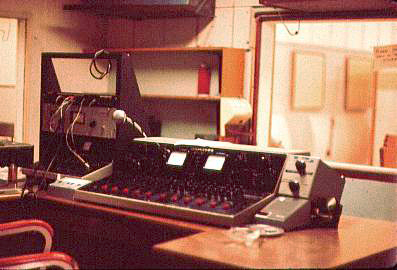 This was the other studio we worked out of - West Indies Recording Studio, Kingston, Jamaica, 1969.
Johnny Nash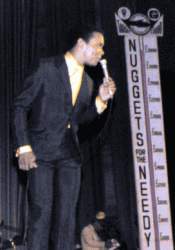 singing in Kingston, Jamaica for the Nuggets For The Needy benefit, 1969.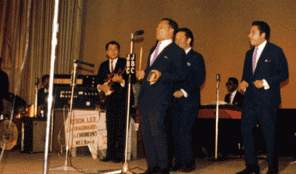 Byron Lee


 and the Dragonaires at Nuggets benefit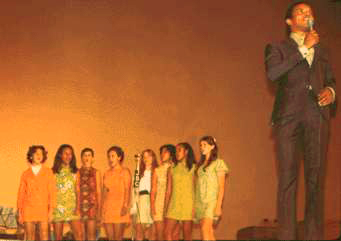 Johnny Nash singing in Kingston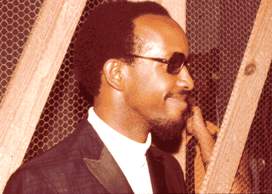 Arthur Jenkins, Johnny's arranger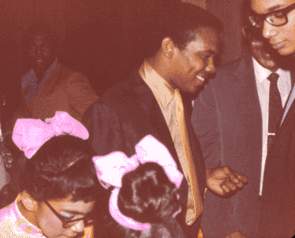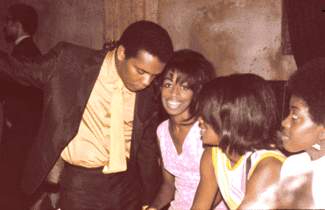 Johnny backstage greeting fans.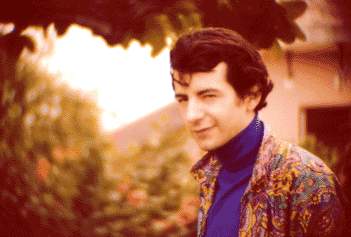 Jim Reeves at Johnny Nash's home in Kingston, 1969.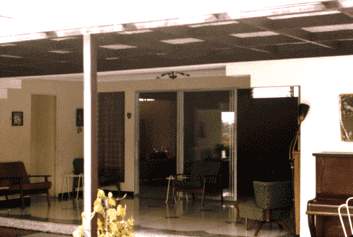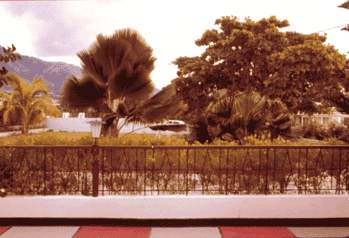 Johnny Nash's house and view from his patio.
---
Richard Nixon's Inaugural Ball
recording on the Wally Heider Record Plant East Remote Truck.
Jan. 18, 19, 20, 1973 - Kennedy Center, Washington, D.C.
What's it like being flanked by these gentlemen
in the wings of the Kennedy Center stage whilst Joey Heatherton performs?
Simply astounding!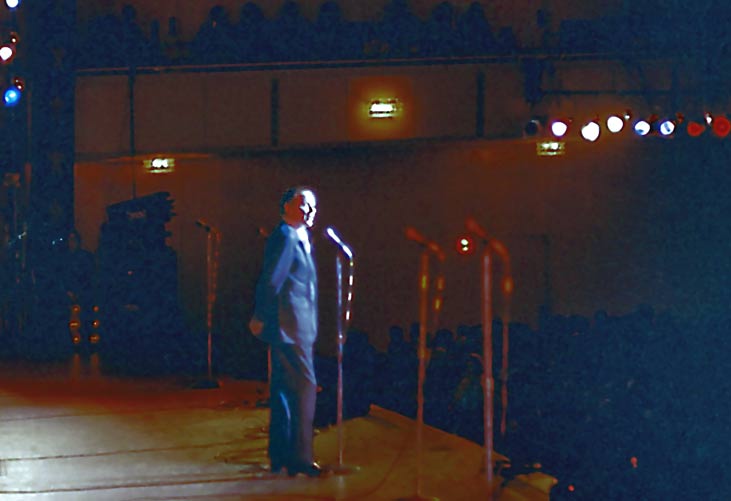 Frank Sinatra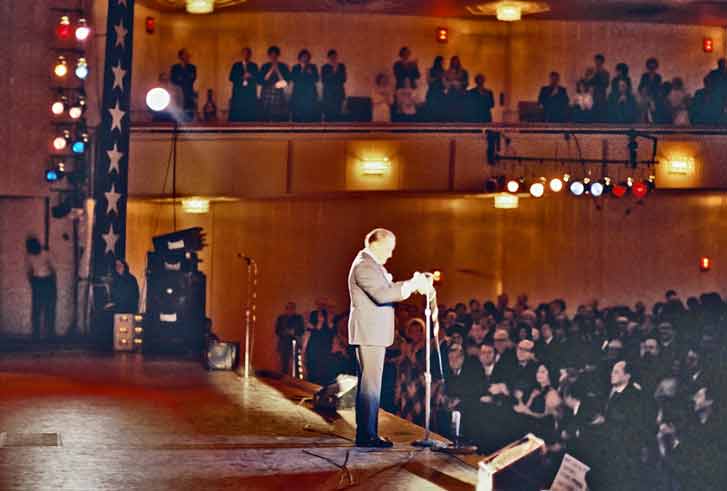 Bob Hope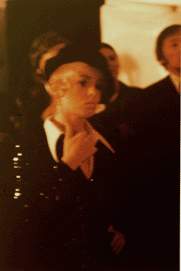 Joey Heatherton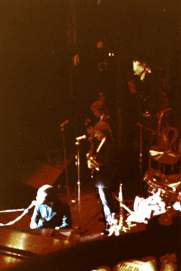 Ray Stevens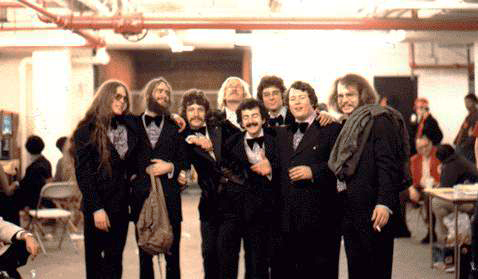 Jim Reeves
with the Record Plant East recording crew at Kennedy Convention Center load-in dock.
Frank Sinatra, Bob Hope and Hugh O'Brien spoke at the podium. I got to hang with Frank and Bob. Awesome! The performers were Joey Heatherton, (running on and off the stage doing a lot of quick outfit changes in a small tent on the wings of the stage), The Mike Curb Congregation, The New Christie Minstrels; Ray Stevens performed Mr. Businessman and Ahab The Arab, among others, Wayne Newton (played every instrument in the band and then got a broom and swept himself off the stage), and mostly all the acts were backed by Don Costa & Orchestra who were set up behind the curtain with a video monitor because the front stage wasn't quite large enough to accommodate them all. Lots of wires for mics and video feeds and lamps for music stands. It was a huge setup. Mickey Dolenz (The Monkees) arrived late. I was with him backstage while he attemted to get on stage, but they couldn't schedule him in. I would have liked to have seen what he was going to do.

---
Terry Fryer Music - Evanston, Illinois
Here's me at Terry Fryer Music's original ergonomic set-up when I arrived in Illinois in '93... 
What a rig!!!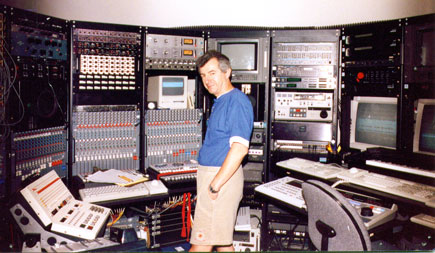 But...
...we changed all that to this in '97...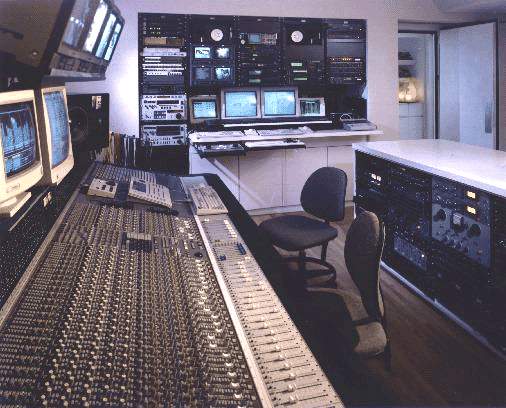 You probably know Terry if you've ever seen "Ground Hog Day". When Bill Murry plays the piano with the jazz ensemble in the film, it's actually Terry's hands you see playing.
The white cabinet beneath the synths and computer displays (back wall) was fully air conditioned and sound proofed and housed the Mac 9600's and drives, the Roland DM 800 and the Fairlight's. The air conditioned machine/amp room which housed the Otari MTR 90II and power amps and guitar amp heads was to the right. The recording rooms were out the door to the right and left. A vocal booth was to the left at the end of the Trident Series 90 108 channel automated board (left). As Terry's chief engineer, I was part of the installation team when we brought up the console through the third story window on a crane. The entire floor was gutted, re-enforced right down to the rafters. Wiring troughs were installed in the floors and ceiling and new floors were installed. HVAC spoilers and sound proof doors were installed. No stone was left unturned. When the studio was up and runnig by the deadline, Terry was unsatisfied with the wiring mess and asked me to rewire the entire facility in the Columbia Records tradition. Section by section, I re-installed the entire room's audio, midi, video, smpte and AES digital wiring on my own. (We're both fans of the Krell:)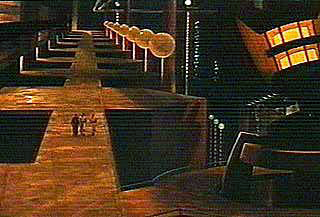 ---
MOST photos - Jim Reeves (except Right Track was taken by Eric Reeves, and the ones I'm in, duh.)

---

For current activity and what's happening theses days at Reeves Audio Recording in Evanston, Il see "Independent Work" below...

Please also see my previous history at A Visit to Studio 3with Dave Sarser and Les Paul and Mary Ford and my other links below!


---