HOME page -- Studio Tour -- Equipment -- Services and Price List -- Studio Session Photos
Credits - References -- Independent Work -- Location -- Frequently Asked Questions -- About Me
Links -- Vintage Sessions -- A Visit to Studio 3 -- Les Paul and Mary Ford -- Reeves Youtube Channel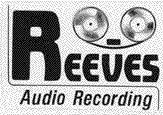 now in
SARASOTA, FLORIDA
Office: 847-409-0437

---
Introduction
---
I built this studio for people who have a passion for performing!
I have designed this facility so that I can do the best job of capturing your performance as it happens.
Whether you are individual trying to get started seeking a simple demo,
or a seasoned major ad campaign exec mogul, the goal is the same.
Get the best result, regardless of the budget.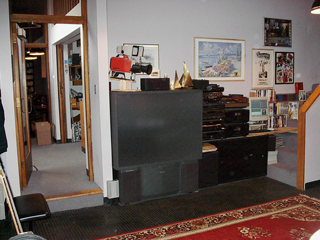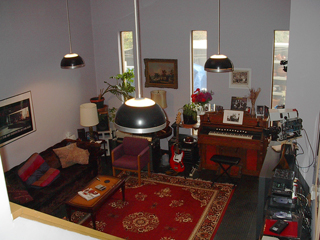 Our facility is designed to accommodate various audio and video recording demands for as wide a range of clients as possible. They include: voice-over announcers, TV commercial ("Jingle") producers, radio shows, children's productions, industrial/corporate audio/video productions, sound effects and sound design, actor auditions, piano/voice demos, self contained music groups from rock & roll, jazz, blues, pop, bands to chamber music ensembles, opera, a cappella vocal groups and choirs. We have recorded artists with an 18 piece big band to symphony orchestras "live" in this studio. State-of-the-art digital equipment, instruments and musicians are provided for creative individuals whose demands require full augmentation. 18 video cameras are also in place to optimize visual communication and as an option, to capture a full documntation of the session in progress.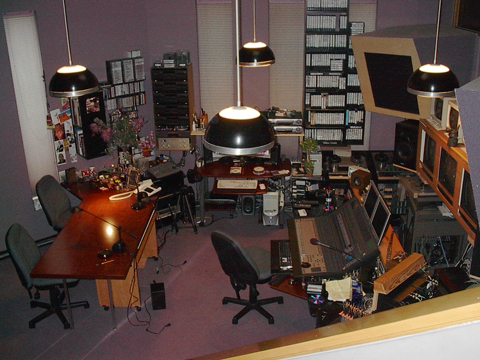 Our use of MAC based Pro Tools HD8 TDM multi-track digital audio recording with Total Recall Mixing, along with AVID Media Composer non-linear video editing for post-production, allows you to update your mix at any time before committing it to replication. 24 bit CD -R mastering and DVD-R authoring is part of the package. CD and DVD duplication packages are also available.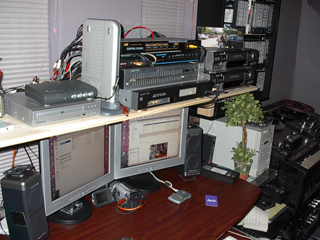 We, as also a video facility, offer digital video production using Sony DVCAM digital cameras and post production with an AVID MEDIA COMPOSER w/MOJO 
and FINAL CUT PRO non-linear digital editing systems and full DVD authoring. 
Various video format conversions to DVD available.
Complete computer based MIDI sequencer programs (enabling musicians to compose musical parts on a synthesizer keyboard and create synthesized orchestrations) are also included for projects where synthesized music is desired.
In addition to the recording facility, "in house" sound design and
original music production for TV, radio, media industrials and soloists is provided.
Vocal coaching for phrasing and intonation and harmony vocal arrangments are Jim Reeves' specialties.
While I have been engineering recording projects for more than thirty years for Columbia, Atlantic, Paramount, Epic, RCA and many other indie labels and music houses (and my services are included in the studio rate), outside engineers are encouraged to use the facility, and I will be happy to assist in any way to insure the integrity of whatever the project demands.
It's what I do!
Jim Reeves
---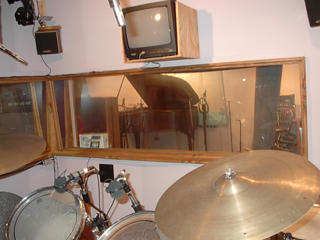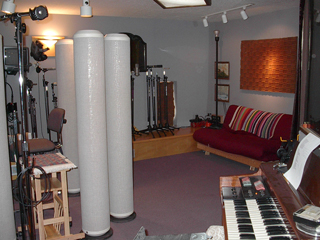 Please call for Studio Rates. Package block rates are available.
---
---
Here are some negotiable guidlines just as a base reference: 
Billing is based on "start" time booked, through session completion which includes copying and playback time.
Additional Charges:
These charges and notification of the need for these services must be made at the time of deposit:
Large session set-up fee pro-rated for choirs, big bands (7 pieces and up) and orchestras.

Piano Tuning: (For scheduled sessions of less than 8 hours).

Damage to studio equipment (by client and/or client's personnel).

Archiving and retrieval of digitally recorded material.
Terms:
Payment is required at end of each day's session.

Deposit is required: A minimum of $100.00 or 25% of total of initial session will be required two weeks (14 days) prior to requested initial schedule date. (Minimum tracking session: 3 hours)

Cancellation: Requests will be honored when received 48 hours in advance of scheduled session date. Failure to comply with this policy will result in loss of deposit.

Rescheduling: Requests submitted less than 48 hours prior to scheduled session date will result in a 50% forfeit of deposit. Such requests will only be scheduled on a time available basis.

Client is responsible for all booked time. "Studio booked time" will be charged from the time the session is "booked in" until time "booked out." Additional "run over" time will be based on availability and at discretion of studio.

Reeves Audio Recording will not be responsible for client's tapes, materials or equipment stored on the premises.

Redundant backups of all digital media is highly recommended.
---
REEVES AUDIO RECORDING GLOSSARY:
Studio booked time: Complete time scheduled.

Booked in: Beginning of scheduled time.

Booked out: End of scheduled time.

Run over: Any hour or part thereof after scheduled session.

Completed session: The session will be considered completed when all control room and studio activities are finalized. Activities include playbacks, dubbing, production discussions, adjustments and repairs to client equipment by staff engineers.

 
---

Phone us for more information on Reeves Audio/Video Recording.
now in
SARASOTA, FLORIDA
Office
: 847-409-0437

jim@reevesaudio.com
Take a tour of the facility - see "Studio Tour" below...



jim@reevesaudio.com
now in
SARASOTA, FLORIDA
Office: 847-409-0437

© 2000- 2020 Reeves Audio
All Rights Reserved