HOME page -- Studio Tour -- Equipment -- Services and Price List -- Studio Session Photos
Credits - References -- Independent Work -- Location -- Frequently Asked Questions -- About Me
Links -- Vintage Sessions -- A Visit to Studio 3 -- Les Paul and Mary Ford -- Reeves Youtube Channel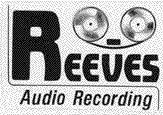 jim@reevesaudio.com
now in
SARASOTA, FLORIDA
Office: 847-409-0437

---
Studio Tour
( the way it is in Sarasota)
---

Hello!
Welcome to Reeves Audio Recording.
Here's a guided tour of our facility.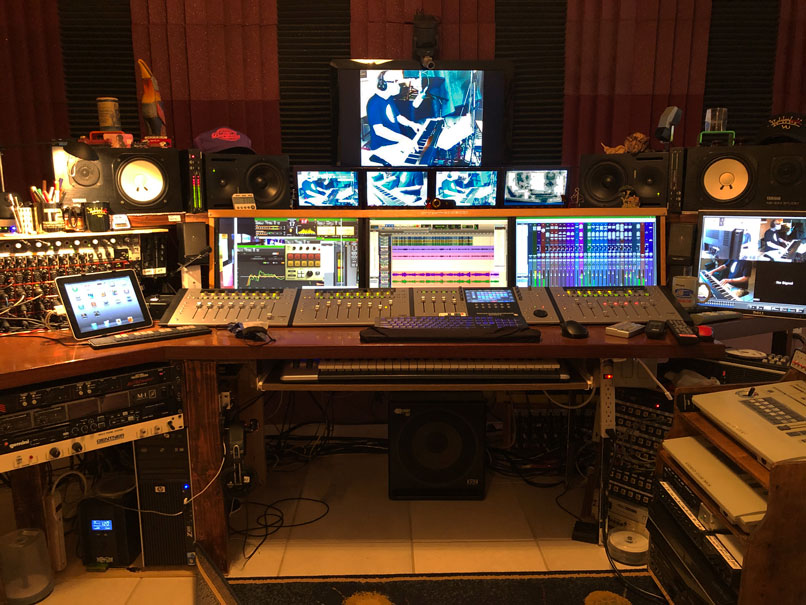 ---

CONTROL ROOM:
 At the center of the facility is the CONTROL ROOM.
The heart of the Studio. This is where all the artists performances are sonically blended or mixed. It contains various types of reference speakers (see  EQUIPMENT ), a state of the art virtual mixing console capable of blending 64 microphones simultaneously and electronically routing them to various formats of audio and or video recording machines, including the latest Digidesign Pro Tools Ultimate High Definition, multi-track hard disk recording system with terrabytes of SSD recording space and "hands on" EUPHONIX Moving Fader Total Recall mixing, allowing continuously variable alterations to any parameter of a mix, employing the latest "soft" outboard gear plug-ins at any point in the CD and DVD creation process.

---
 Old School MIDI Sequencing with some great modules.
along with the latest MIDI sequencing and scoring software;
Pro Tools Ultimate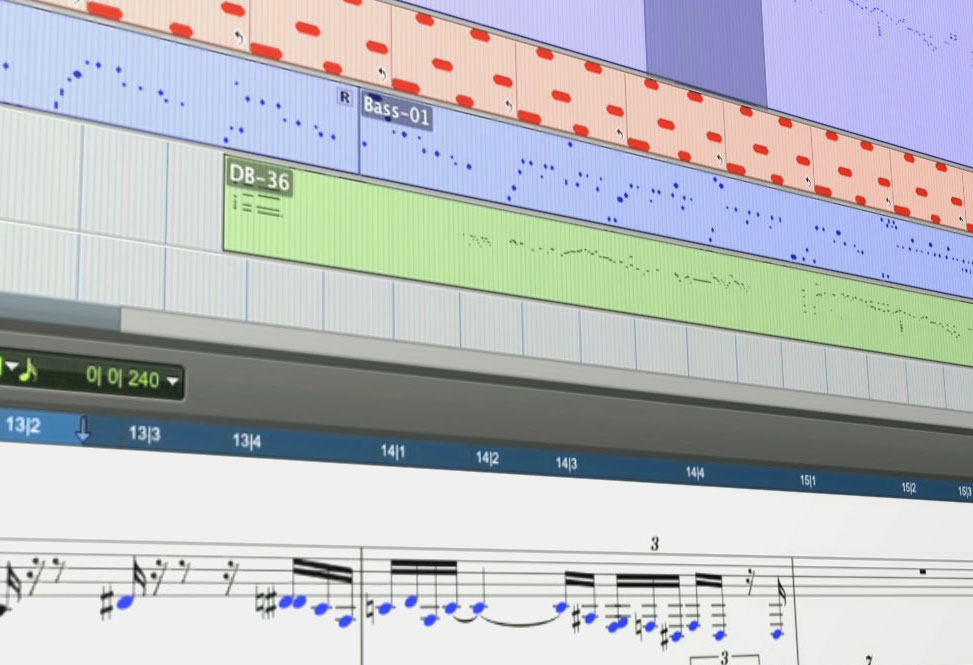 Melodyne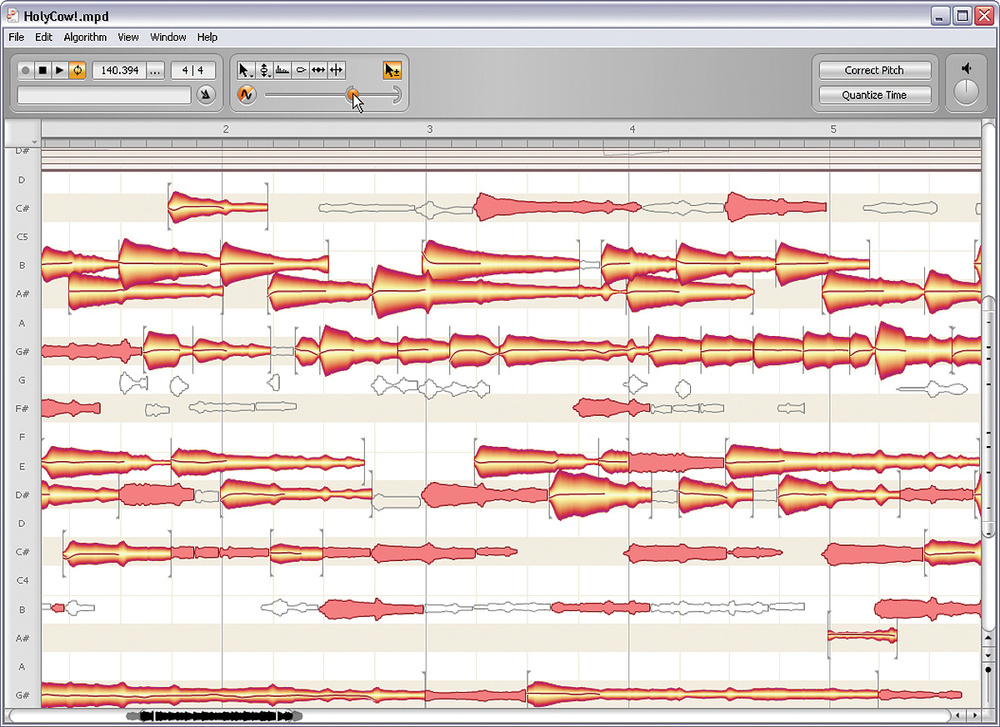 Antares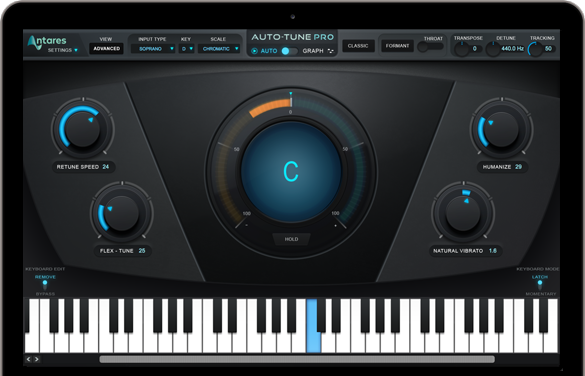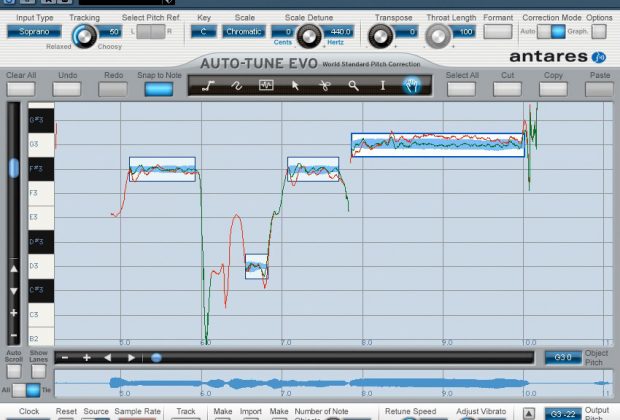 Vienna Symphony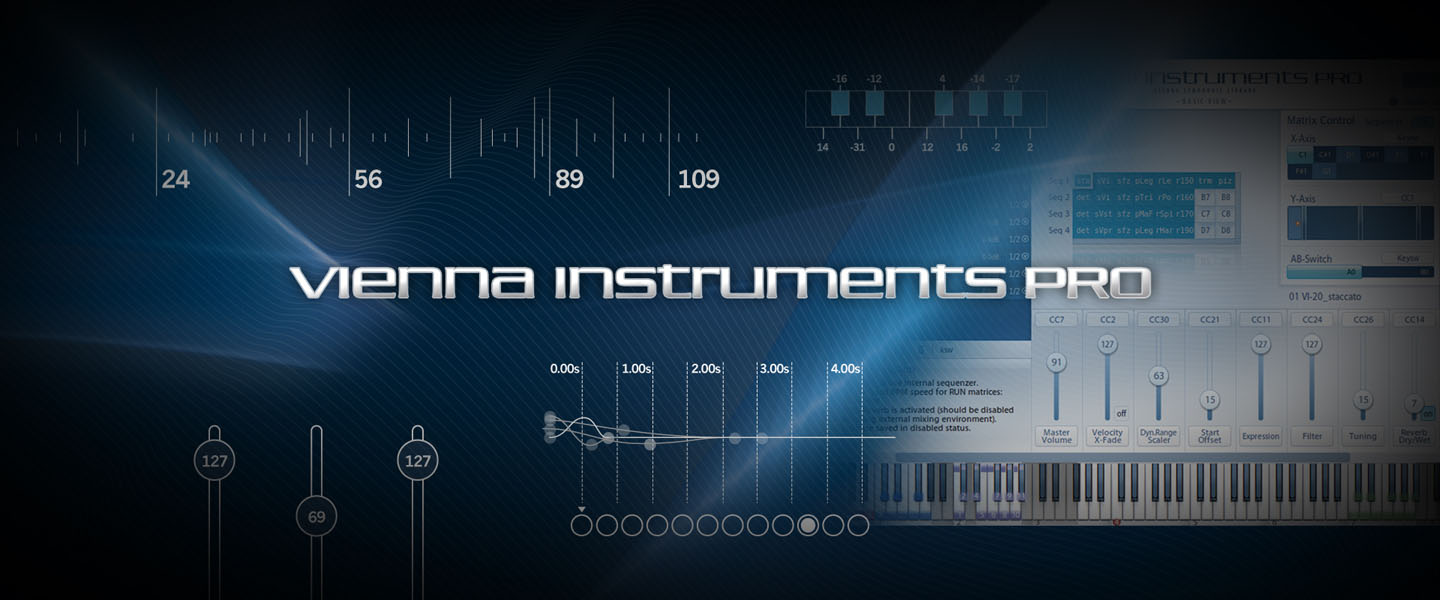 UVI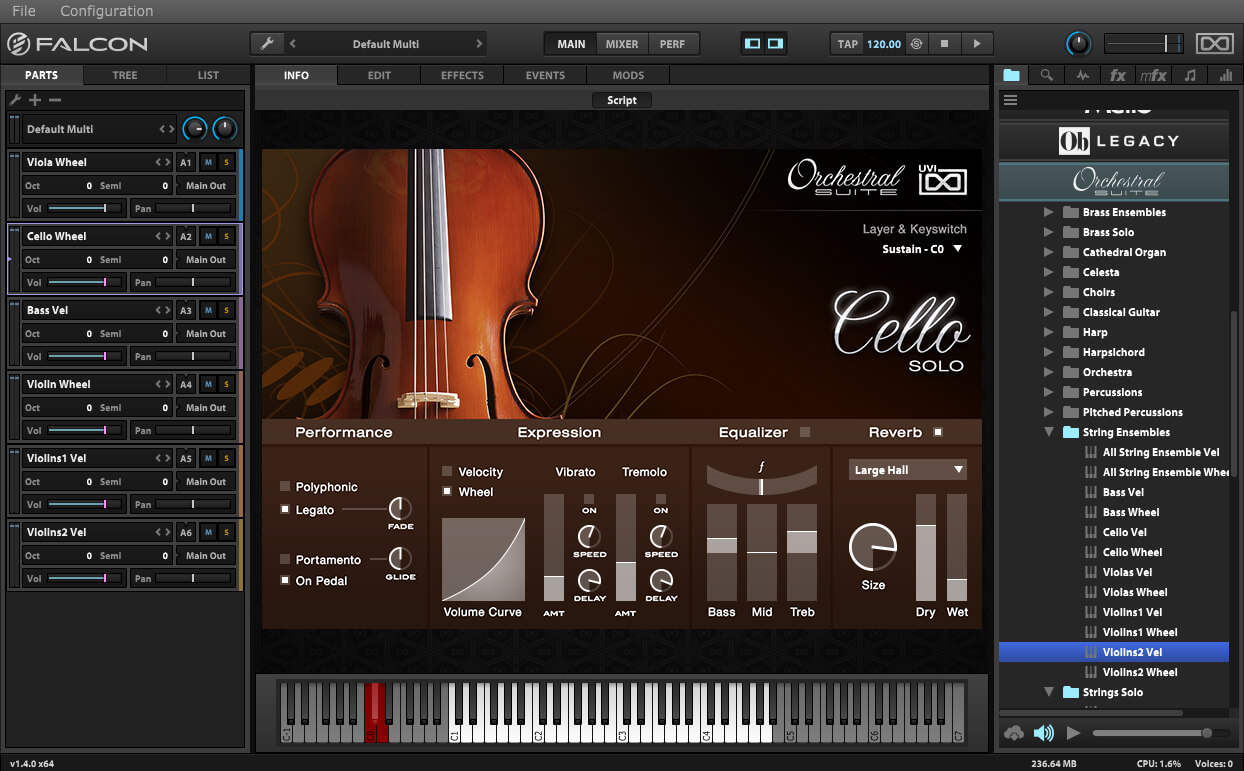 IKMultimedia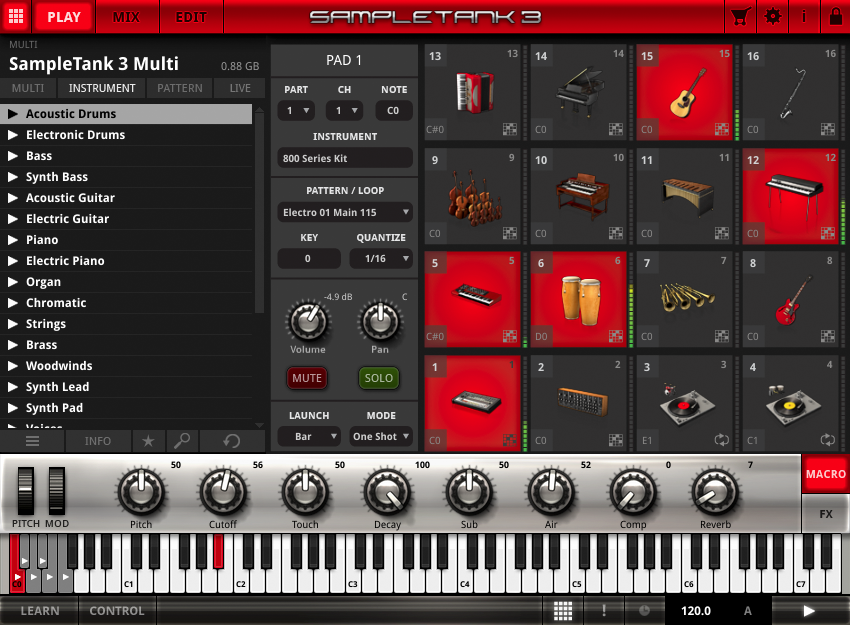 Waves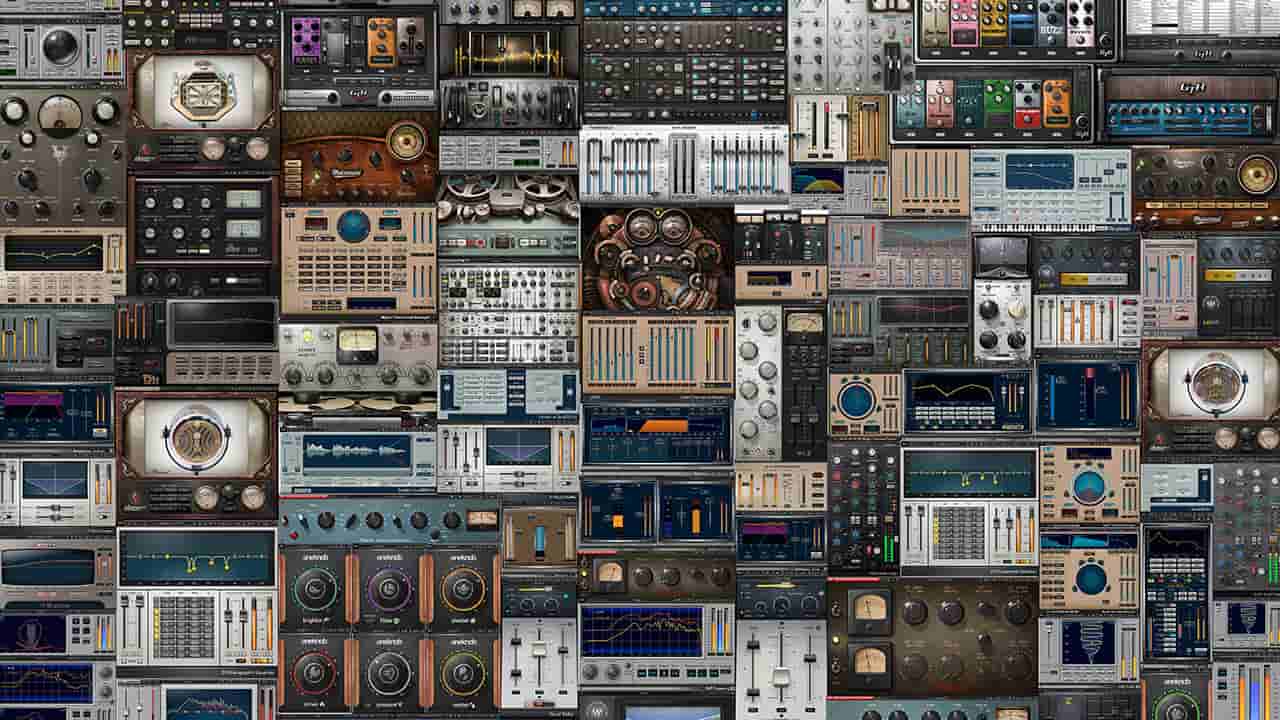 Focusrite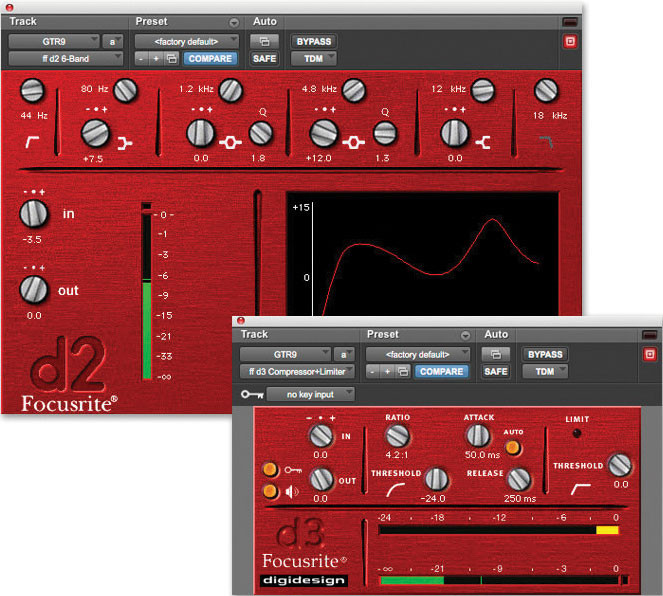 Bomb Factory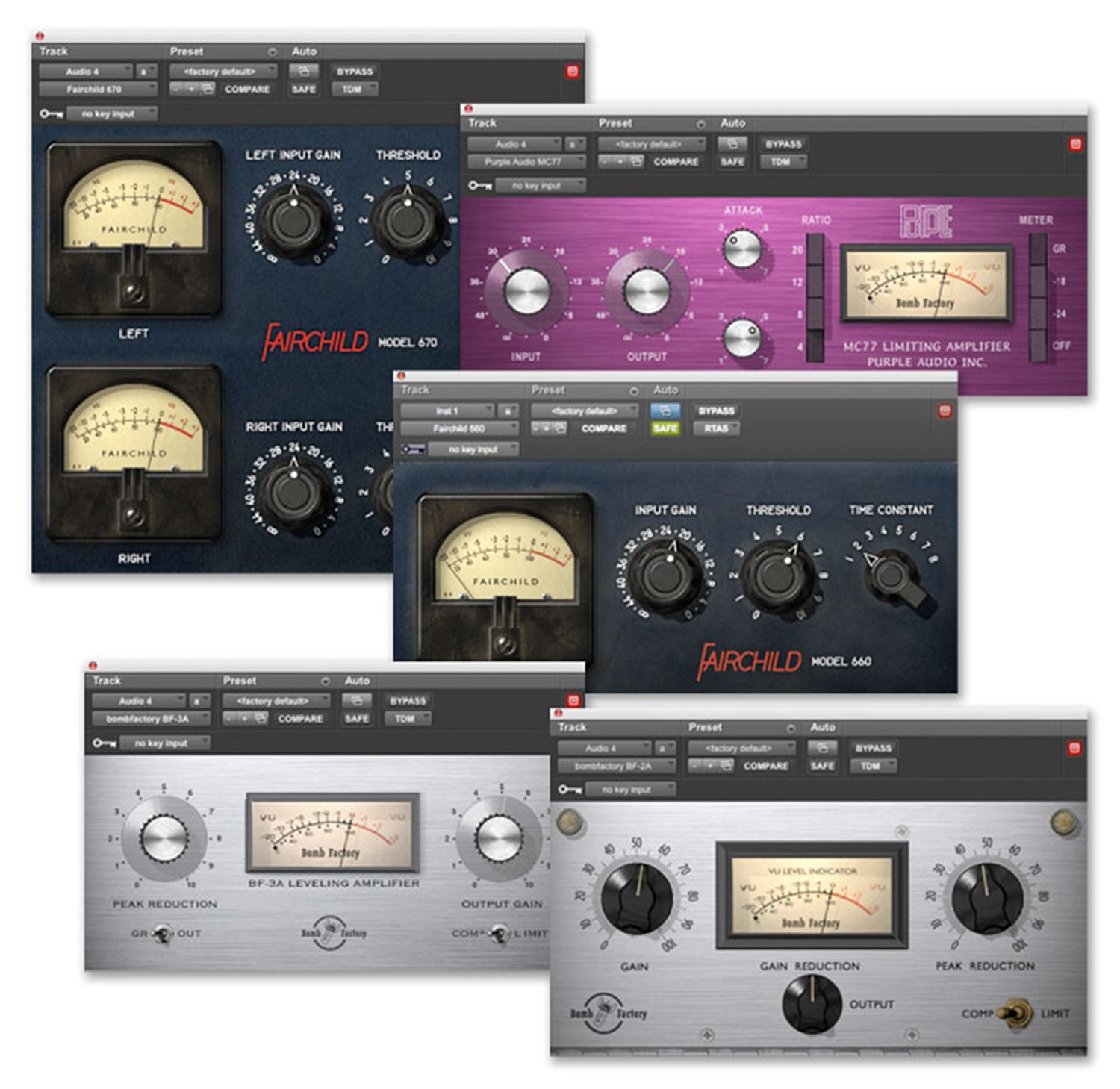 Addictive Drums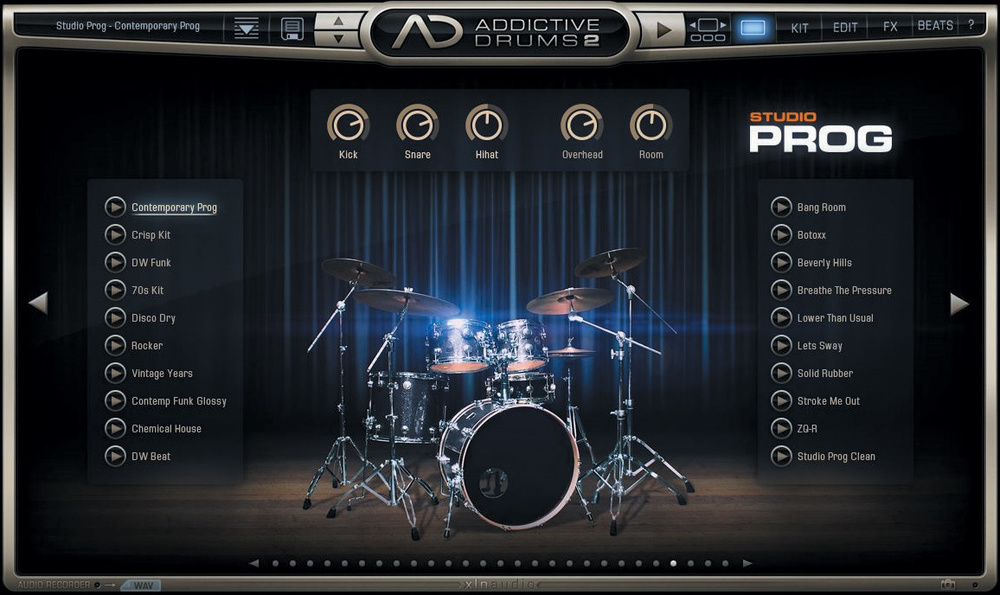 Superior Drums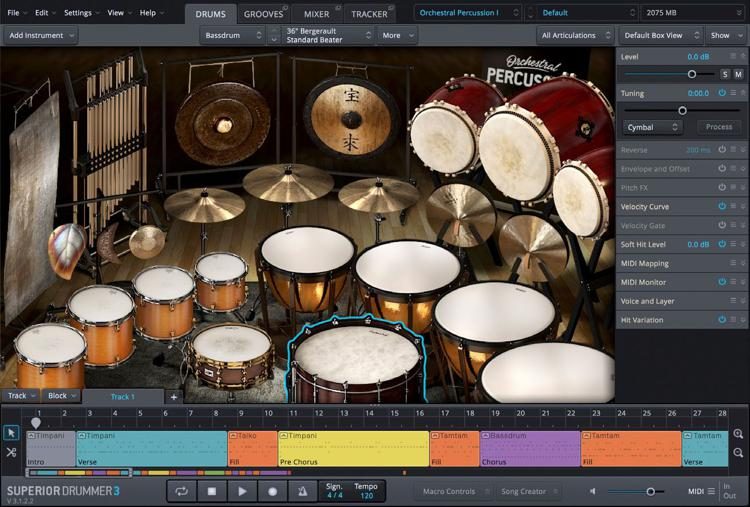 and on and on sample ilbraries
and almost all the latest AAX, VST and DSP plug-in manufacturers is also available in the Control Room and is interfaced to all rooms. Keyboards or other controllers can be simultaneously be recorded to a sequencer and to "tape". This allows for optional post editing of the performance and the instruments' sound can be transformed or layered with other MIDI sound modules provided in the Control Room. Live drums can also trigger MIDI drum samples for replacement or embellishment.
All signals originating from the Studios Rooms A through E are routed through Mogami oxygen free cables to the main jack panels (Patch Bays) at the console. The bays also interconnect all peripheral analog and digital processing equipment to and from the console as well as digital audio, video, MIDI and SMPTE time code. Sony and Panasonic broadcast cameras are also interfaced from all studios to a central video 90 point patch bay and 18 distribution amplifiers.
A total of 72 Mogami "oxygen free copper" mic lines, 14 earphone cue lines, 8 speaker playback/ talkback lines, 32 video cables and 12 digital/midi cables are routed throughout the facility between the patch bays and the "Mic Panels" in 8 locations.
All rooms are tied together with independent communication lines such as earphone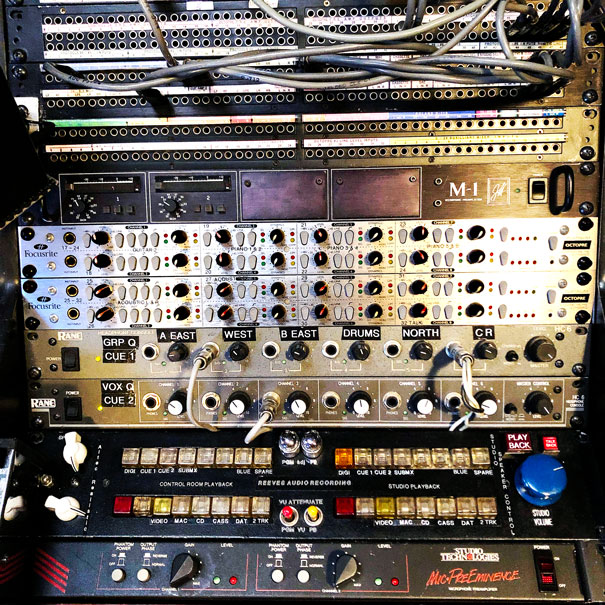 (Cue) lines, speaker talkback/ playback, video monitors including a Panasonic HD 1080i/720p HDMI video projector on a 16:9 twelve foot screen with 2500watt Denon 7.1 True HD surround screening room and a 42" 1080p LCD HDTV and industrial cameras for visual communication and playback, MIDI digital interface and remote control. This allows performers to see and hear each other while being physically isolated from each other in order to achieve musical cohesiveness while maintaining sonic separation allowing absolute freedom in the mix processing. But, as an alternative "old school" approach, the large North room is available for live band recording. This allows a band to play acoustically without the use of earphones, in a more natural scenario.
The control room includes a multitude of video monitors for viewing the performers throughout the studios and for video playback. A video patch-bay interfaces the 18 Sony and Panasonic color cameras through two Panasonic broadcast switchers to provide a session-in-progress documentation video to DVD-R or mini-DV video decks for recording and playback. Music videos can be created with special effects using the Avid MEDIA COMPOSER and ADOBE PREMIER for video post production in our Video Suite.
---
STUDIO A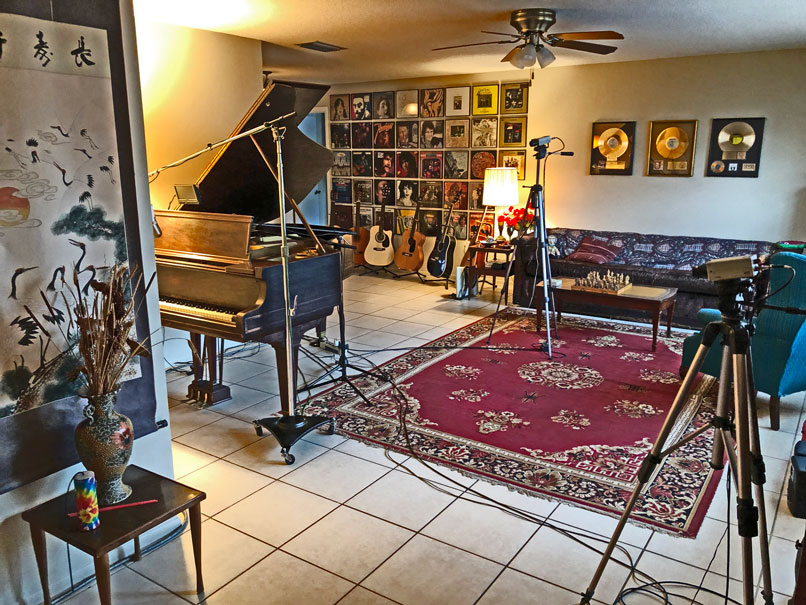 The "Studio" consists of a complex of rooms. The main room, Studio A, is an acoustically "live", more ambient room and contains acoustic, classical and electric guitars,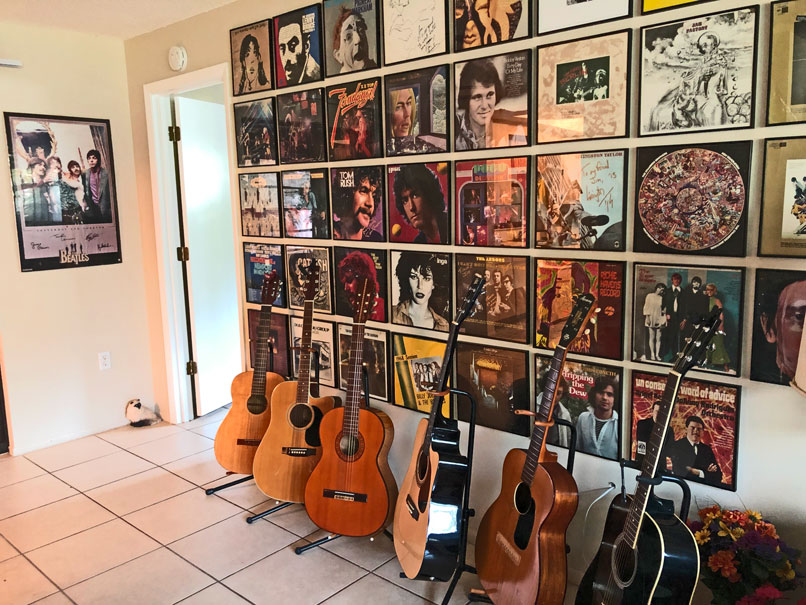 and Fender, Ampeg and various guitar amplifiers and digital effects to accommodate different styles of music. A beatiful sounding Weber six foot acoustic grand piano has its dedicated piano room isolated sonically but not visaully from the rhythm setion here.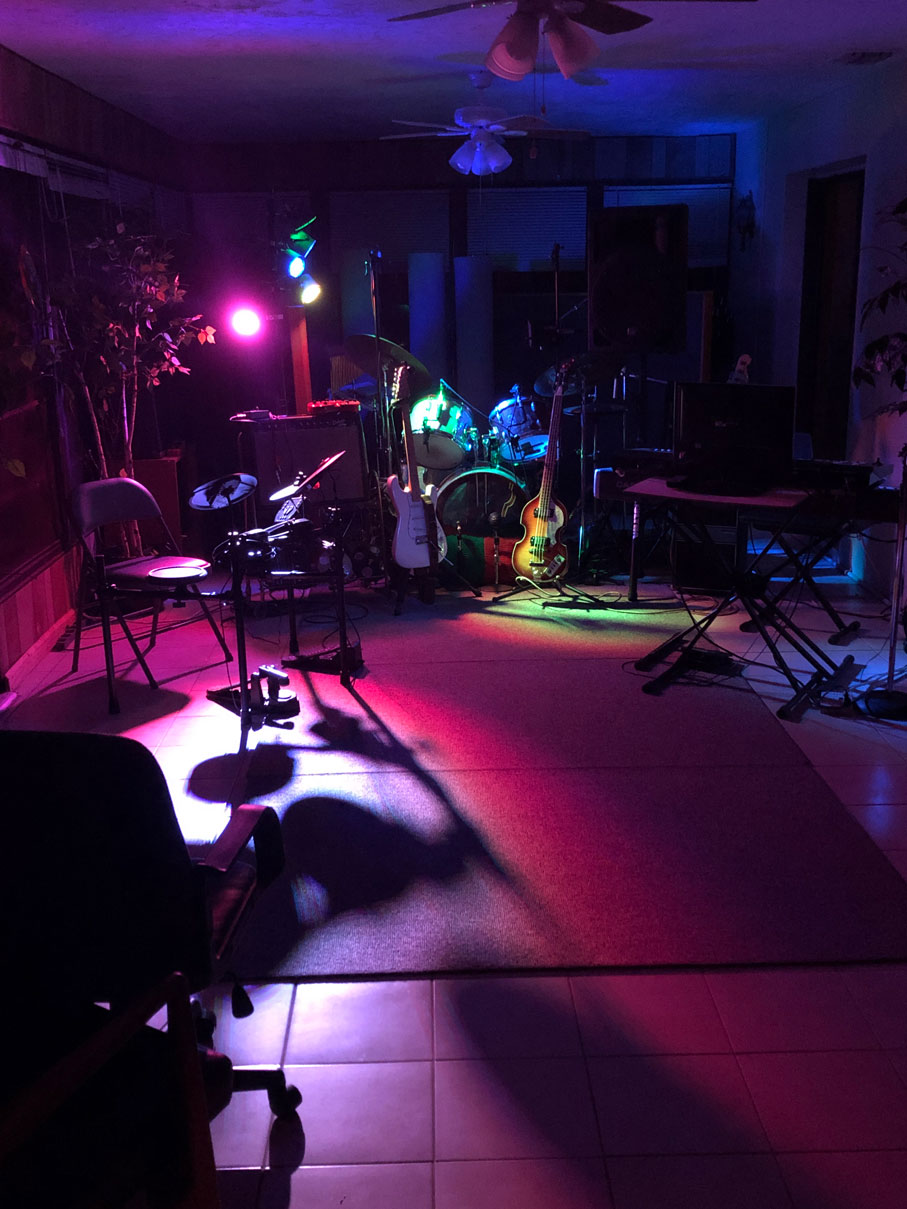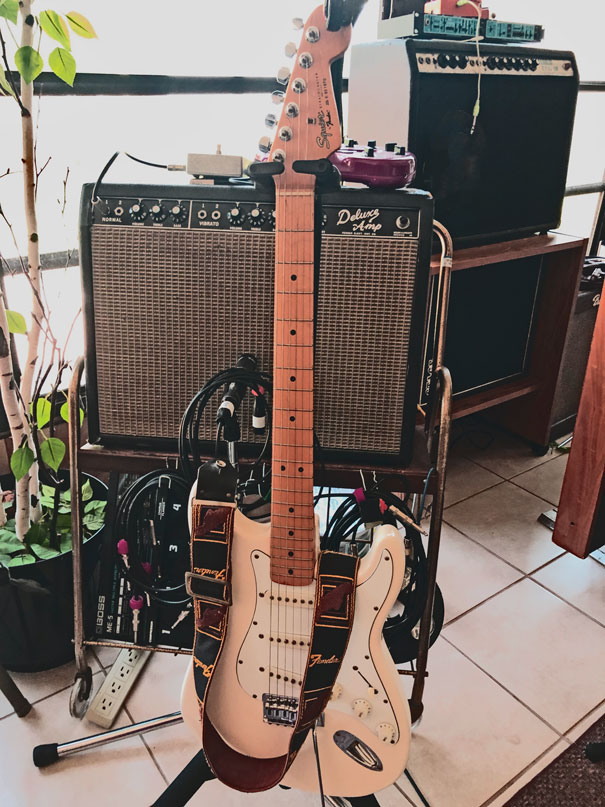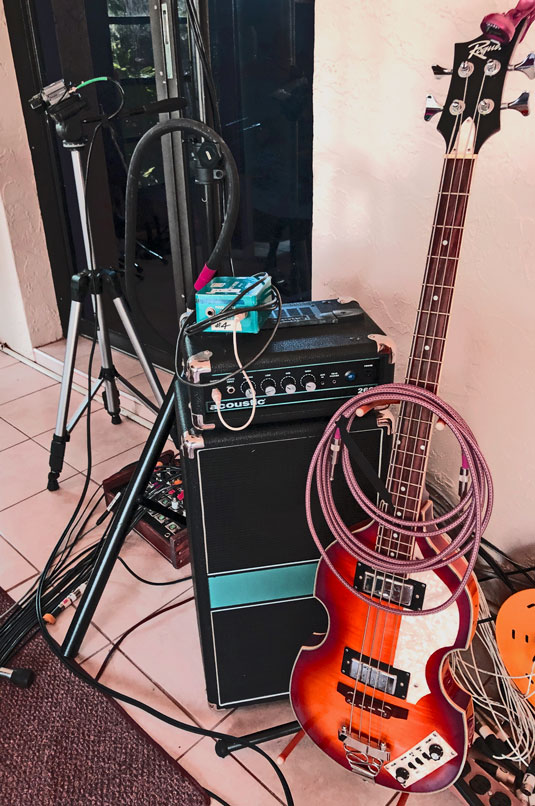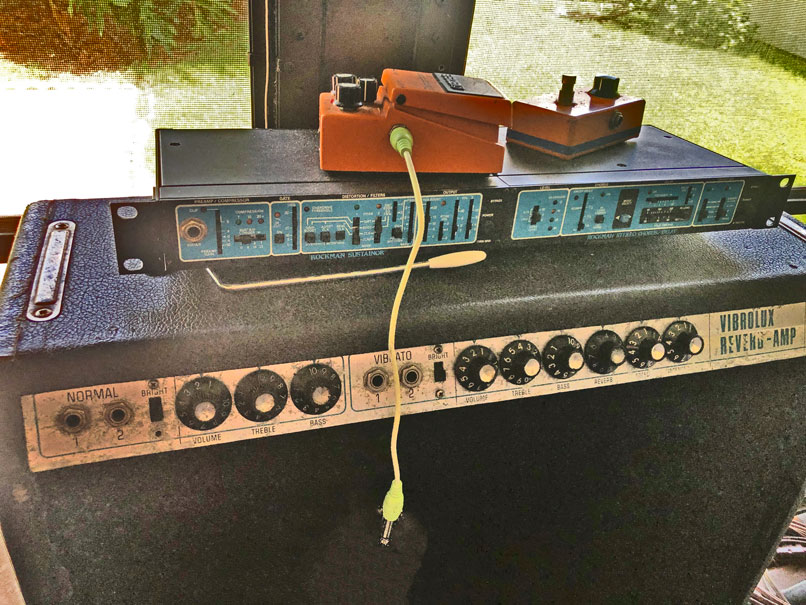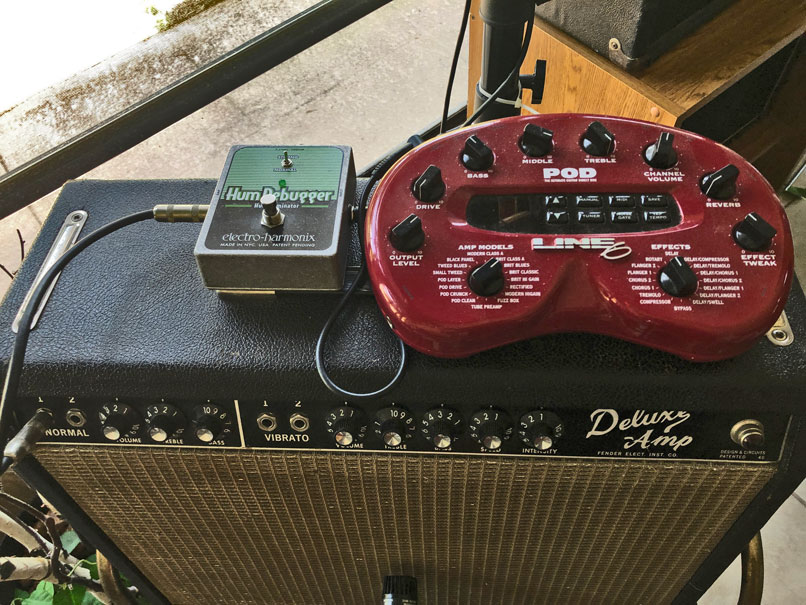 \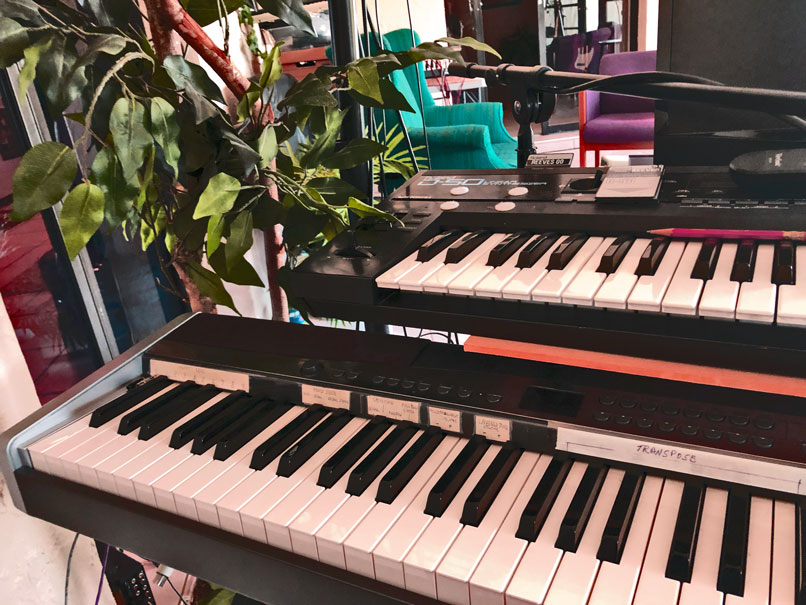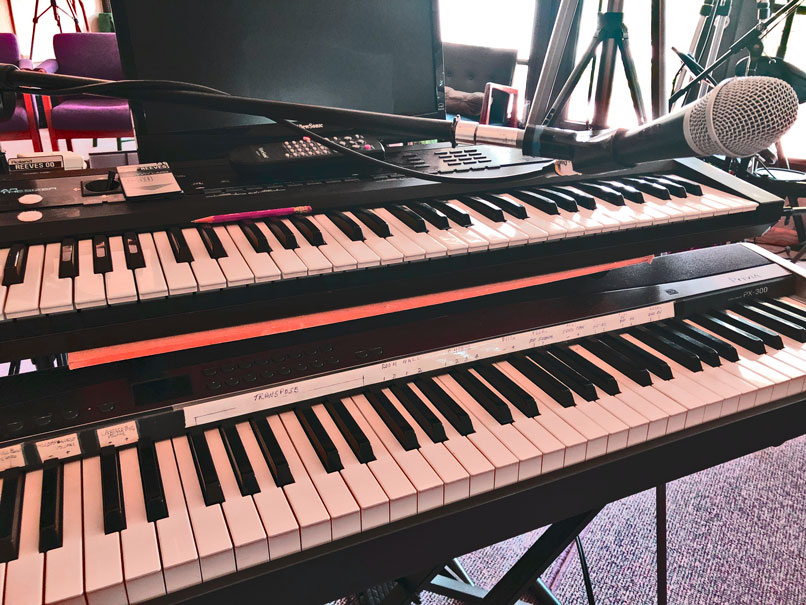 with sight lines straight through to the drum booth.
Even a P.A. sytem is available for a totally "live" sound.
---
STUDIO B
Vocal room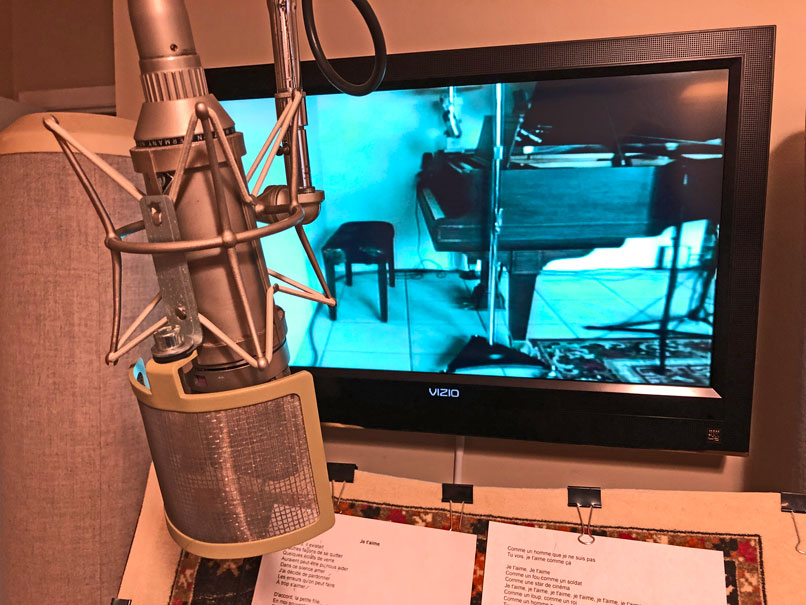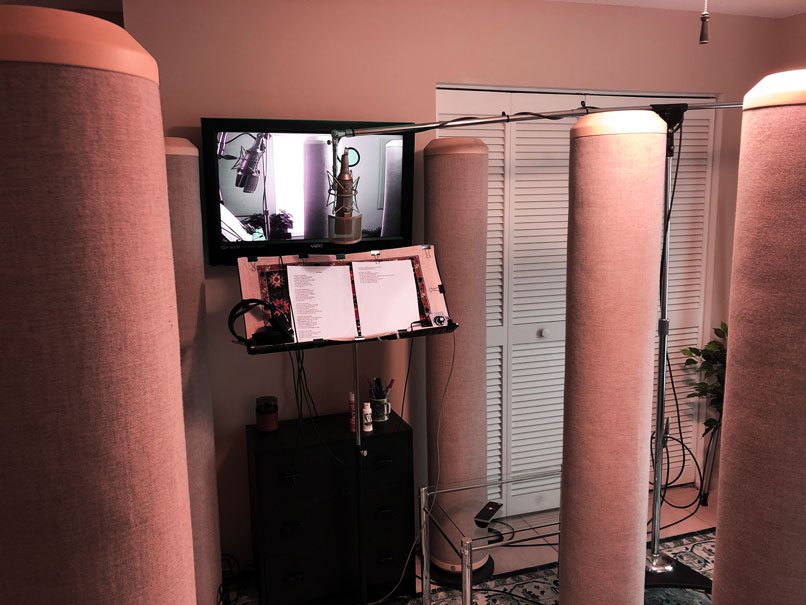 Studio B is an acoustically non-reverberant room for recording more intimate sounding vocals or acoustic instruments. 
It also serves as a vocal isolation booth for simultaneous recording of a singer or narrator which may require altering at some future date.
---


STUDIO D - DRUM BOOTH
"In-House" Ludwig/Rogers/Zildjian kit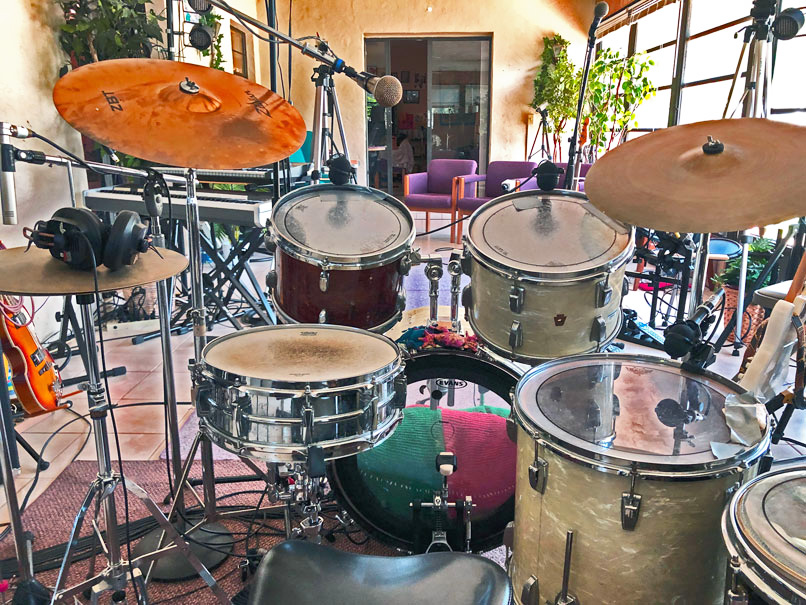 Another room, the Drum Booth (Studio D) is also acoustically designed to yeild an ambient "sound" making it appear to sound larger than it is physically. It houses an "in house" full set of vintage Ludwig drums with a choice of three chrome snares (Rogers, Apollo, Tama),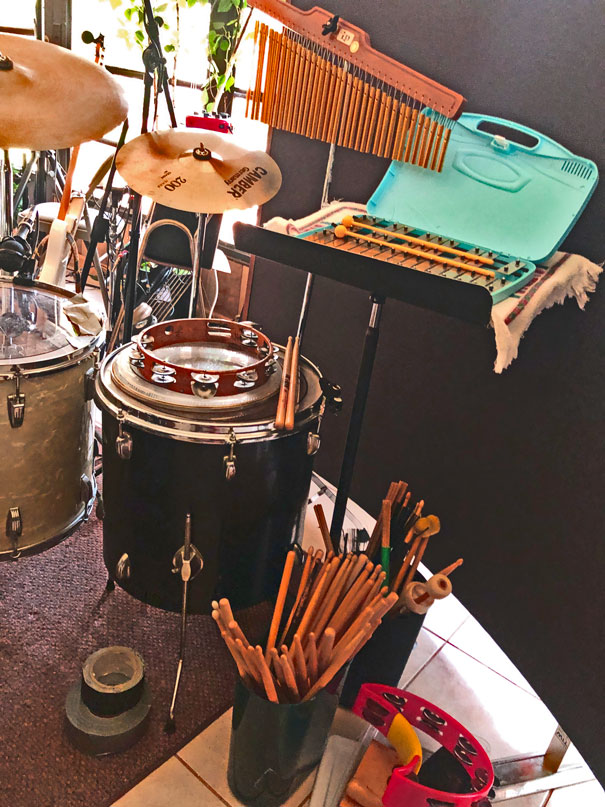 a variety of cymbals, bells, tambourines, shakers, mallets and various percussion "toys".
---
STUDIO N - NORTH ROOM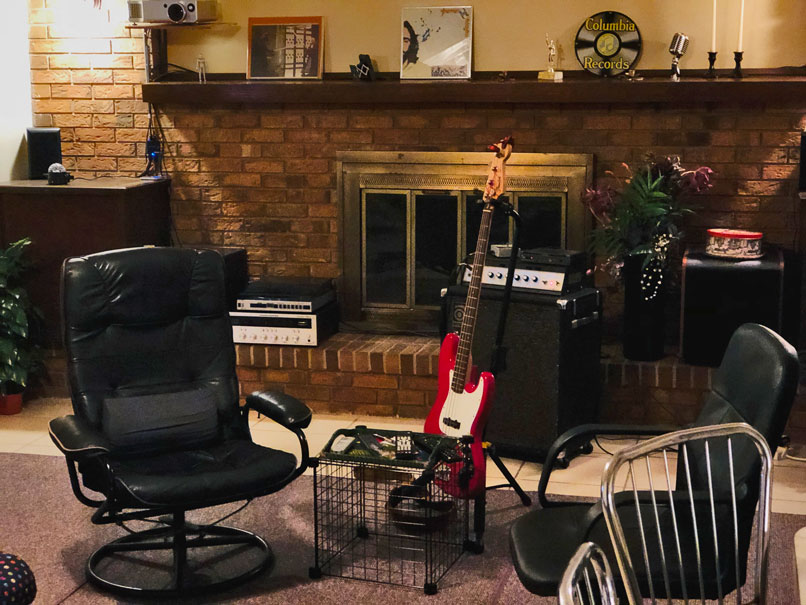 Studio N, the north room, is an intimate "live" room which provides excellent ambience foracoustic bass, as well as brass and woodwinds. It is alsowhere the Hinner pipe organ resides.It is also an excellent screening room equiped with a 55" video projection screen and an 800watt 5.1 DVD surround sound system.
Drums are also recorded in this room when a tremendous "room" sound is desired. It is also great for live "bluegrass" and other acoustic group type sessions where isolation between performers is taboo. Many acapella groups, from 3 to 30 piece choirs have vocalized in this room. SEE  Some session photos In The Studio

 
---
We hope this tour has given you a good sense of the facility.
Check out the rest of the site through the links below for more details.
If you have other questions please call.
jim@reevesaudio.com
now in
SARASOTA, FLORIDA
Office: 847-409-0437

© 2000 -2020 Reeves Audio
All Rights Reserved
Many thanks to  ted leonard for helping me with this Website Design.