HOME page -- Studio Tour -- Equipment -- Services and Price List -- Studio Session Photos
References -- Independent Work -- Location -- Frequently Asked Questions -- About Me
Links -- Vintage Sessions -- A Visit to Studio 3 -- Les Paul and Mary Ford -- Reeves Youtube Channel
Studio Equipment List
 

---

REEVES AUDIO RECORDING
now in
Sarasota Florida

How it was in Evanston, Il until 2019
- CONTROL ROOM A -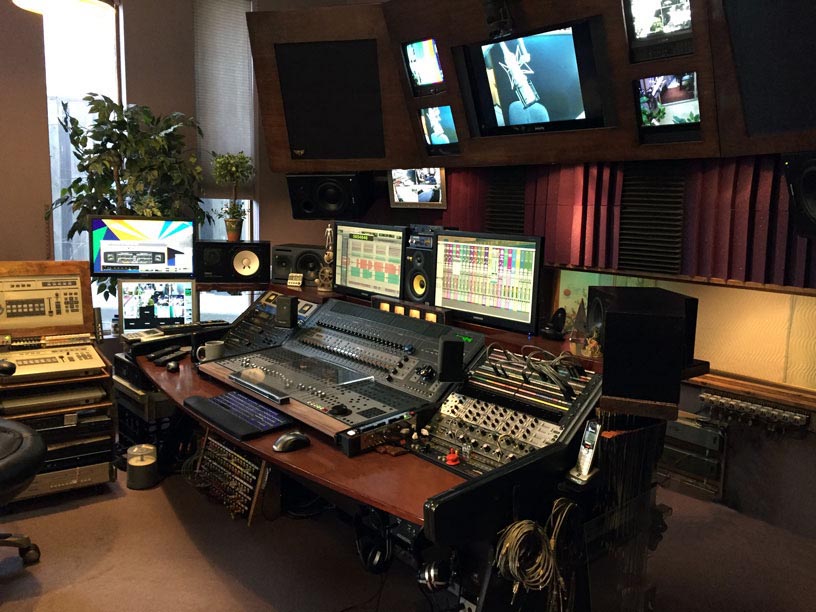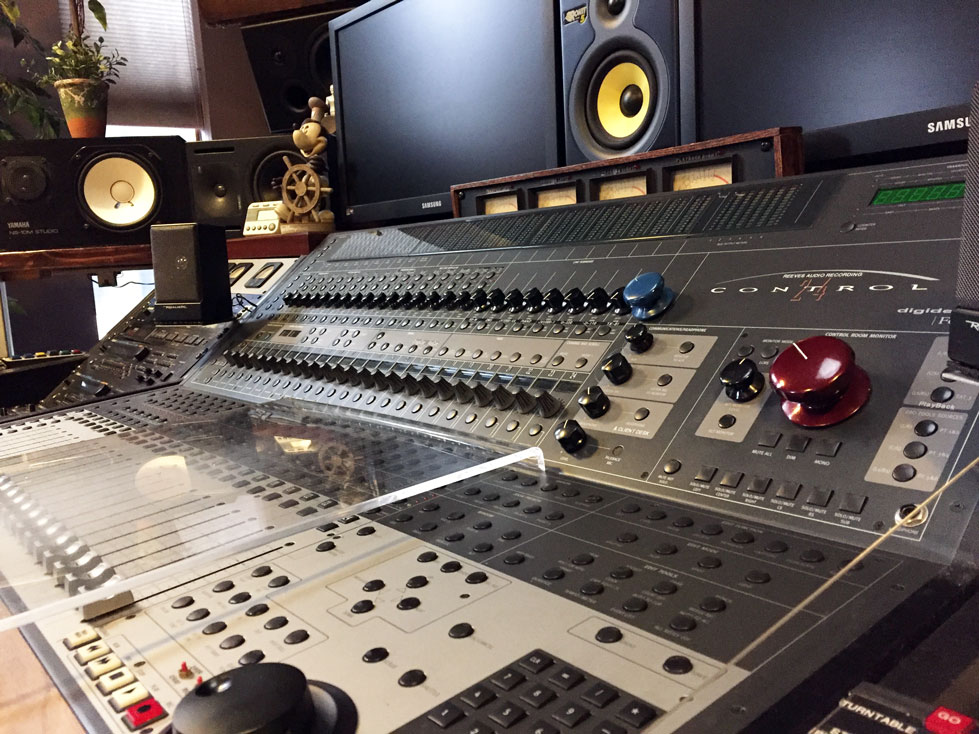 AVID Digi-Design/Focusrite Control 24 moving faders digital control surface for 

PRO TOOLS 10.3.10 HDX to latest 12 HDX Recording/Editing

Stereo and 5.1 Surround Mixing 
with
clip gain and elastic audio and auto-tune 8 and melodyne

(Accommodating 48 tracks of simultaneous live "tracking" up to 96KHz 24 bit... loaded and ready to go!)

Moving Faders Total Recall Mix Automation
---
Console:



AVID Digi-Design Control 24 moving faders digital control surface
2 Stereo Cue systems fed to recording rooms via
2 Rane HC-6 head-phone consoles fed
on 12 independent 12 AWG cables, 480 point balanced bantam patch bay
(See Video and Audio Studio & Remote Services info on this page below)
---
 - CONTROL ROOM B -
Pre and Post Production and MIDI Music Creation Suite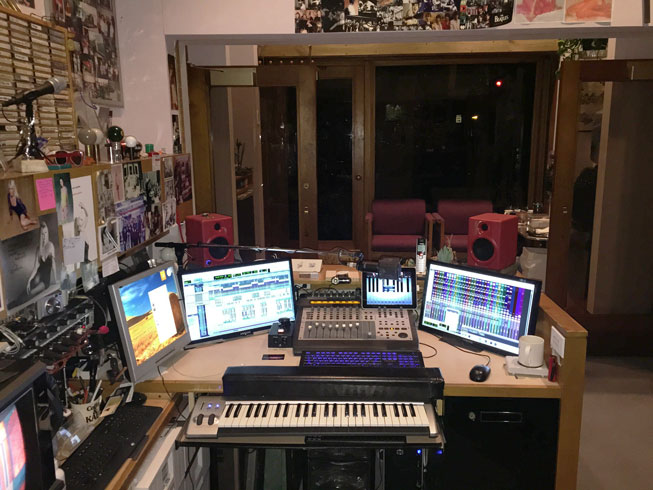 Pro Tools Ultimate HD Native
32 in x 32 out
---
In-House Musical Instruments

---
Electric & Acoustic Guitars:

Fender Musicmaster Bass, Fender Jazz Bass, Fender Stratocaster electric guitar,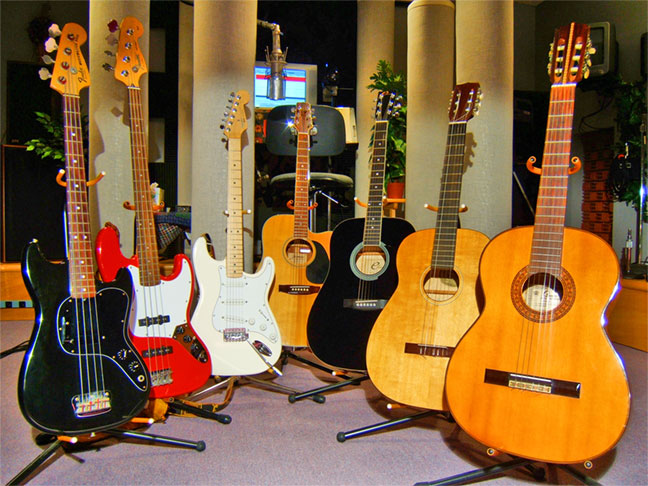 Takamine-Jasmine electric/acoustic, Eleca acoustic guitar, Harmony classical guitar,
Crown classical guitar, Rogue RA090D-CENA Acoustic-Electric Dreadnaught Cutaway

Drums: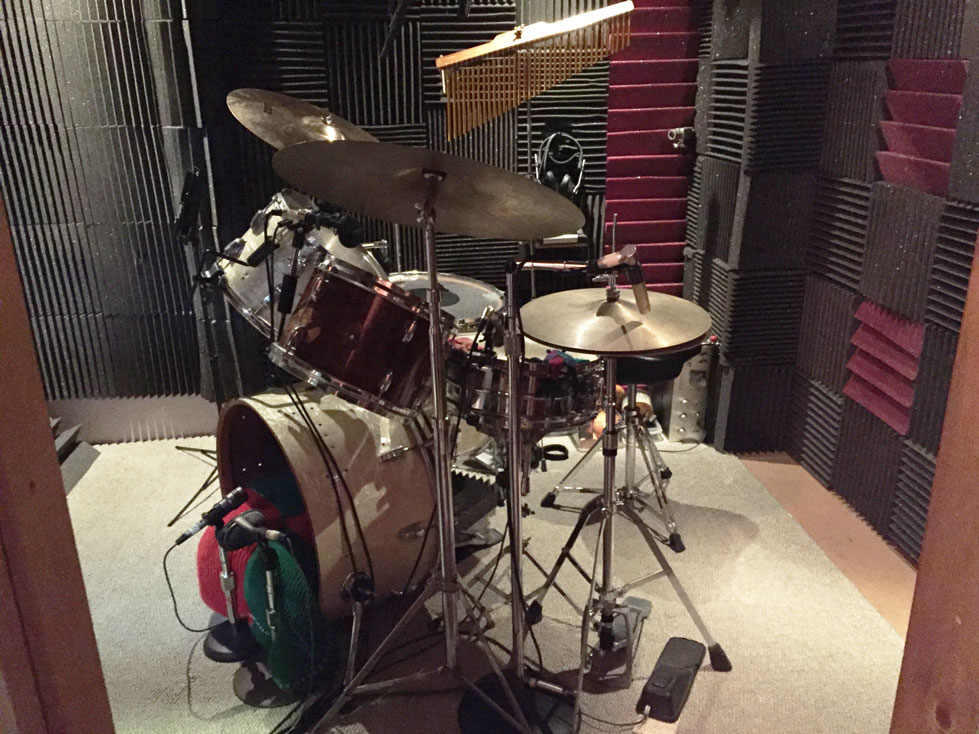 5 piece Ludwig STUDIO kit
w/Zildjian cymbals,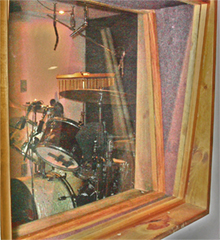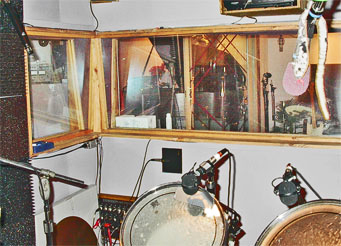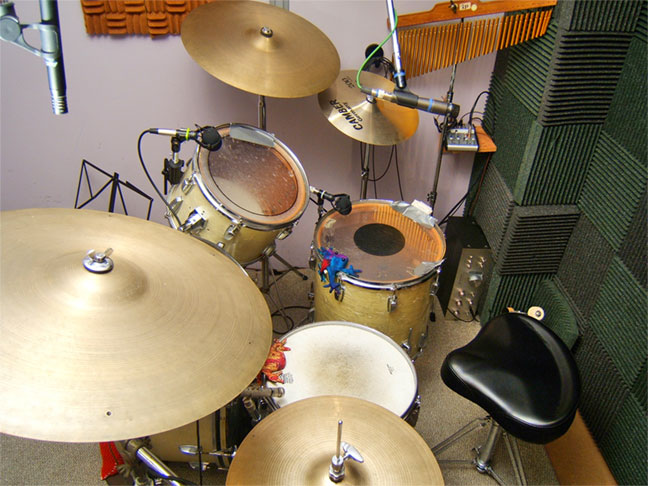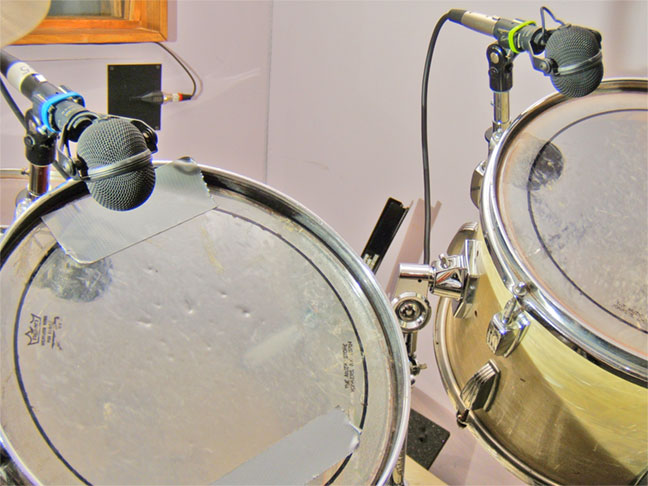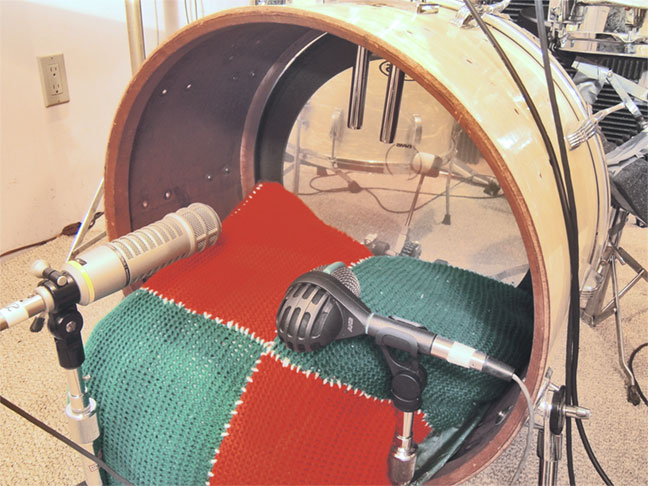 plus Apollo and Remo snares,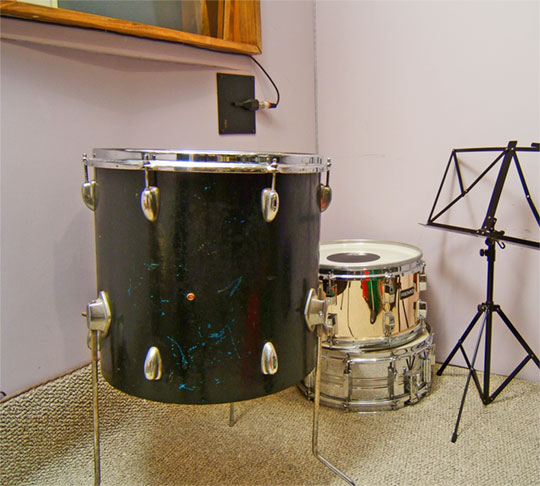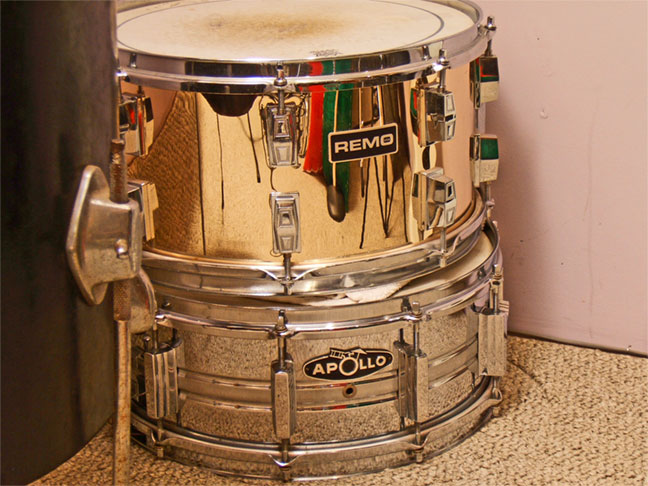 + Percussion toys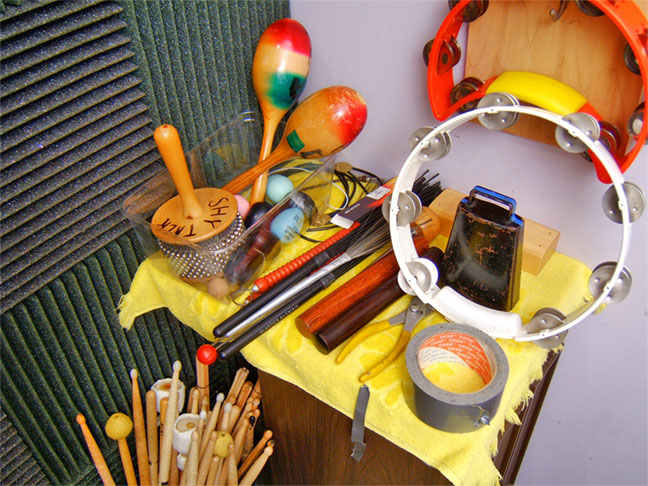 Guitar Amps: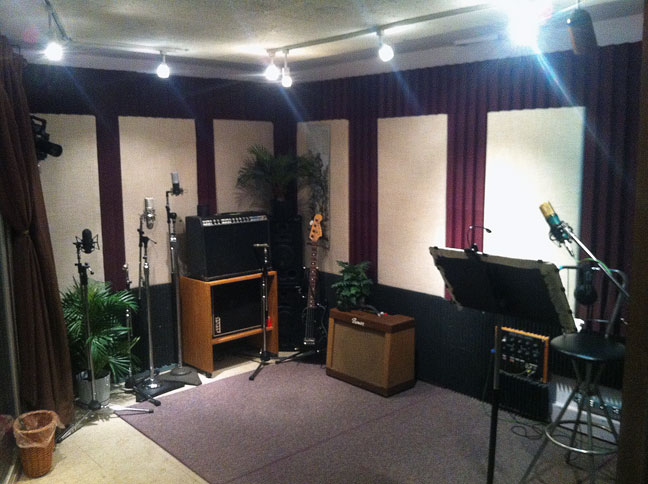 The Ace Frehley Fender Deluxe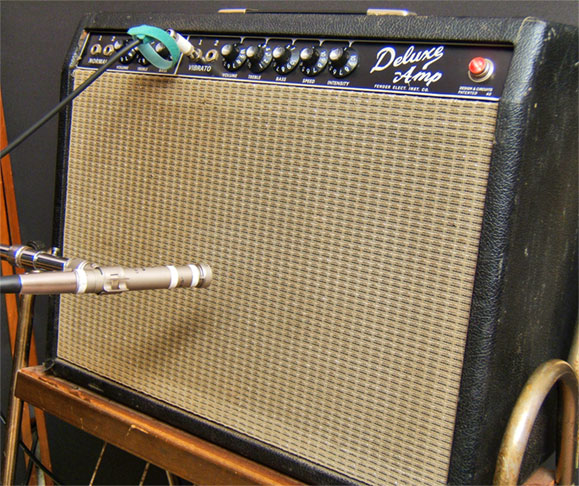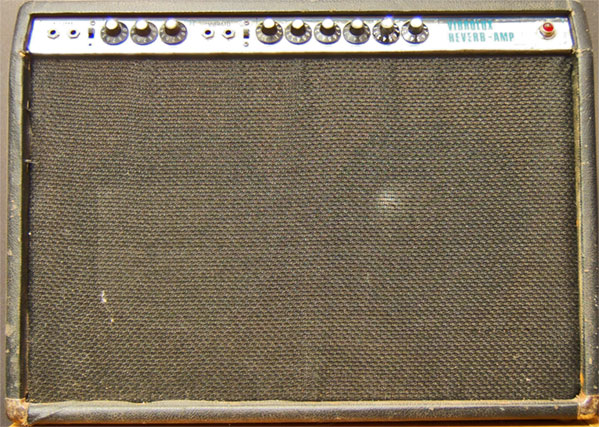 Fender Vibra-Lux .....Stage 65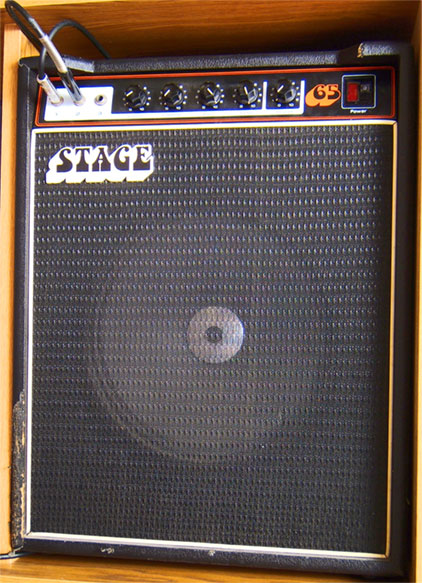 Squire 15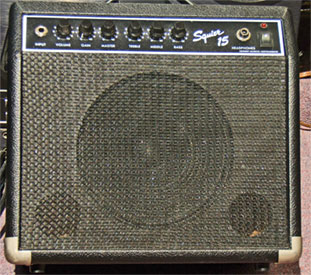 Bass & Harmonica Amps: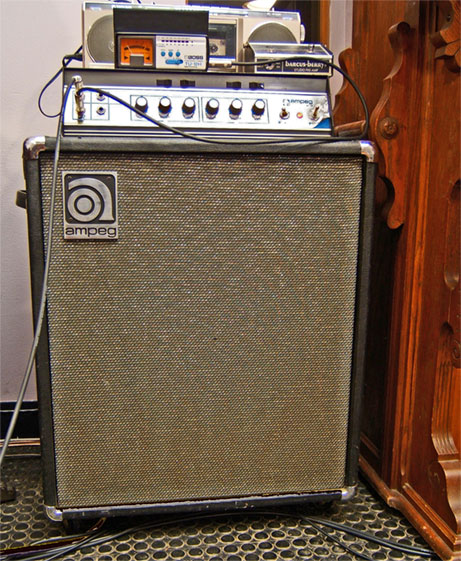 Ampeg B-15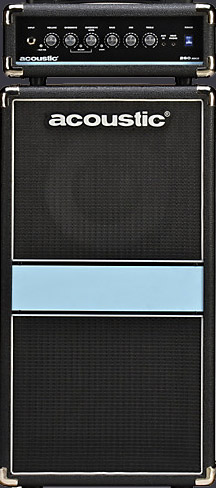 Acoustic 260 Bass Amp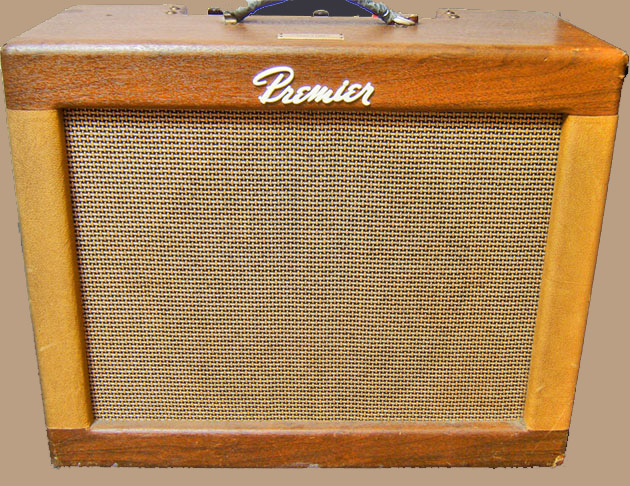 Premier

Acoustic Keyboards: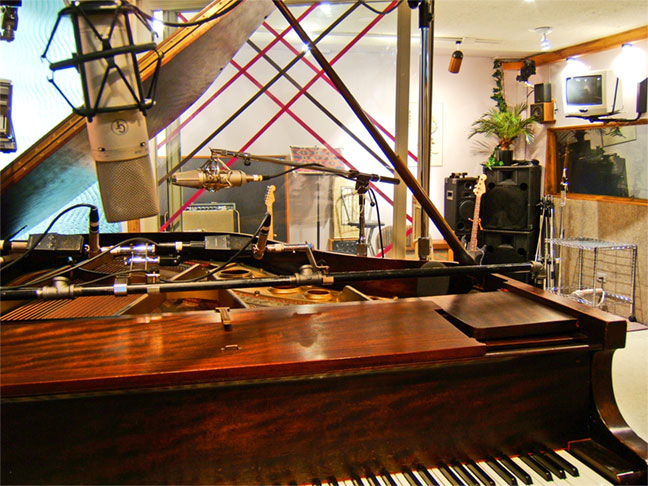 Weber 6 foot grand acoustic piano,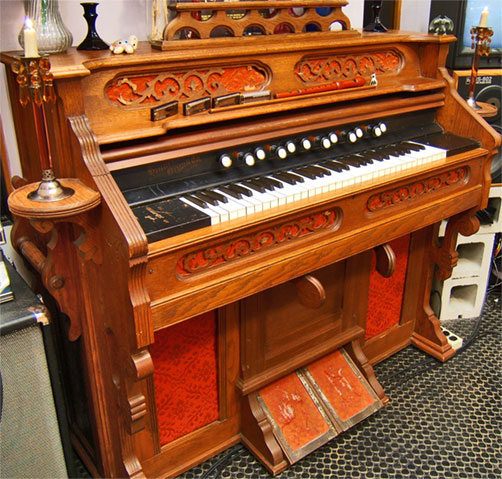 Hinner pipe organ (gone now. I miss it)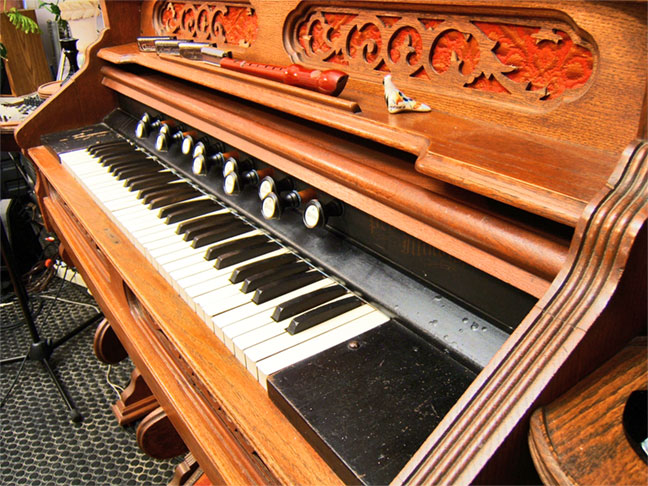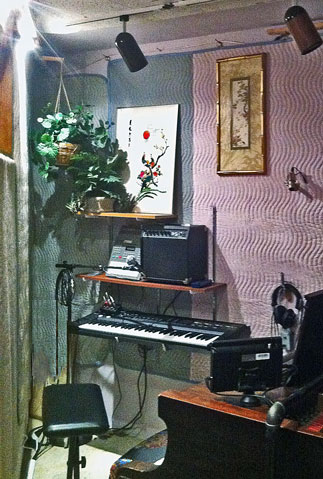 ...songwriter pit
Besides the AVID soft synths and Native Instruments Kontakt and IK Multimedia samples
we still have the
Old School MIDI Modules:

Casio Privia PX300 Stereo Sampling
88 key weighted midi Keyboard/Controller/Sequencer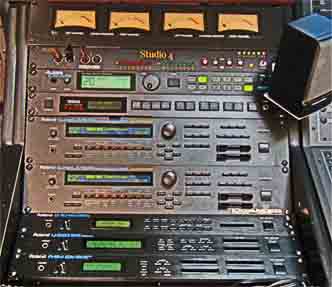 Unitor midi interface

Alesis D5 Drum Module

Yamaha TX81Z FM Tone Generator

Roland: JV-1080 64 voice synthesizer Module
Roland: JV-1080 64 voice synth Expanded
Roland D-110 Multi-Timbral Sound Module
Roland: U-220 RS-PCM Sound Module
Roland: R-8M Total Percussion Sound Module
Roland: D-50 linear synth keyboard/controller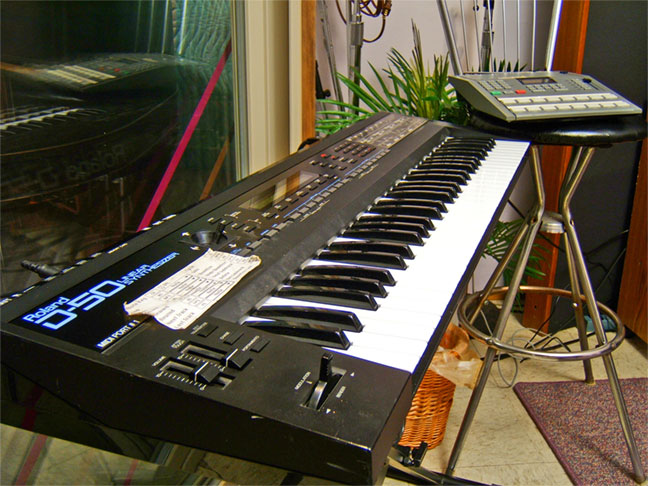 ANALOG GEAR: (Gone now)

Analog Audio Reel to Reel Tape Recorders: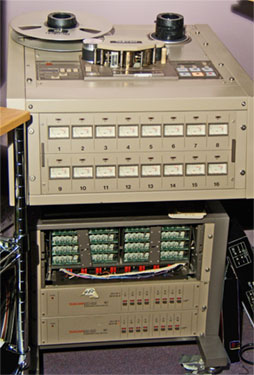 Tascam MS-16 15 ips 16 Track 1 inch format
w/ "punch in" & bias modification, dbx N.R.
AQ-65 Auto-Locator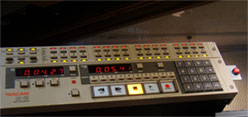 Ampex AG-440 1/4" 2 Track Mastering Decks(2)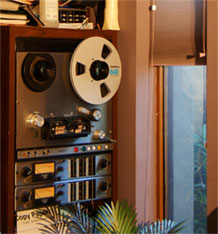 (4ch. of dbx 155 noise reduction available)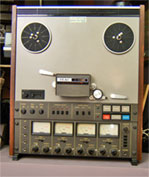 Tascam 3440 1/4" 4 track, Teac X2000R 6 head 1/4"-1/4 track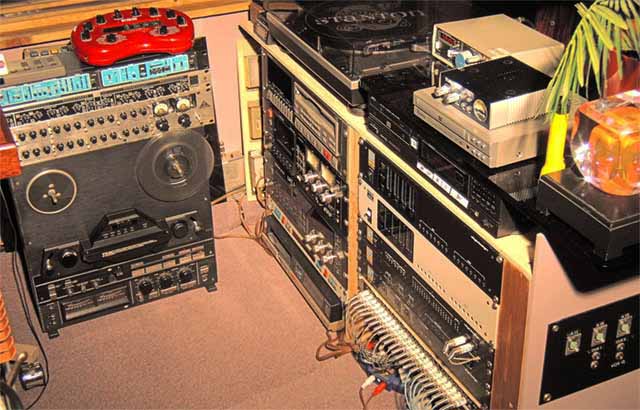 Microphones:
(large diaphram condenser type)

Neumann

U-67 tube

U-87 fet

AKG

414EB

414B-ULS

Røde

NT-1 

Groove Tube
GT-67
(small diaphram condenser type)
Neumann
KM-84

AKG
 
C460B (2) w/CK-1 capsule

AKG
 
C1000S (2)

Shure 
 
SM81 (2)

Shure KSM141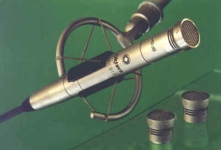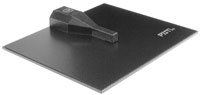 (6) OCTAVA MK 012-01 w/cardiod capsules (6) Crown PZM

(dynamic cardiod type)

ELECTROVOICE RE-20 (2)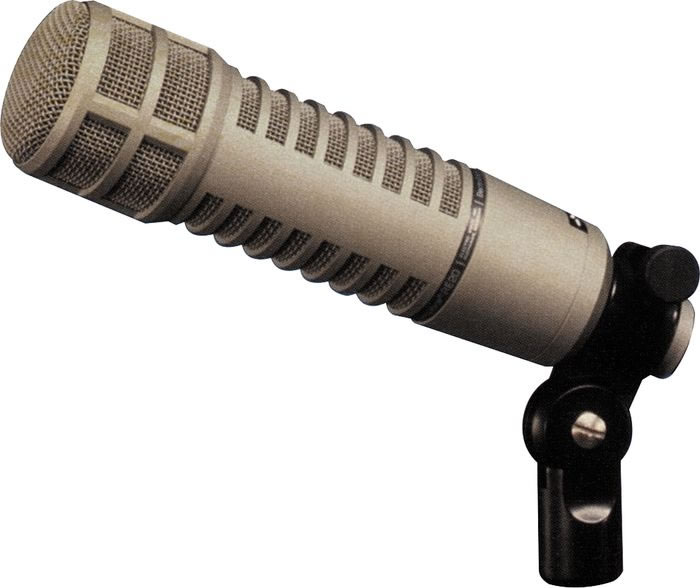 Sennheiser 441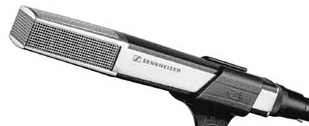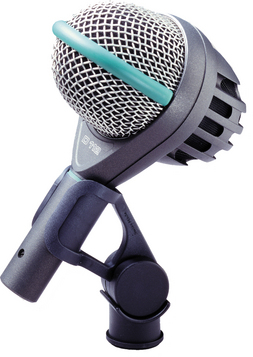 AKG (2) D-112, 

D-224E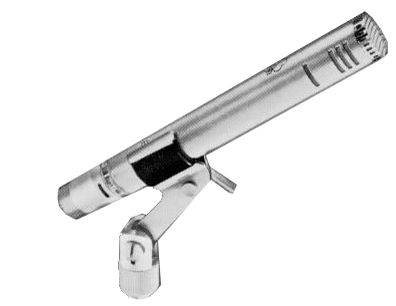 , D-58E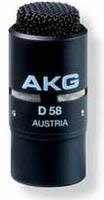 (2) Shure SM-58 

(10) SM-57

 (6) Samson R11


((3) Electrovoice ND408 / ND409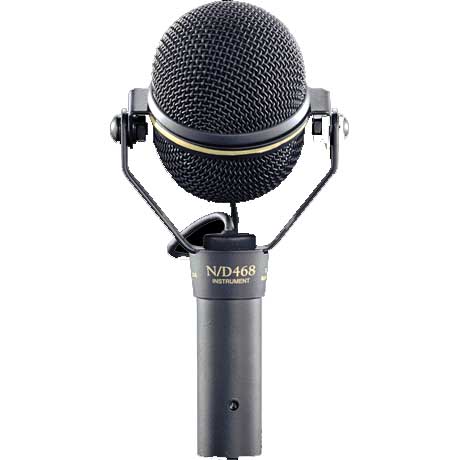 New additions: MXL R150 Ribbon Mic

, MXL V67G Condenser Mic

, MXL 700 Condenser Mic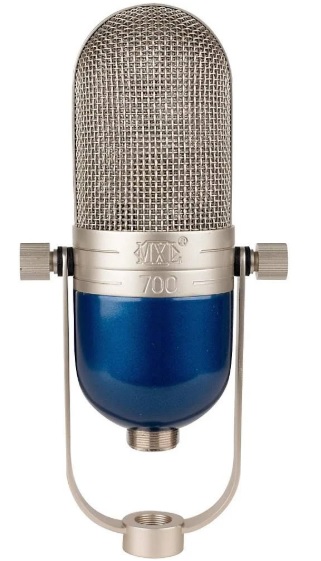 , MXL V57 Condenser Mic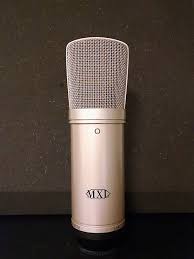 ,
(2) MXL 550 Condenser Mic


, (2) MXL 551 Small Diaphragm Condenser Mic


, Sterling SP50 Condenser Mic,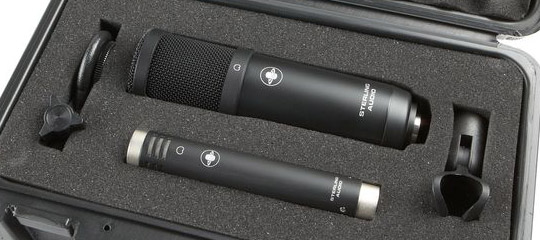 Sterling SP30 Small Diaphragm Condenser Mic
KEL HM-1 Condenser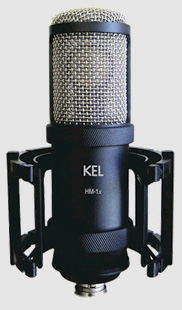 (2) KEL HM2D Condenser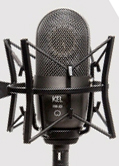 KARMA K-10 Condenser matched pair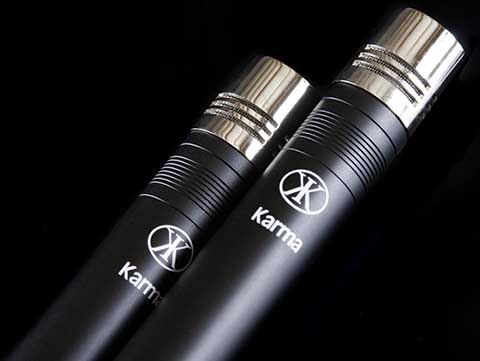 D.I. Boxes: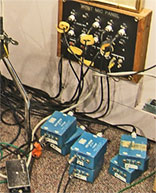 Countryman: (2) 85 FET,
Sescom: (6) SM-10,
(3) UTC Xformer,
(12) Altec Mic Xformer.
Transducers:

Lawrence, Barcus Berry, Buffalo Head (electret mic capsule)
Outboard Mic Pre-amps: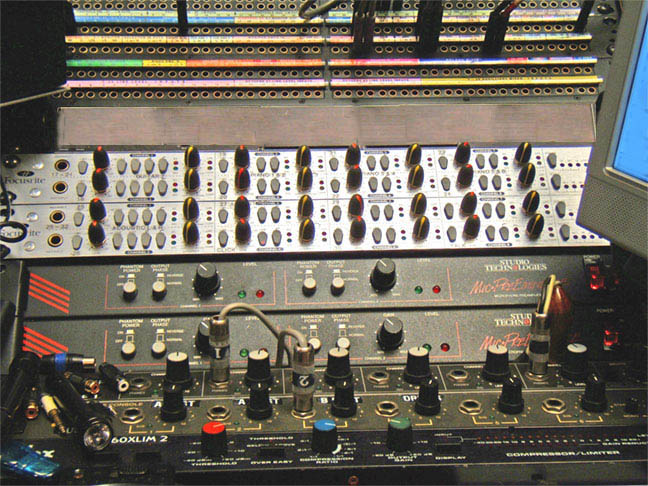 JOHN HARDY M-1 x 2 channels


Focusrite Microphone Preamps x 32 channels

Audio Technologies Mic PreEminence x 2 channels

Guitar Processors:
Rockman Chorus
Rockman Sustainer Delay
Boss ME-5 multiple effects


Analog Reverb:
Echo Plate Stereo dual plate reverb, Fisher (2) Space Command spring reverb
Additional Outboard Equipment:
Dynamics:
(2) 160X, (2)160A, (2) 166, (4) Alesis 3630 compressor/expander
Monitor Speakers: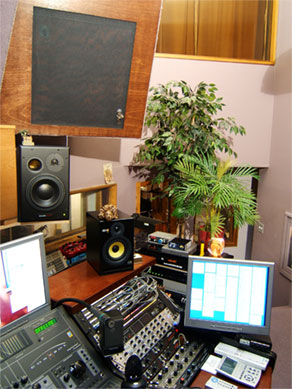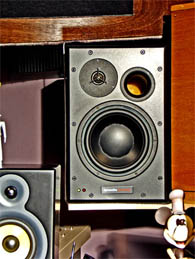 Dynaudio Acoustics BM15A 2 way active 300 watt bi-amped near/midfield monitors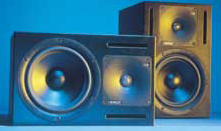 Genelec 1030A 2 way Active 130 watt bi-amped near field monitors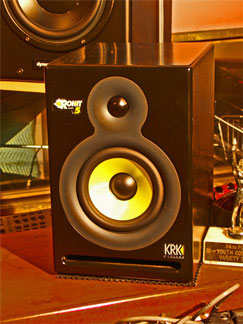 (5) KRK Rokit 5 75 watt Powered Studio Monitors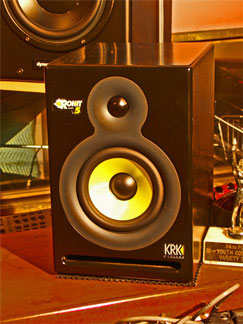 with a KRK RP10S 101N 225 watt Powered subwoofer for Pro Tools HD 5.1 surround mixing
Realistc Minimus 0.5
Advent 5.1 surround cinema play back system
Altec 848A "Valencia" Control Room Monitors,
EV Century 100 playback reference monitors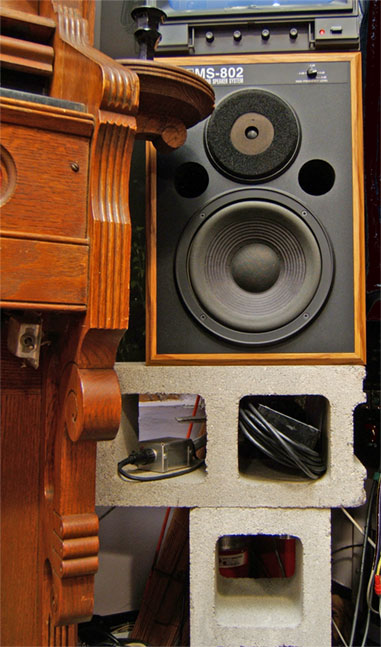 Yamaha NS-10,
Visonic David 8001, (8) Auratone 3C , Minimus 7
Monitor Amps:

Kenwood 85watt
Heath 85 watt
(2) Gem Sound SA-168 1000 watt
Headphones:
Fostex T-20, AKG 141, Pro-Luxe, Stax SR-X Mark 3 electrostatic
Cassette Decks:
Tascam 122 mk II,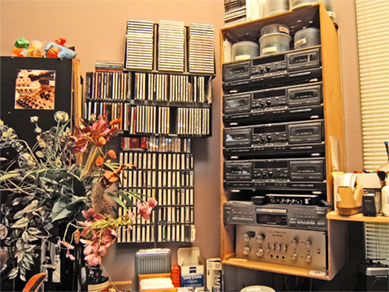 (5) Technics RS-TR575 dual record dubbing decks.
---
---
VIDEO SERVICES: (Currently only used to document the recording sessions)
Non-Linear Video Hard Disk Post Production Editing in

.......................AVID MEDIA COMPOSER 8 HD ......................... 
with Symphony option
w/MATROX MAX A/D-D/A
..........................ADOBE PREMIER CC 2017..............................

Digital Nonlinear Accelerator (DNA) technology

Video Production and 5.1 Surround DVD authoring

"Live" to DVD studio session documentation music video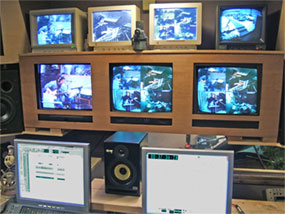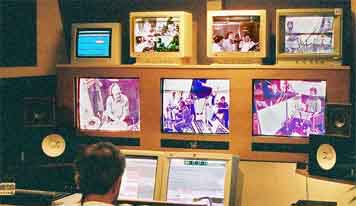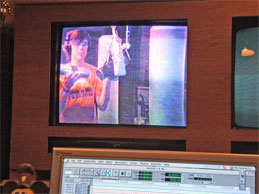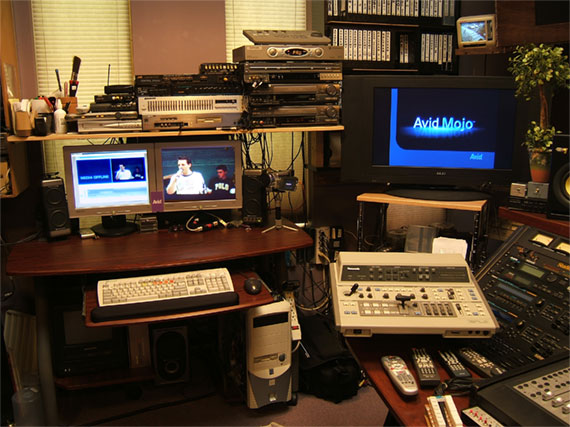 ---
Remote Services (No longer available)
Remote "Live" Multi-Track Audio and Multi-Camera Video Recording Equipment:

16 Track Pro Tools Digital Audio On-Location remote system...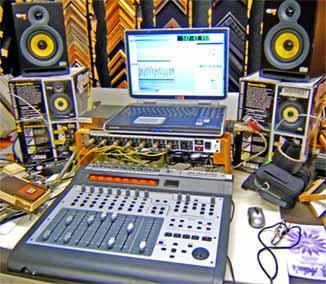 Remote On-Location 6 Camera Video Shoot...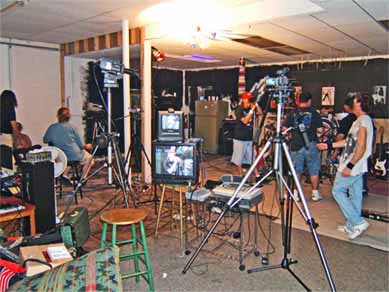 Live 3 camera 16 track music concert shoot...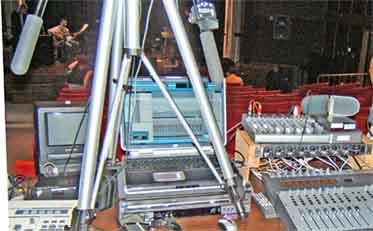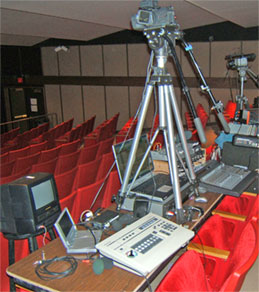 Includes:
Pro Tools TDM 24 track MAC based digital Remote Recording
and P.A. mic splitter available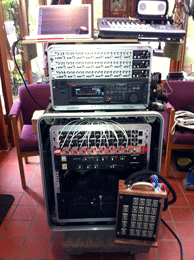 Sony DSR PDX10 - 3 chip 4:3/16:9 aspect capable DVCAM/MiniDV Digital Camera
(2) Canon ZR500, 4:3/16:9 aspect capable MiniDV Digital Cameras
Sony Monitors
Samson Wireless mics

Other packages available
---
Post Production:
DVD Authoring, CD-R Mastering, Editing:
AVID Media Composer DNA HD Digital Video Non-Linear Editing
with Digi-Design Pro Tools 5.1 surround DVD Authoring 

Adobe Premier CC 2017 Video Editing & Production Software

Matrox MX02 mini w/MAX
Canopis ADVC-100 Video Analog to Digital Converter

---
---
Color Video Cameras:
Sony DSR-PDX10 3-chip DVCAM Mini DV Digital Camcorder
(2) Sony DXC-325A 3 CCD Color Cameras 
Panasonic WV-F300CLE 3 CCD Color Camera
(16) Swann HD-420 Color Camera
(3) Canon ZR500 MiniDV Digital Camcorders 
JVC GR-725U MiniDV Digital Camcorder

Video Real Time Processing:

(2) Panasonic WJ-MX20 Digital Special Effects Generator
Video Editing Controller/Titler
Vidicraft Special Effects Generator
FOR A MV-40D Color Quad Splitter
80 Point Video Patch Bay
Video Decks:
(2) JVC HR-S5200U S-VHS Hi-Fi Recorder/Editor
Panasonic PV-420 VHS camcorder
Sony U-Matic VO2860A 3/4" Video Recorder
(2) GoVideo DVD/VHS realtime dubbing recorder
Video Monitors/Plasma Displays:
(3)" GE GT-374 20" COLOR Monitors
(8) misc. 13" Color LCD Monitors
VIZIO 42" PLASMA HDTV/Monitor
PHILLIPS 32" PLASMA HDTV/Monitor
(4) Samsung Digital 15" LCD Display
(3) GE 19" LCD Displays 
---
---
Synchronizers:

Adams-Smith Zeta Three

Software:
Pro Tools HDX, Avid MEDIA COMPOSER with MOJO,
SONAR Platinum Producer Edition with Dimension Pro,
Adobe Creative Cloud Apps- Premier Photoshop CS Adobe Encore, After Effects, Audition
MIDI Sequencer Recording Software:\
SONAR 6 Producer Edition
Dimension Pro
Steinberg Cubase VST 32/5.0,

Digital Audio Recorders / Burners:
2x Pioneer DVR-108 16x dual layer +/-DVD internal IDE burner
Phillips CDR 760 real time CD recorder

S-VHS AD.A.T. format:

Alesis XT 8 Track

D.A.T. format:

Tascam DA-30
P.C.M. format:
Sony 501-ES 2 ch. digital w/Sony Beta II format
Networked Computers:
MAC Pro -El Capitan
MAC Book Pro -El Capitan
Power Macintosh G5 -Leopard (gone)
Power Macintosh G4 -Tiger (gone)
Power Macintosh 9600 -OS 9.1 (gone)
HP Pavillion Quad Core -Windows 10
Hewlett Packard Pavillion zd8225ca 17"Laptop PC P4 3.2Ghz -XPPro
Hewlett Packard Pavillion 743CHP Pavillion Desktop Computer 2.4Ghz -XPPro

Additionally:
JVC XL-V261 CD player/spdif
Stanton 3 speed Digital Turntable/spdif
Marantz 7T stereo console pre-amp
Printers:
Epson Atisan XP-950 Network CD Printer


---
---
Contact Us: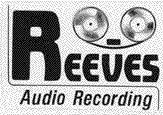 now in
SARASOTA, FLORIDA
Office: 847-409-0437

© 2020 Reeves Audio
All Rights Reserved
Many thanks to  ted leonard for helping me with this Website Design.