HOME page -- Studio Tour -- Equipment -- Services and Price List -- Studio Session Photos
References -- Independent Work -- Location -- Frequently Asked Questions -- About Me
Links -- Vintage Sessions -- A Visit to Studio 3 -- Les Paul and Mary Ford -- Reeves Youtube Channel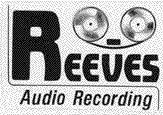 now in
SARASOTA, FLORIDA
Office: 847-409-0437

---
Here are some great sites to visit...
Do yourself a favor and just click!
---
Reeves Youtube Channel
See some videos created by Jim Reeves

Point of Blue Studios is a one-stop video production facility and
audio recording studio located in the heart of Hollywood, California.
Owned and operated by filmmaker and recording engineer W. Alex Reeves.
Red Arc Pictures is an independent production company
located in West Hollywood, California.
Owned and operated by filmmaker and recording engineer W. Alex Reeves,
Red Arc Pictures provides a wide range of services from
video production and post to audio recording and mastering.
We specialize in event videography, actor reels, voice-over demos,
sound-for-picture, and DVD Authoring.


TFDI
In the Studio with TFDI, Tony Lucca, Jay Nash, Matt Duke & Engineer/Producer Jim Reeves


Find and book trustworthy local services
I'm always looking for ways to help market my Audio Recording Studio & Video services. Thumbtack is a good way for me to help me show off my expertise in Pro Tools HDIII and AVID Media Composer Nitris video editing, DVD authoring. VOICE-OVER, A-V, orchestras, jingles, bands, podcasts. Check out my listing to learn even more about what I do! ...JR
Dave Grier is the man for your on-site multi-camera Video Productions,
Sound Reinforcement and Stage Lighting systems and more...!


The guide to Recording Studio History and Knowledge
"Celebrating the Recording Industry..."

I'm there too...
JIM REEVES



The Les Paul Foundation

The mission of the Les Paul Foundation is to honor and share the life, spirit, and legacy of Les Paul ...


Producer Engineer, Jim Reeves' reference to some historic events of audio recording.


The man, the musician, the engineer behind today's Cakewalk Sonar.
for the best mic preamps +++. Still my favorite.
Where I first met Jimi
...The original...
Talkin' 'Bout A Shindig & New York City.
Still goin' strong.
In September of 1956, while Elvis was in Hollywood filming "Love Me Tender",
RCA Victor booked time at Radio Recorders...
---
Reeves Audio Recording Studio Links: